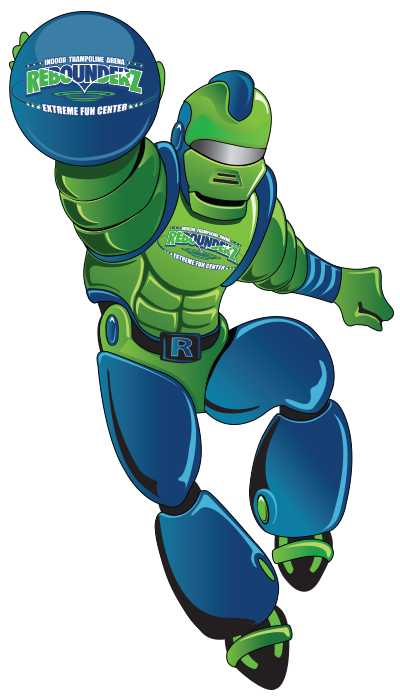 Attention all Rebounderz Guests-
Rebounderz considers the safety of our customers, employees, and community important above all else. As always, Rebounderz has considered the safety of our community and decided to temporarily close until further notice.
We encourage social distancing, good hygiene, and social calm during this time of concern.
Rebounderz wishes you, your friends, your family, and the entire community nothing but safety and security during this time.
Rebounderz will be opening up as soon as possible.
REBOUNDERZ NEWPORT NEWS
THE PREMIER INDOOR PLAY EXPERIENCE
Rebounderz Indoor Trampoline Park and Family Fun Center is Newport News' premiere family entertainment facility and is the best place for birthday parties! Our park offers entertainment options for the whole family! Enjoy our 40,000 SF air conditioned facility with a massive combination jumper, elevated Ninja Warrior Course, a mini Ninja floor course for the smaller kids, colorful rock climbing walls (coming soon), a multi lane Foam Pit, multi-lane basketball slam, 14' Xtreme Jump Tower, trampoline dodgeball, arcade and skill games with redemption toys, a cafe and parents' lounge with free Wi-Fi, fitness classes, and family and kids programs!
NOT JUST ANOTHER
TRAMPOLINE PARK
Rebounderz has activities and attractions for kids of all ages - you're never too old to have a blast with us!
COME VISIT US AND JOIN CLUB REBOUNDERZ FOR FREE!
By purchasing the Ultimate Unlimited Package, you automatically get to join our club and get one year access to discounts on play time, food, accessories, parties and more starting your next visit. If you plan on visiting us more than once, this deal is a no-brainer! The club includes:
30% off all play activity packages
20% off all concessions at the cafe
$35 off all private room party packages
$15 off all table party packages
Included in the purchase of one Ultimate Unlimited Package is an AUTOMATIC ENROLLMENT into CLUB REBOUNDERZ. See details of Ultimate Unlimited Package.
Club Rebounderz is an exclusive ONE YEAR DISCOUNT PASS providing annual discounts on play activity packages, food at the cafe and discounts on private room parties.
Club Rebounderz Includes:

30% off all play activity packages
20% off all concessions at the cafe
$35 off all private room party packages
$15 off all table party packages
Store your arcade redemption center points or arcade game credit on your card to save up for larger prizes when you return!

Pricing and attractions vary per location. Limited time offer and not all locations are participating. Club Rebounderz card holder will receive a discount pass for one year after initial purchase of five star general package.  Club Rebounderz card may only be used for admission at the location you select when purchasing and registering your Club Rebounderz discount pass. Unless explicitly indicated, Club Rebounderz benefits and discounts may only be used at the location they are purchased from. Although discount passes, tickets, and add-ons may be available to allow you to visit other locations, admission to other locations is not included as part of your Club Rebounderz membership. Your Club Rebounderz card is valid every day that Rebounderz is open to the public, but there are a few excluded events. Memberships do not include admission to Birthday Parties, Parents Night Out, Munchkin and Me, Fitness Classes or any other Special Event. We reserve the right to close the park for private events, and these dates will be posted on our website in advance.
Club Rebounderz: $35 off party discount may be used for private party room packages, and $15 off discount may be used for table parties. Club Rebounderz discounts only valid for card holder. Must be a current Club Rebounderz card holder at the time of booking and at the time of the event for this benefit to apply. Club Rebounderz benefits are not transferable and only apply to the individual person listed on the Club Rebounderz account. Cannot be combined with any other offer or promotion. Must be a current Club Rebounderz card holder at the time of booking and at the time of the event for this benefit to apply.
CLUB REBOUNDERZ DISCOUNT PASS IS NON-REFUNADABLE AND SOLD AS PART OF THE ULTIMATE UNLIMITED PACKAGE
Lost cards will be replaced at the cost of $2.00 per card
Rebounderz reserves the right to change pricing at our sole discretion. 30% Membership rates apply based on full price admission.
FIVE STAR GENERAL PACKAGE
BEST VALUE!


$27.99
3 hours
All Main Play Activities

AND

Xtreme Jump Tower

AND

AstroCITY

AND

The Gauntlet

AND

Custom Stairway to Heaven

AND

Climbing Wall

AND

Virtual Reality
Major Rick's Package
MOST POPULAR


$22.99
2 hours
All Main Play Activities

AND

Xtreme Jump Tower

AND

AstroCITY

AND

The Gauntlet

AND

Custom Stairway to Heaven

AND

PICK ONE FROM:

Climbing Wall

OR

Virtual Reality
Sergeant Package
BASIC PACKAGE


$15.99
1 hour
All Main Play Activities

INCLUDING

Trampoline Activities

AND

Ninja Warrior

AND

AstroCITY

AND

New Foam Pit

AND

Basketball Slam

AND

Extreme Dodgeball
Scout Package
BASIC PACKAGE


$12.99
2 hours
4 Years Old & Under
All 44" & Under Activities

AND

AstroCITY

AND

Moon Bounce Munchkin Area
NEW! Ultimate Unlimited Package - $31.98

Unlimited All Day Package
All Main Play Activities - and
Xtreme Jump Tower - and
Climbing Wall - and
astroCITY - and
Stairway to Heaven
Upgrade to Club RBZ for FREE!

Offer expires when leaving the facility.
All Jumpers must have a valid waiver on file. All guests who want to take part in any activities at a Rebounderz location are required to have a valid waiver on file to do so. There are no exceptions to this policy.  Each waiver must be filled out completely to be considered valid- this includes presenting a valid government issued identification to front desk staff in order to validate the waiver information.  Waivers are valid for 365 days from initial submission. If a guest is above the age of 18, they may fill out a waiver for themselves. If a guest is under the age of 18, their parent or legal guardian must fill out a waiver and list the guest as their child or legal ward. A valid ID must be present from the parent or legal guardian. Fill out our waiver in advance at one of our in-store kiosks or online by following  You may sign the form here.
Rebounderz Grip socks are required, we do not exchange other park socks. Rebounderz grip socks are $3.00 per pair plus tax and are reusable.
Pricing and packages listed above do not apply to parties, groups or special events.
*Rock Climbing Wall coming Summer 2019
All Jumpers must have a valid waiver on file. 
Guests must be above 44" tall for the elevated Ninja Warrior Course, JumpXtreme Tower, 
Athletic shoes recommended on the Ninja Warrior course.

Our trampolines are designed for one person and one person at a time.  No double bouncing.

Always land on two feet.  If you land on the green divider, please bend your knees.

No tricks or flips off the walls.  You may jump with your back off the wall or your feet and turn so you are facing the trampoline when you land.

No running on the jumper or in the facility.  In entering or exiting the jumper watch out for other guests and proceed slowly.

No-one in the younger kids jump area over 44" except their accompanying adult.

Please empty your pockets and do not have anything loose when entering the air pit (foam pit).  If you get stuck in the foam pit, the best way to get out is to roll like a log or ask a friend or referee to hand you our rope.

No head first diving, belly flopping, pencil diving into the air pit (foam pit).

Single front flips permitted, but no double flips 

Guests with casts, splints or hard/sharp objects will not be allowed to participate in trampoline, foam pit or Ninja Course activities.

The basketball air slam has 4 levels of baskets that can you slam dunk the ball into. Remember, please do not hang on the rim.

The jump tower is a 14' platform that you jump off into an airbag.  This is not a trampoline.  Do not jump feet first.  Sit back so you land on your seat or back. The referee will give you detailed instructions before jumping.  Do not jump without a referee present.

Our raised Ninja Warrior Course has 3 lanes of difficulty. Listen closely to the referees. If you fall, you may get up and go to the next divider to continue the course. 

Athletic shoes are recommended and required for the warped wall.

Rebounderz grip socks are required for safety and cleanliness on all activities and yours to keep and bring back for another time.

Take breaks and drink water as our activities can be tiring.
Rebounderz has programs running year round to keep kids and adults engaged and active!
Munchkin & Me at Rebounderz!
This is a program specially designed for children ages seven and under, and their adult, to enjoy a mellower pace at Rebounderz. Our program allows you to meet new people while your child gets exercise and has fun!
During this indoor activity for toddlers, we bring out foam blocks and stuffed animals onto our trampolines, the little ones play in the foam pit, they color and play with toys, and enjoy the kid's indoor playground. It's a really relaxed program geared towards the little ones really enjoying Rebounderz!
Schedule:
Every Tuesday 3AM to 5PM
Price:
$6 per child 5 and under, and one parent for free
*Please note that the JumpXtreme Tower and Ninja Warrior Course are closed during Munchkin & Me hours.*
Sensory Friendly Day at Rebounderz Newport News!
At Rebounderz Newport News, we realize during our normal operating hours, our facility can be overwhelming for our friends with special needs and sensory issues. That's why we offer this special program on the First Monday of each month. During Sensory Friendly Days, we turn down the music and dial down the distractions to make our facility more sensory-friendly.
Details:
Available on the 1st Monday of each month* from 6:00 PM - 8:00 PM
Low volume Disney music.
Fewer distractions (arcade games will be off).
All Access for 90 minutes.
One parent/caretaker/therapist is admitted for FREE with each sensory friendly participant's $16.00 paid admission.
Parent/caretaker/therapist is permitted to assist child while on the jumper. Only one person is permitted to jump per square.
Rebounderz Grip Socks are required for anyone going out on the trampolines.
*This event will not be held on any school or federal holidays. Please check the important dates listed on our Event Calendar to ensure our facility will be sensory-friendly during your visit.
Prices:
$16.00 per person for the 90-Minute event.
Parent/caretaker/therapist is admitted at no charge for 90 minutes of jump time.
Additional Adult: $12.00
Additional Child (4 and under): $6.00
Required Rebounderz Grip Socks are not included and are available for $3.25 per pair and are reusable on future visits.
BOGO Wednesday
Choose any level of jump time during Rebounderz Newport News BOGO Wednesdays and your time will be doubled. Choose an hour, receive an additional hour for FREE. Choose two hours, receive an additional two hours for FREE and on and on. BOGO Wednesdays may not be split between participants and Rebounderz reusable grip socks are not included. Membership and Military discounts maybe applied to BOGO Wednesdays.
7PM to 10PM Fridays
Every Friday night, experience a club-like atmosphere with a live DJ and club lighting! $22.00 includes 3 hours of All Access admission and great giveaways. Also included in your Jump N' Jam admission pass is a slice of pepperoni or cheese pizza, fountain drink and a pair of Rebounderz reusable grip socks. Check-in by 7:00 pm to take advantage of the full 3 hours. Jump N' Jam Fridays cannot be combined with any other offer and is not available on school or federal holidays.