Making Your Child's Birthday Party One to Remember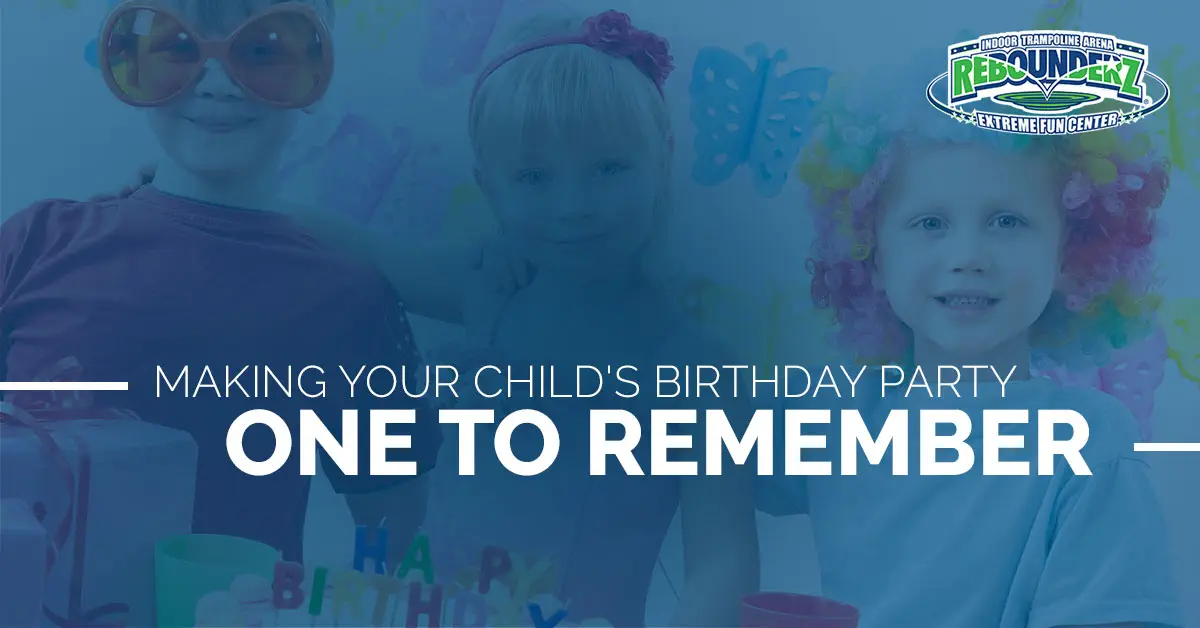 When you're putting together a kid's birthday party, you want to make it a memorable one that they'll enjoy. However, it can feel pretty overwhelming with the large amount of different possible activities, meals, treats, and presents you can choose. To help make this process a bit easier, we've gathered some of the best ways that you can make your child's next birthday party one to remember. At Rebounderz Trampoline Park in Sunrise, we have a team of birthday party extraordinaires, ready to help make your party fun and exciting for everyone involved. Call us today to book one of our party rooms for your kid's next birthday party!
Make it Meaningful
Many kids love giving back, and their birthday presents a great opportunity to do just that. After a long day of having fun with friends and getting a big pile of new toys, give them a chance to go through some of their old toys to see what they don't play with anymore and would like to donate to some kids that may not get anything on their birthday. Not only will this help keep their playroom from getting cluttered, it will also teach them the joy that comes with giving to the less fortunate. They'll have a sense of joy when they're able to pass along something that made them happy to someone that could really use it.
You can also take a chance to make a day full of kind deeds, with a random acts of kindness challenge. Encourage your child to do the same number of good deeds as their age on their birthday. As they get older, that number will increase and they'll get more creative with the ways they can help out. You can also help them set up a craft station to make birthday cards for kids who are sick in a children's hospital or volunteer with a local charity. Take this chance to show your child the value in giving so they don't feel like a birthday is only for receiving gifts. This can foster a lifelong desire to improve the community and the lives of people around them. Another way you can improve the community while celebrating this momentous occasion is by planting a birthday tree, which they'll always be able to look back on as they get older, charting their growth as it relates to the tree.
Make the Day Unique to Them
As kids are growing up, they can often feel left out of big events that older kids and adults get to participate in. Their birthday is the only time of the year where the festivities are for them, so when you make it special and unique to what they like, it will make it exciting and meaningful for them for years to come. Ask them what type of birthday cake they would want, let them choose the dinner menu, and get creative with it. You can even surprise them with something like a cake shaped like their favorite animal or decorated with their favorite princesses and superheroes. Party supply stores have a wide array of decorations and party favors that can bring everything together with everything they love.
Make Gift-Giving Creative
While you can absolutely have a point where presents are given and the birthday kiddo gets to open them, you can extend your gift-giving to make the whole day exciting. Give them small toys and snacks through the day to hold them over until they are able to open their 'real' gifts later in the day. You can also leave them a present in their room, either on their bed or on the floor, so it's the first thing they see when they wake up. That starts their day off on a fun foot and immediately makes the day feel special and different. You can also make it into a treasure hunt, where you hide gifts (or one gift that has multiple parts) throughout the house and yard, and give them clues, riddles, or a map showing where to find them.
Throw the Ultimate Party
Your little one will only be little for so long, so take this opportunity to make their birthday something really special for them. Choose a different theme every year based on something they love. For example, you can have a superhero party at Rebounderz, where everyone wears a costume and lives out their superpowered dreams in the trampoline park or leaping into the foam pit. You can even choose a theme based on their favorite animal, a movie they really enjoy, their most beloved book series, or anything else you think might excite them. A birthday is a great opportunity to show your child that you care about them and pay attention to what they enjoy.
Kids will naturally want to have a party with their friends, but they also enjoy spending time with other family members on their birthday. After the friends have gone home, have a nice family dinner as grandparents, aunts, and uncles are able to share in the fun and tell stories about when they were growing up. Not only does this give kids another perspective about what it was like being young years ago, it's also a great chance for them to get to know their family a bit better.
You can take it up a notch by having a backyard campout with their friends where they can have a sleepover in a tent, complete with s'mores and campfire stories. Try creating a photo booth that matches up with the theme of the party to send everyone home with a memento they'll cherish for years to come. To tie everything together, have some games for everyone to play, like pin the tail on the donkey, bobbing for apples, or a piñata filled to the brim with your child's favorite candy.

There are so many ways that you can make your kid's next birthday party special, but we hope these ideas help get the ball rolling for you. If you're looking for a sure-fire way to make a birthday party they'll always remember, book one of the party rooms at Rebounderz in Sunrise. With a dedicated party host helping with the festivities, from setup to cleanup, we'll take the stress off your shoulders so you can enjoy this special day with your little one. We have many awesome attractions that will make everyone happy. So whether they want to try to dunk on the SlamBall court, test their might on the exciting Ninja Warrior course, or they want to live their daredevil dreams on the 14-foot tall JumpXTREME Tower, we've got everything you could hope for. We hope to see you jumping here soon!