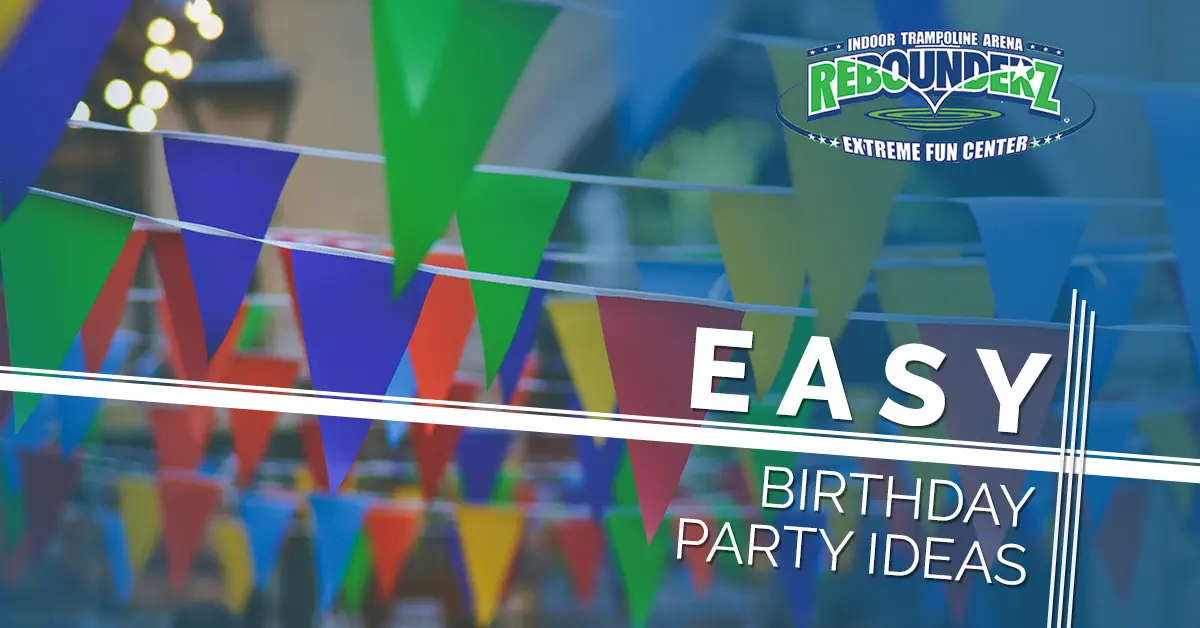 A fun and memorable birthday party doesn't have to be a chore. Your birthday boy or girl cares about having fun with their friends, not about impressing the other parents. Focus on that, and everything will become easier.
Simplify
If we haven't been at one of these parties, we've definitely heard the stories. Parents throw lavish parties with not one, not two, not three, but a whole park full of special and expensive activities. The pony rides, petting zoo, magician show, bouncy house, or superhero extravaganza isn't all it is cut out to be. You'll be too exhausted to enjoy the day. And, honestly, the kids will be so overwhelmed that they won't be able to enjoy it all either. More can sometimes be just that, more. It isn't necessarily better.
Let someone else do the planning
Think about holding your event at a venue that has party planners and supervisory staff on-site. At a venue like Rebounderz in Lansdale, our party planners are here to help you plan a great day, and our staff is on-site to make sure everyone stays safe and has a good time. You don't have to worry about the planning details, or play drill sergeant the day of the birthday party. Ours is an all-in-one birthday experience. The food, birthday cake, goodie bags, decorations, and more are right here for your choosing. No shopping, no searching, and no last-minute panic over forgetting something important.
Let them entertain themselves
When you've got a group of kids together, the great thing is that they want to be together. So, give them things to do that will keep them happy and busy. You don't have to plan activities that require constant adult supervision. Arts and crafts are fun, but they require oversight to make nip any spills or other disasters in the bud.
Temporary tattoos are great. Pour them out on a table and let the kids go for it. They can help each other apply them. If they make a mistake, no harm no foul; they can just pick up another one and start again.
Of course, we think the best way for kids to entertain themselves at a birthday party is for them to be active, learning, and tiring themselves out. There isn't a better place for that in Lansdale than Rebounderz. Between the trampoline arena, Ninja Warrior course, jump dodgeball games, and foam pit, the entire crew will be active and busy all day. When it comes time for food and birthday cake, they'll be hungry and ready for a break. It won't be like herding cats to get them all seated to sing happy birthday. It'll be more like herding sleepy sloths. They'll be happy to take a seat for a while.

Keep them busy!
Once again, we think throwing your child's next birthday party here is the best solution for keeping the kids busy. But if you're planning an at-home or outside birthday party, here's another tip for you.
Set up an assembly line. This sounds a little more boring than it is. We just couldn't think of a better word to describe it, because that's kind of what it looks like. Stations, set up one after the other, with face painters, caricaturists, and other simple, affordable activities that are supervised by the person providing the service are a great way to go. These activities keep kids occupied, and if you're at a park or other outdoor venue, they are great at helping to keep them in the designated party area.
Don't go crazy with the decorations
Balloons are great. They make any party festive, and kids can take them home at the end of the day so you don't have to figure out what to do with them. And it should come as no surprise at this point that we have balloons for your party. Just let us know what colors and we'll have them filled and ready to go on your big day!
Take advantage of technology
Send invitations via email or an online invitation app. It is easier. People are more likely to respond quickly. And, you guessed it, you can email our downloadable birthday party invitation!
Find your venue, your service providers, and your decorations online. Maybe you feel like you should buy your party decorations from a local store to support local businesses. We want to support local businesses too. But, sometimes, as parents, we just need a break. Don't hold yourself to an impossible standard. It is perfectly okay to simplify things and order online. Check your local party supply store's website. You may be able to order directly from them online, so you're still helping the local economy.
Make it a Rebounderz day
We aren't just paying lip service to wanting to make your child's birthday a fabulous day, and wanting to make things easier on you. We've got a lot of experience doing this. As a matter of fact, we've got a whole network of Rebounderz party planners across the country who have fine-tuned the art party planning and organizing, and we've taken advantage of all of their learning to make sure your child' day is perfect.
If you've never been to our trampoline arena, bring the family in for a day of fun. After you see how much fun everyone has, it'll be an easy decision to hold a birthday party here. Suggest it to your little one on the way home, and we'd be willing to bet that by the time you get home you'll have your venue selected and will be ready to call our party planners to get the process started.
We look forward to seeing you and your family here soon!