Kid's Birthday Party Checklist Part Two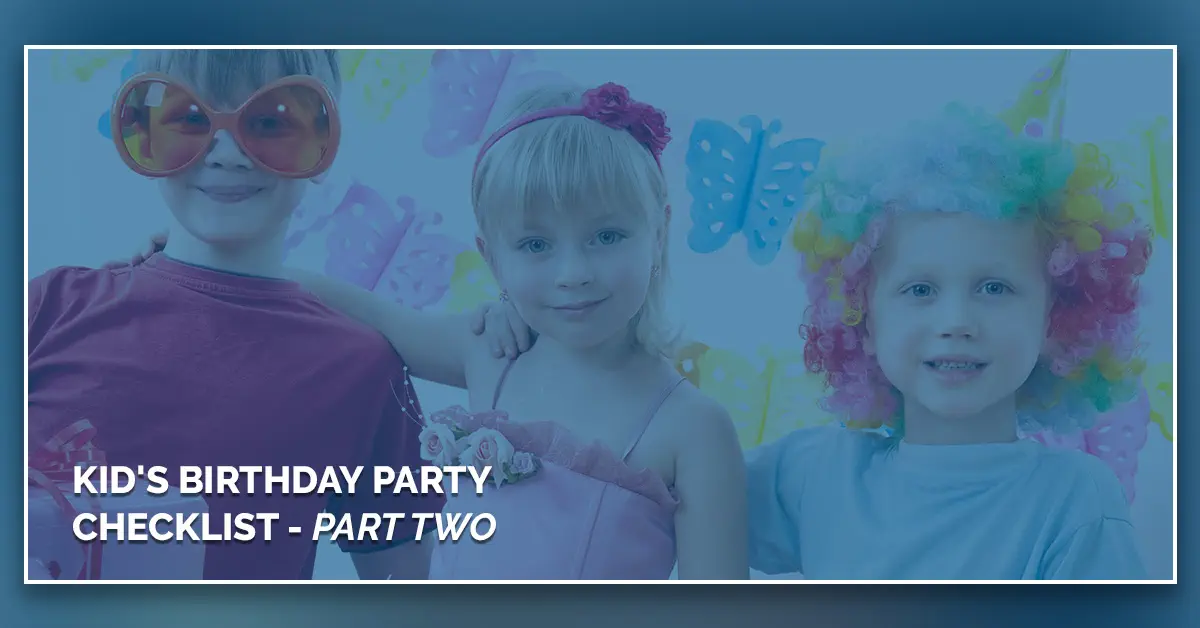 We recently started compiling a birthday party checklist to make your party planning easier than ever, though we still have a few more entries to tackle today. We'll be looking at the final touches that you can put on your kid's birthday party to make it a day to remember. One great way for a memorable day is to pick a location that has fun built-in. Here in Rohnert Park, there's no better place for a birthday party than Rebounderz Trampoline Park! We have awesome birthday party packages that will make your little one's special day a blast for everyone, parents included! Without further ado, part two of the birthday party checklist.
-Food and Drinks
As we covered before, much of the decision for what food you serve will come down to what time the party is held. Whether you end up choosing lunch or appetizers, there are plenty of kid-friendly options available to you. There's the old standby of pizza, pretty much every kid likes chicken tenders, or you can even go with some mini-corn dogs. Finger foods are always the best option as they're easier to prepare, serve, and clean up after than more involved meals. It's incredibly important that you get information from parents regarding any food allergies their child may have. Include this question on your invite to help your planning and avoid any health emergencies. If your party has a theme, try choosing foods that will fit in with the theme.
With drinks, it depends on age and activity. For younger kids, juice or water is usually the best option. When they get older, iced tea, lemonade, or soda are popular choices. For summer birthdays, you can have snow cones or milkshakes for a fun treat to beat the heat.
-Party Favors
Here's an item that gives you a lot of freedom to work with. You can either go with store-bought tchotchkes and favors or you can make your own. This is where you can really bring a party's theme to life. If it's a space adventure party, you can find little toy ray guns for everyone to play with. A swimming party can have goggles and pool toys. Whether you try to go specifically with the age range of your guests or you go more general to appeal to a wide range of ages, there are so many options available to make this a party everyone enjoys. A goodie bag with snacks, candy, toys, stickers, or craft supplies gives everyone a present they can take home and have fun with. You can also set up a box with different party favors, give each guest a bag, and have them pick out a few things to give them a choice in what they get.
-Entertainment, Activities, and Crafts
This entry on the checklist can take many forms. Entertainment can range from hiring a balloon artist, selecting a location with activities (like Rebounderz Trampoline Park), having a movie party, or renting a bounce house, just to name a few. If you end up going with outside entertainment for the party, it's a good idea to match it with the theme of the party. That is to say, if you're having an under the sea themed party, a performer in a Spider-Man costume wouldn't fit in too well. Keep in mind any additional items you may need for the entertainment when you take care of this checklist item. Some other options for entertainment include scavenger hunts, karaoke, craft projects (like making slime), or a cookie decorating station. Ask your kiddo what they would want to do with their friends for their party to get more ideas.
-Games
Everyone loves to play games, no matter what age they are. Choose some games that tie into the theme of the party to get everyone involved and having fun. If you're having a pirate party, play a game of "Walk the Plank". Mark off a plank shape on the ground with tape or chalk, blindfold the participants and have them try to walk across the plank without stepping off. Whoever gets to the end or gets the furthest without falling can win an eyepatch or toy pirate hook! Even if you don't have a particular theme, there are plenty of games that you can play that are fun for everyone. You can always lean on old standbys like "Pin the Tail on the Donkey" or "Musical Chairs". At Rebounderz, you can have everyone run the Ninja Warrior obstacle course, awarding a prize to whoever does the best. Depending on the age range of the party guests, you should find something that is engaging but not too intense. It's all for fun, after all!
-Music
Whether you make a CD yourself or you buy a party CD, music can kick a party up a notch. You could even tie the music in with the theme of the party. A pirate party complete with jolly sea shanties can bring everything together in an exciting and unique way. For young kids, you can find CDs that have songs which double as games like "Head, Shoulders, Knees and Toes" or "If You're Happy and You Know It". Older kids will likely have music they enjoy, so putting together a playlist of their favorite songs will really give them a customized party that is suited to them. Music is often the X-factor that, when it's missing, it can make a party feel incomplete.

That concludes our two-part look at making a kid's birthday party checklist. Whether you follow this to the letter or you make your own adjustments, we hope it helps you avoid the stress that party planning can cause. With a little bit of preparation and creativity, you'll be able to put together a birthday party your little one will remember for years to come. Before you get started, check off the location on your checklist when you book your party at Rebounderz Trampoline Park right here in Rohnert Park. Our birthday party packages are awesome, with set up, clean up, and a dedicated party host there to help everything go smoothly. We hope to see you soon!