Postpartum Rebounding: Risks and Benefits of Jumping Back on the Trampoline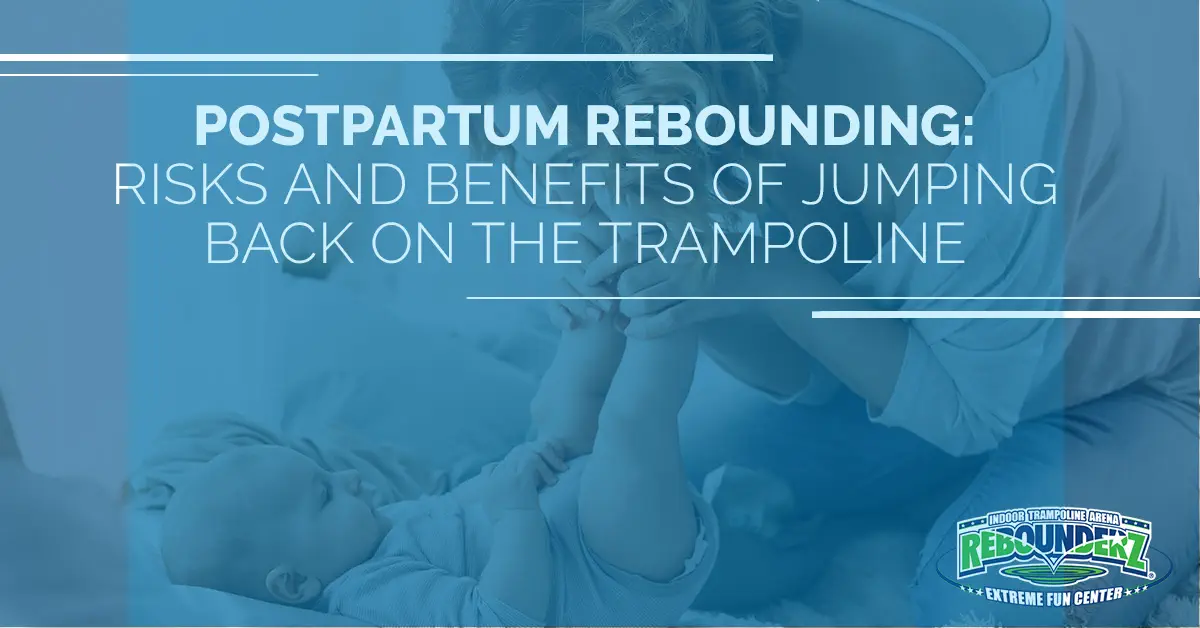 In a recent blog article from our sister location, they discussed the concerns of trampoline rebounding during pregnancy. Since that article was published, we have had some questions regarding the post-partum period and when women can return to their favorite indoor trampoline park after delivering their babies. Here, we will attempt to answer your questions regarding trampoline safety, but it is important to discuss all concerns with your obstetrician.
Postpartum Rebounding
In the postpartum period, your body needs time to recover and heal from delivering a baby. Whether you had a vaginal delivery or a cesarean section, your body has been through a great deal of changes during pregnancy and then again during the delivery. It is always wise to listen to your body and to follow the guidance of your physician.
Waiting to Bounce
There is conflicting research and recommendations when it comes to postpartum trampoline jumping recommendations. While some people recommend waiting months to attempt jumping again, others will encourage you to hop back on and bounce your way to pre-pregnancy weight. Trampoline jumping is an incredibly healthy way to slim down your waistline and help regulate hormones through physical activity. However, the large trampolines found at your local Rebounderz indoor trampoline arena are meant to be bouncy and provide a lot of lift that may not be supportive to a compromised pelvic floor. While you may be able to enjoy the bounce of a mini trampoline or even partake in a toddler-and-me trampoline aerobics class, we recommend you hold off on jumping back into the full Rebounderz experience for a few months after having a child.
Pelvic floor stability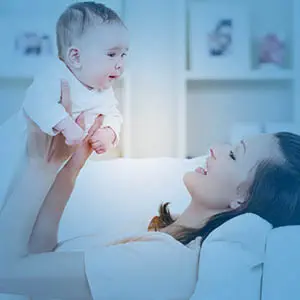 After delivering your child, your doctor will put you on "pelvic rest," which allows your body to recover from the changes it went through to birth a baby. As a natural part of childbirth, the tendons, ligaments, joints, and bones of a woman's pelvis will stretch and separate to allow the passage of the baby through the birth canal. This causes a great deal of stress on the human skeleton, and is unfortunately not immediately resolved once the baby is out. Resuming high-impact activities such as running and jumping too quickly after childbirth can slow the healing process and even cause major permanent damage.
Joining in On the Fun
Although it may be frustrating to wait even longer to get back to the things you enjoy after having a child, such as trampoline rebounding at your favorite trampoline park, the good news is you can still have fun at Rebounderz indoor trampoline park! We offer a wide variety of postpartum friendly activities for you to enjoy alone or with your little ones including a Ninja Warrior obstacle course and an arcade. You can still bring our little ones to jump for fun and cheer them on as the bounce happily.
Getting Back at It
Once your obstetrician clears you, you can ease back into the trampoline fun at your local Rebounderz trampoline park! Trampoline rebounding is a great way to have fun and provides the calorie-burning physical activity that is important to regaining your pre-pregnancy figure and building the strength and endurance to chase around your soon-to-be toddler! At Rebounderz, we even offer fitness classes to help you get into the best shape of your life and set a great example for your kiddos. Jumping will help to strengthen your pelvic floor again, so carrying future pregnancies may even be all that more comfortable!
When you are ready to hop back on the trampoline after bringing new life into the world, come on down to your local Rebounderz for a day of fun! In the meantime, relax and cherish your new baby and be proud of the hard work you put into creating life!