Air Dodgeball Tips and Tricks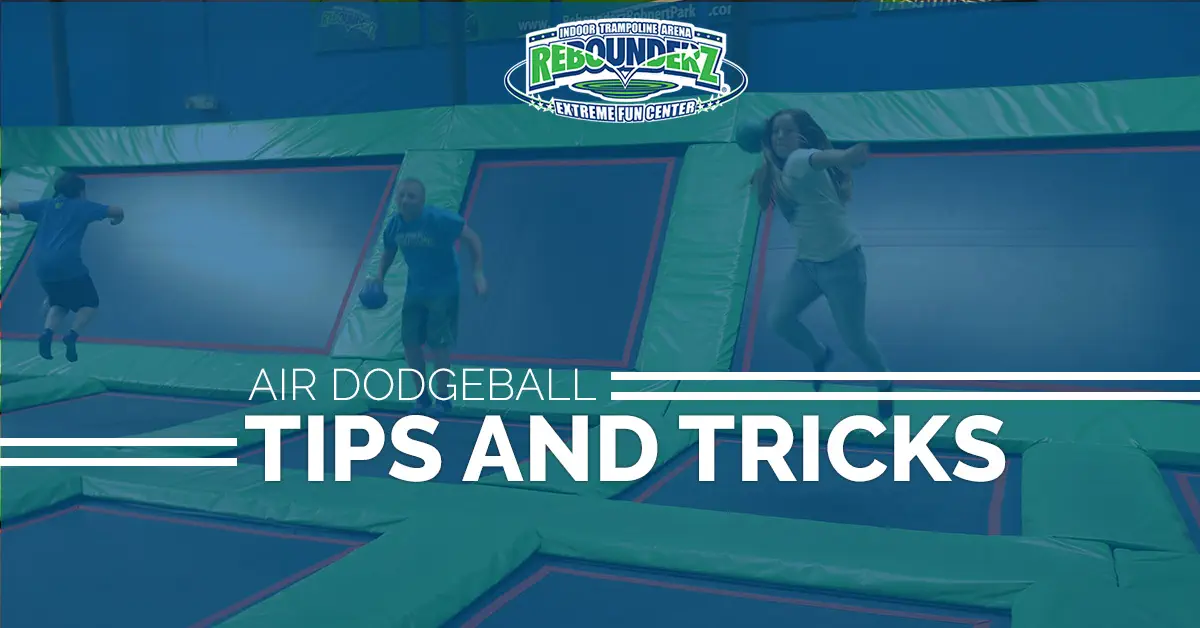 Just think about it for a second.
What's the best part about going to a birthday party? If it's your own personal party, it's probably the presents, cake, and the admiration. But if you're an invited guest at a party, then it's definitely the games.
Here at Rebounderz in Sunrise, we have one simple goal in mind: to transform and revolutionize kids birthday parties in a fun, exciting, and safe way so that you and your guests can create high-flying memories that will last a lifetime.
Our indoor trampoline parks are built to serve as South Florida's ultimate extreme fun facility, entertainment center, and party venue.
And there's no better way to do that than by organizing a game of air dodgeball for your group. Dodgeball has long been one of America's favorite schoolyard and gymnasium pastime. It's grown from a fun extracurricular activity in gym class to an extreme sports phenomenon that has grown to national and international competitions. The sport was even the subject of an all-time comedy cult classic Hollywood film.
That's why when you're planning your next party, whether it's a kid's birthday party for your youngsters or if it's a corporate outing with a group of your buddies, you should definitely read up on some of our tips and tricks for air dodgeball to help you become the best, most feared, highest-flying player in the squad.
If you're interested in hosting a party at Rebounderz, then contact us today or view our kids birthday party packages.
Our Sunrise trampoline park and extreme fun center is proud to be the ultimate party venue and entertainment center for not only Sunrise, but also Coral Springs, Fort Lauderdale, Hollywood, Cooper City, Pompano Beach, Dade County, and beyond.
Now, let's dive into how you can become the ultimate air dodgeball champion at your next party or event.

How To Play
Playing dodgeball at an indoor trampoline park is a whole different animal than playing on solid ground. On a trampoline, you have to account for more agility, more air, and possibly even more power on your throws.
Those classic tips (you know, the ones from the Hollywood movie), "Dodge, Dip, Duck, Dive, and Dodge," will certainly come in handy. But you'll also need to be aware of your surroundings a little more than usual, because opponent attacks can come from literally any angle. Here are some basic dodgeball rules to keep in mind.
First, divide your group into teams. For the best pace of play, try to aim for 5-7 players per team.
Gather up 3-5 balls to set in the center of the arena. At Rebounderz, we have a host of safe balls for use in our air dodgeball arena.
Establish the boundaries. Players can not cross over to the other side or else they will be immediately ruled out.
The last man standing wins! Or, more accurately, their team wins. Get the opponents out by pegging them with attacks or by catching their throws. A catch also allows for one of your ousted teammates to come back in.
Throwing Tips
Aim To Hit: When it comes to your throws, you should be sure that you're always aiming at a specific target. Throwing a ball just to throw it is the surest way to have your attack caught. Targeted and coordinated attacks are great ways for your team to be more efficient and dangerous.
Aim Low: In order to minimize the risk of having your attacks caught, the best rule of thumb is to aim for the lower half of your target's body, specifically between the shins and the shoes. Those low-trajectory balls will be much harder to catch.
Jump Around: Of course, you need to be wary of your surroundings and spread your team out. However, you may find that you can generate a lot more power and angle on your throws by jumping forward as your throw. That's an opportunity that only playing dodgeball at a trampoline park can afford.
Dodging Tricks
Obviously, the name of the game is "dodgeball." That's because in this arena, your defense is just as, if not moreso, important than your offense. Here are some tips for the dodging, ducking, and dipping part of the game.
Catch 'Em All: Games are won and lost on catches, believe it or not. Train your hand-eye coordination and keep your head on a swivel for any opportunity to catch an opponent's attack. Not only does this knock out one of your foes, but it also allows for one of your fallen teammates to hop back in.
Jump!: You are on a trampoline, after all. Our trampolines allow you to reach new heights when you see a ball coming your way, so take full advantage of the twist on gravity.
Deflect: Use a ball in your hands to deflect opponents' attacks before you fire away. Pro tip: deflect the balls upwards so that one of your teammates has a chance to grab it out of the air!
Air Dodgeball At Kids Birthday Parties
We can't think of any other competitive game that is quite as fun as air dodgeball. If you're looking to put a fun twist on your kids' birthday party, corporate outing, or family event head on over to Rebounderz of Sunrise and experience a new way to play America's favorite recreational game.