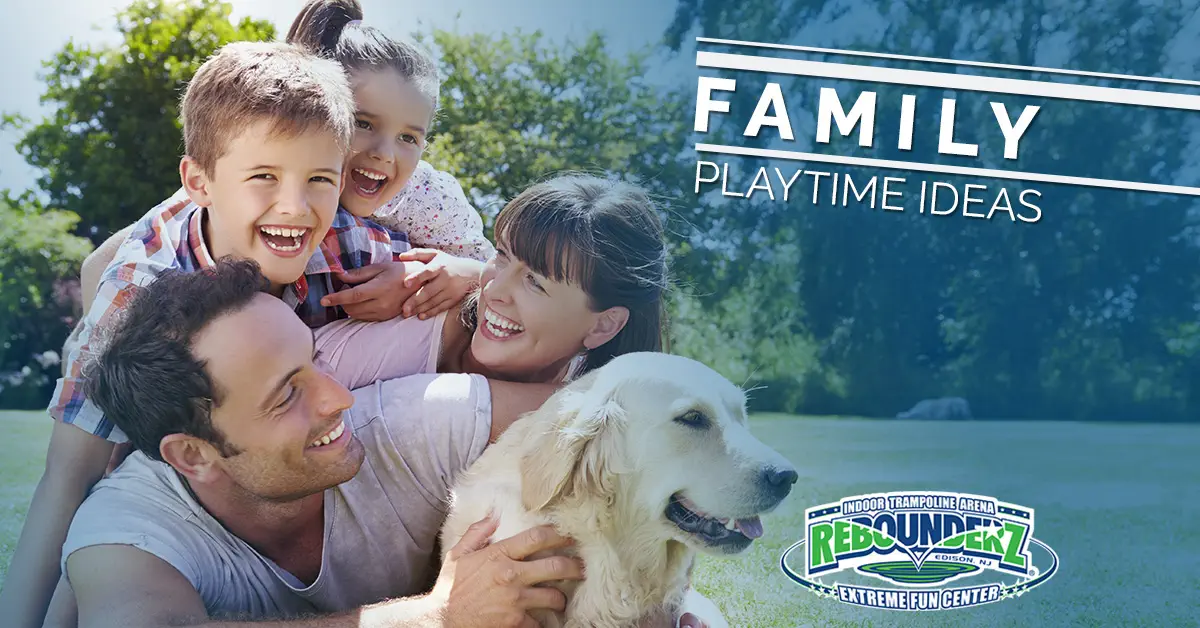 The verdict is in: the family that plays together is happier, healthier and more prepared for whatever life brings their way. Kids build self-esteem when they spend time playing with their parents and seeing their parents have fun. Family bonds are strengthened and positive behaviors are reinforced. One of the best parts of spending time playing together as a family are the happy memories you are all going to share.
What's the best kind of family play time? We're certainly a little biased, but we think time spent at Rebounderz in Edison is the best. Here's why:
Trampolines
In addition to being a laugh a minute, our trampoline arena helps kids develop important motor skills.

Your kids will see you having a lot of fun, laughing, falling and jumping just like them, strengthening those family bonds.

They offer a great chance for you to get some exercise too. And, remember, kids learn more by what they see us doing than what we tell them to do. So, when they see you out there, getting active, and not just staring at your phone screen, they become more likely to become active adults themselves.
Ninja Warriors
Our course features four lanes, each with an increasing level of difficulty.

There are activities for adults and children, so everyone has a chance to participate.

Your little ones will develop their fine motor skills

Your tweens will practice their critical thinking and memory skills as they race each other through the course, trying to improve their performance.

And everyone will be amazed at how well mom and dad do on the course. Well, they'll be amazed or they'll have a great laugh. Either way, it'll make for great family fun.

Wherever you do it, just play
We'd love to see you here at Rebounderz. But if you can't make it, here are some great at-home family play time ideas for you!
A backyard campout
Pitch your tent and get out the sleeping bags. Start your afternoon with a family barbecue and top if off with s'mores and board games. Hang out under the stars and share stories. If the weather isn't cooperating with your plans, drag those sleeping bags into the living room, huddle around the fire and make it a slumber party.
Playing in the garden
It doesn't matter if you're an experienced gardener, or you've never been able to get anything to grow in your life. Getting outside and playing in the garden with your kids is a great way to learn about them, and for them to get to know you in a new and different environment. Plus, getting dirty together, finding bugs, planting living things, and being out in the fresh air and sunshine, are good for everyone.
Race to the finish
Create your own Ninja Warrior Course in the yard. You don't have to spend a bundle to make it fun. Empty cardboard boxes can serve as tunnels to shimmy through. Two by fours, inner tubes and traffic cones can all be part of your backyard obstacle course. Is it a nice day out? Include a small blow-up pool in the mix. We know that some of you will be falling in on purpose, to get a laugh or just to cool off.
Face paints
Everyone loves to get their face painted. But, how about painting someone else's face? Let your kids paint each other's faces. Then, let them paint yours! It'll be great fun for everyone. Siblings who have a hard time getting along might all of a sudden find themselves collaborating in a scheme to do a really great job painting your face!
Cook together
This is an oldie, but a goodie. Kids love to be in the kitchen. It counts as play time. And it doesn't matter if the final product is actually edible or not. The point is not to bake a masterpiece, it is to have fun together as a family.
Play, play, play!
We hope you'll come visit us in Edison. Come in for an afternoon, or have your next birthday party here. And don't forget, we're not just for kids. You can have your grown up birthday party here too. Doesn't that sound like fun? We think so. See you soon!