Fitness is my life – Written by AirXercise Trainer Amber Plaster
Fitness is my life.
Throughout my entire life I have always been active and had a love for fitness. I was a multi-sport athlete in high school and that continued into college playing volleyball. After college I had two beautiful children. I did work-out routines during both pregnancies. I then decided to do Bodybuilding shows; The Bikini Division, to get me back in shape after having each child. It was a great achievement for me! As of right now I am continuing my fitness journey, I play indoor volleyball as well as MPVA beach volleyball, I work out religiously and my new adventure is teaching AirXercise at Rebounderz!
I go into teaching an AirXercise class with the mindset "what kind of exercises can I do to make class enjoyable and beneficial, all at the same time?" I love nothing more than helping others get the same benefits I enjoy every day. As well as helping them look better and feel better about themselves. We have had a lot of fun and energetic groups. Most of the clients we have come back, and it has become part of their lifestyle. We had some of the Kellogsville Girls Soccer Team attend as part of their soccer conditioning. It is a fun and engaging experience that people enjoy. AirXercise is great because it's a lot different than just going to the gym. I mean come on you're on a trampoline!!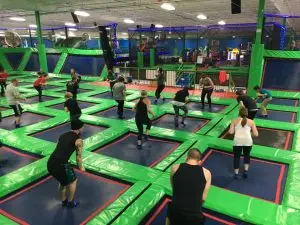 Let's give you a preview of how I run an AirXercise class. I start out by having anyone who is attending run a couple laps around the facility to get their legs warmed up. Then onto the trampolines. I make sure we warm up very well don't want anyone getting hurt. We do a bit of jump roping as well as a jumping jack circuit. Now for the tougher part of the workout, all the different exercises that involve jumping as well as moments where I slow it down. I want to bring the heart rate up for a bit and then drop it down as well for just a couple slower exercises. I tend to try to involved each muscle group in a session. After the trampoline workout, we go into using bands for our upper body. This helps incorporate muscles that may not be used during our regular work out. Then following band work we do abs and then stretch.
There are so many benefits of doing a trampoline AirXercise class. Spending 8-10 minutes of jumping on a trampoline is equivalent to running 1 mile! A huge bonus to trampoline exercise is the strengthening of your core muscles, which tends to be a problem area for most men and women. A person can burn over 1,000 calories in one hour doing this workout. It builds your immune system and pushes out all of the bad toxins in your body. AirXercise helps with coordination and balance as well. Lastly, it improves energy levels because it helps oxygen flow around the body. There are so many benefits to these exercise classes!! So if you haven't gotten the chance to attend a class, ask yourself 'what's stopping you' ?
Written by AirXercise Trainer Amber Plaster.
Rebounderz Grand Rapids, MI


7500 Cottonwood Dr.
Jenison, MI 49428
616-455-5600
RebounderzGrandRapids.com