Five Fun-Filled Kids Birthday Party Themes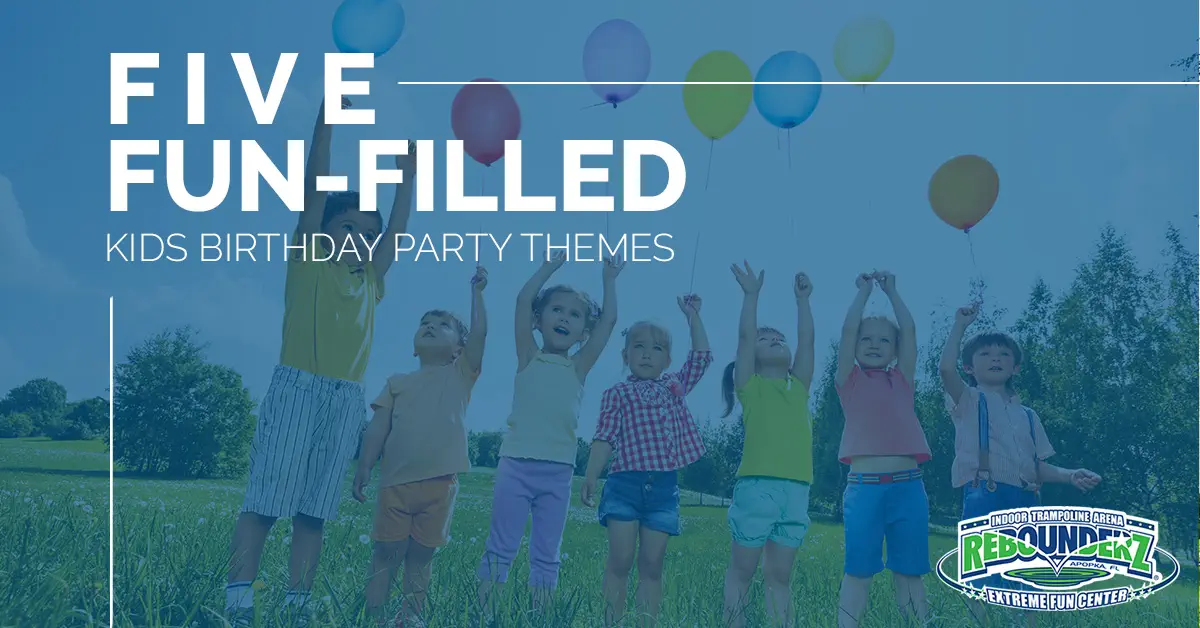 When it comes to planning your kid's birthday party, choosing the right theme is half the battle. And half the fun.
Having an all-encompassing theme that your child can relate to makes everything easier; from planning the decorations to the cake to the wrapping paper to the gifts themselves. Many kids like to choose their favorite sport, or favorite movie, or favorite superhero for their party theme. While those are all old-reliables, we think it's only right that we help give you ideas to make your kid's birthday party even more special than all the ones that came before.
And, if you're looking for a unique party venue to go along with your newfound theme, be sure to contact Rebounderz in Apopka to host your next kid's party at the most extreme fun center in the Apopka and Orlando areas.
With wall-to-wall jumper action, high-flying air basketball courts, a full arcade, and more, our indoor trampoline park serving Orlando and beyond has everything you need to ensure your child and their friends jumps for joy, literally, at a party that will be talked about for the next 365 days.
Plus, as you'll soon see, our Rebounderz kid's party packages include your choice of five different themed private party rooms, including a Boutique Room, a Beach Luau Room, and more.
Contact us today to book your jump time.
Now, let's take a look at five fun-filled kids birthday party themes that we think could be great for your next party.
Rock and Roll
For the boys and girls who are a little bit rock and roll, consider hosting a party with a music theme that will be sure to knock their socks off. Fun ideas include a cake shaped like a record (a relic from a better time, right parents?), cool rocker wigs that they can wear around throughout the party, and maybe even an air guitar competition. Our rock-and-roll themed private party room at Rebounderz is the perfect space for you to host your little rocker's next gig.
Fashion Guru
Does your youngster have a keen eye for fashion? If they're starting to ask, "Who made that scarf?" rather than, "Can I have a scarf?" then you might want to opt for a fashionable birthday party theme. Get all of the hit designer-inspired accessories, from tote bags to oversized sunglasses and let your party guests indulge in a slice of cake and sip of tea. The Diva Boutique party room at Rebounderz would be an excellent space for such a party, with high-class decor and amenities galore. Then, when they're ready, they can simply take off their high heels and hit the trampoline arena for hours of bouncy fun.
Disney's Moana
There aren't many kids movies that are more popular right now than Disney's Moana. The tale of an island heiress blossoming into a full-on adventure hero has resonated with kids far and wide, and having a Moana-themed party would surely be a kid for your next kid's party. Think about island-themed, and have your birthday honoree dress as their favorite character — whether it's Moana herself, the affable Maui, or even Hei Hei the chicken. Then, come to Rebounderz in Apopka to host your Moana kid's party in our special Beach Luau Room.
X-Games
Does your offspring have that wild sense of adventure that you remember from your younger days? If so, you can't go wrong with an extreme sports kid's birthday party theme. The X-Games are basically the Olympics for extreme sports, so you can't go wrong with decor featuring things like motocross, skateboards, snowboards, and a whole lot more. Then, gather the x-treme party guests and haul them down to Rebounderz, where our Extreme Sports private party room can suit your wild child (and their friends). Then, they can head out to the top trampoline park in the Orlando area and do their best to recreate the flips and tricks they love to watch to pros perform.
Army Ranger
Maybe your kids are a little more into the real life heroes from our military. If they like playing things like Call of Duty, then an Army Ranger-themed birthday party could be a fun, tactical time for you and your group. For the decor, think things like face paint, all-camo-everything, and special operations accessories. Our Special Ops room at Rebounderz in Apopka would be well-suited to host any sort of Army Ranger theme that you or your child desires.
Host Your Party at Rebounderz
Rebounderz is the most extreme, fun, and high-flying action you can find in Apopka and beyond. Just a short drive from Orlando, our indoor trampoline park offers several party packages that fit your budget and desire for a fun, memorable party. From our open jump arena to the foam pit, your party guests will love bouncing around with their closest friends. Book your kid's party at Rebounderz today and experience the thrill of our state-of-the-art trampoline parks!