Fun Kids' Movies for Movie Night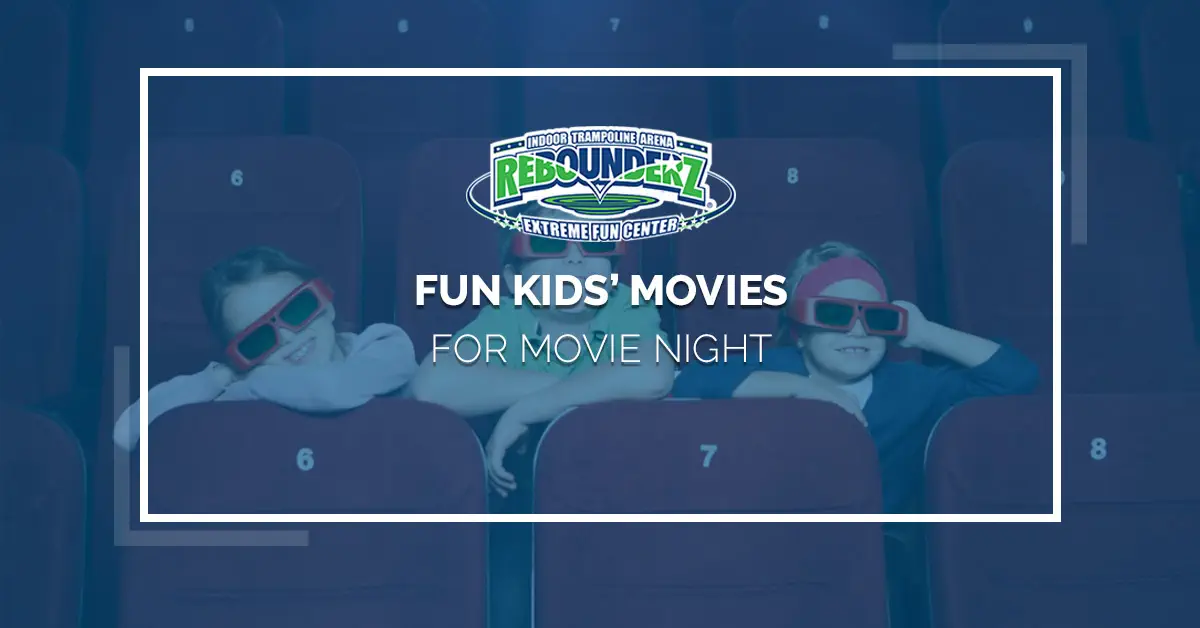 Here at Rebounderz, we know just how important family time is. We love hosting families for fun, games, and kids birthday parties at our Lansdale trampoline park. But you can't have trampoline adventures every night, that would be too much fun. Many nights it is much better to just curl up on the couch for movie night. If you are looking for new movies to choose from, we have listed some of our favorite fun kids' movies here.
Dumbo
For ages four and up, Dumbo is a beautifully animated tale of a unique elephant who doesn't fit in because of his giant, unwieldy ears. It is a great movie for teaching children that it is their differences that make them special. The movie was made in 1941, so it is a little older than most animated features that kids are used to. However, the animation of the time does have a colorful charm all of its own.
E.T. the Extra-Terrestrial
For ages 5 and up, this Steven Spielberg classic is sure to capture the imagination of your children. Follow the homesick Alien E.T. as his newfound friends attempt to help him get back to where he belongs. This award winning movie is a must see for every family.
Harry Potter
If your child hasn't been exposed to the Harry Potter series, now is as good a time as any. Although, you may want to use the movies as motivation to read the books first, as they are a great doorway into reading for children. Follow young Harry as he makes his magical debut in the wizarding world. But he's already got a big reputation, the question is "can he live up to it?". These movies are appropriate for ages seven and up.
Brave
Made for ages eight and up, Brave was made more recently than previous entries on this list. It's a wonderful tale with a heroine protagonist, skilled archer Merida. She is the daughter to the king, and must face the conflict between her responsibilities to her family and her own sense of purpose. Throw in an unpredictable magical spell, a grizzly legend, and some goofy neighbors and you've got a recipe for a huge adventure!
The Incredibles
Appropriate for ages seven and up, this movie is a fun packed animation super power extravaganza! Follow a gifted super family immediately following the outlawing of all super hero activities. What is a hero to do when a threat faces the world? Will this super family be able to save the day without tearing each other apart in frustration first? Watch and find out for yourself!
101 Dalmations
Another old timey animated classic, this movie was made in 1961. It is made for ages six and up. For the dog loving kiddos out there, follow this plethora of pups as they try to thwart the evil schemes of Cruella De Vil. There's plenty of action and funny antics in this flick! Make sure you don't miss this Disney classic!
Willy Wonka and the Chocolate Factory
Made in 1971, this movie adaptation is based on a novel by Roald Dahl. You'll get to experience an amazing chocolate factory filled with magical candy themed wonders! There is also a 2005 version of the movie with Johnny Depth as the eponymous Willy Wonka. Add this to your movie list, but make sure to have some delicious snacks handy!
The Lion King
No list of kids movies would be complete without including The Lion King. It's the perfect choice for budding animal lovers everywhere. Follow Simba on his African adventure. After tragedy strikes, Simba must flee his kingdom and enter a totally new way of life. But the past doesn't stay buried forever, and eventually he must return. Based on Shakespeare's Hamlet, this is a great movie filled with wacky antics and moral lessons alike.
The Little Mermaid
We have to include a classic princess movie on the list! This movie is based on a fairy tale written by a Danish author named Hans Christian Anderson, although this adaptation is much more kid friendly than the original. Princess Ariel is fascinated by everything that has to do with the world beyond the sea. When she gets the chance to see it for herself, will it live up to her expectations? Or is it not all it was cracked up to be?
Mary Poppins
Are you or your kids a fan of musicals? You will be after watching this little number! This movie has been inspiring new generations for decades. Follow the whimsical magic of Julie Andrews as the flying nanny Mary Poppins. A beautiful mix of live action and animation, this movie is extra pleasing to the eye! You'll be humming songs like "Spoonful of Sugar" until you're sick to death of them! And then you will hum them some more!
The Wizard of Oz
A children's classic, this movie is the quintessential movie that defines childhood wonder with its dramatic shift from black and white filming to vibrant and splashy technicolor. Follow Dorothy on her journey through Oz, to find the magical wizard of Oz, so that she can get back home to Kansas. She'll meet some interesting and wacky characters along the way, like the cowardly lion and the scarecrow without a brain. Will she be able to make it home? Or will she fall prey to the evil machinations of the Wicked Witch of the West?
Babe
Ever since Homeward Bound, live action movies with talking animals have been seen as pretty cliche. However, Babe is one obvious, notable exception. What is an orphaned piglet to do in the world all by himself? Learn to herd sheep, of course! Follow this little oinker on his journey to master his new profession, and hopefully find his place in the world along the way. It is a great addition to any children's' movie list.
The Princess Bride
This 1987 classic will have your kids laughing at its catchphrases for years. ("I am Inigo Montoya..!") It's a story of enchantment and wonder, with all of the fairy tale themes that we have grown to love. A crazy and eccentric cast of characters will delight you the whole movie through. There's a reason a whole generation from the 80s can quote you this movie, it's because it's just that good!
Hopefully there is at least one movie on this list that you haven't seen for you to enjoy. Movie night is a great way to spend time with the family, but for a night out try our Lansdale trampoline park. We host kids birthday parties and other fun events regularly. Feel free to give us a call if you have any questions about our hours, location, or attractions. One of our friendly representatives will be happy to speak with you.