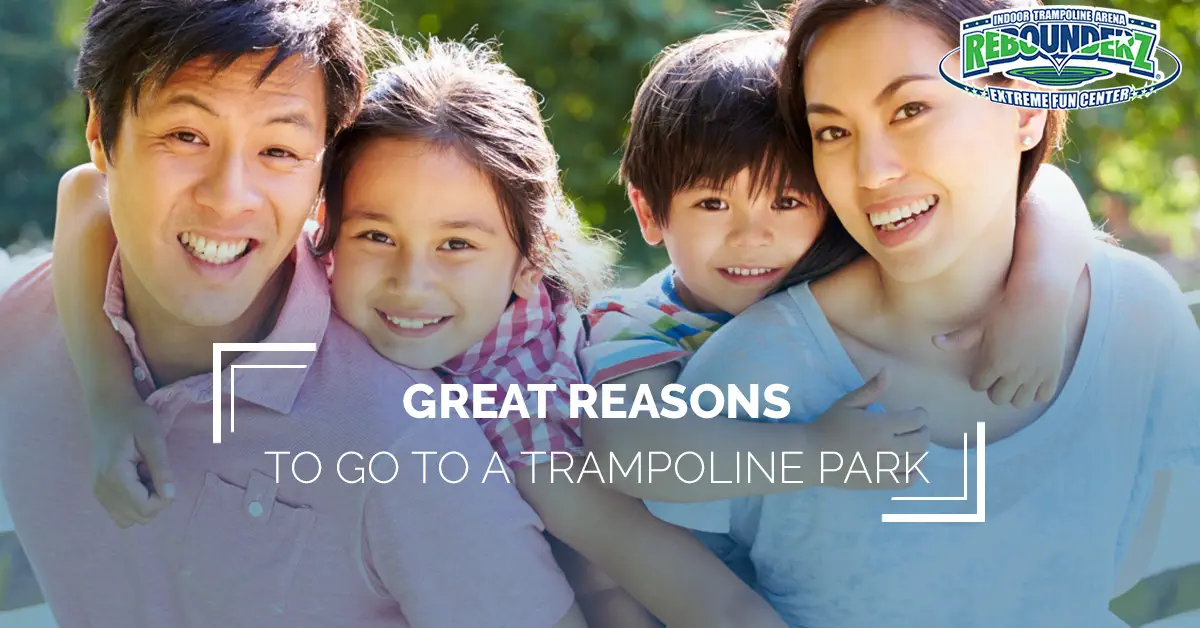 Think a trampoline park is just for the kids? A trampoline park can be the perfect venue for many events, and adults love jumping just as much as kids! Read on to learn more about how much fun you could be having at Rebounderz, and start thinking of the next event you could host here!
Family Time
Want a great activity that is fun for the whole family? Are your board games seeming a little, well—boring? If you need something that is fun for both parents and kids, head to Rebounderz for a day or night of family fun! Our trampoline park gives your family an opportunity to engage in a family night that promotes exercise and keeps you healthy. When you bounce, flip, and slam dunk in our jump arena, you are engaging all of the muscles in your body and boosting your metabolism. Physical exercise makes you feel great, so this will be one family night that everyone is sure to enjoy. It can be hard to find family-friendly activities, especially ones that are interesting to both children and adults, and that toddlers, teens, and parents all enjoy. Bouncing knows no age, and whether you want to just gently bounce and watch, or amaze your family with your ninja-style moves, Rebounderz offers an indoor family playground that keeps you active, keeps you healthy, and can bond your family together. If you are feeling disconnected, with everyone going to separate activities, playing video games, or on an ever-present screen, relax, unplug, and schedule some fun family time at Rebounderz!
Date Night
A candlelit dinner, a romantic movie, and a stroll on the beach are great, but sometimes it is fun to do something different for date night. Rebounderz is a great place for a date, and gives you an activity that is healthy, energizing, and FUN! A great place for a first date, a trampoline park can be a way to get to know someone as you bounce, flip, and get in some great exercise! Trampoline parks are also a great place for a group date, and you can easily have a larger group enjoy time together. Don't let date night get stale, schedule a time to go to Rebounderz with your love!
Birthday Parties
Have a kid's birthday coming up? Wondering how you are going to wrangle all of your pint-sized guests, feed them, and keep everyone happy? Rebounderz trampoline park is the perfect solution to your quest for a great birthday party! We provide a huge, safe space where kids can run, play, and expel that ever-present energy. We also take care of the food, and provide tables with all of the plates, cups, and napkins you need! We even have balloons and printable invitations, so we make birthdays easy for parents and a blast for kids! At Rebounderz, you don't have to worry about the weather on your party day, you don't have to clean up, and you can relax while your kids jump (or join in the fun)! Rebounderz is a great location for a memorable, fun birthday party that your child will remember for years to come.
Family Reunion
Do you have an extended family that loves to play and adventure together? Are you tired of lawn chairs and potato salad as the main attraction at family gatherings? If you have a family reunion coming up, Rebounderz can be rented out to host your kin at a one-of-a-kind family event! All ages can play, or watch, and cousins, grandparents, moms, dads, and even that one wacky aunt will all be glad to bounce and visit with each other! Especially if you have an extended family with a lot of children and teens, it can be hard to find a venue where they will be entertained and not get restless. A trampoline park gives kids space to spread out and play, and as we mentioned above, you don't need to worry that your reunion will get rained out. A trampoline park is a great place to have competitions that are bound to become treasured family stories, and fuel some good healthy family rivalry. If you are planning a family reunion, consider this unique venue as a great choice!
Playdates
Want to give your kids a place to meet up with friends and play in a safe, confined space? Rebounderz provides the perfect location for kids to run while parents can either join in, or catch up on the sidelines. If you feel like you are always chasing your kids around the playground, or worried that they will wander off when you are at the park, an indoor trampoline park gives them the space to explore and you the peace of mind that they are contained. If it is raining outside, too hot, too windy, or too cold, it is always the perfect temperature inside our trampoline park! Rebounderz can be a great venue to meet up during the summer months to keep those school friendships strong, and a good location to have a get together before the school year starts.
Team Building
Want a great spot for a corporate event? A trampoline park can host large or small groups, and is perfect for team building. Engaging your employees outside of the workplace can result in better work performance and can help build bonds and company culture. Jumping brings out the inner kid in all of us, and can make even the most reserved coworkers loosen up and have a blast. Organize some competitive games where you need to work together and communicate, and watch as those skills transfer to the job. A company that plays together can more effectively work together, and providing an outlet for your company to unwind shows that you are invested in more than just your bottom line, but also in your people.
Exercise
If you are needing to shake up your exercise routine, Rebounderz offers an awesome fitness class that will have you jumping your way to fitness! Bouncing on a trampoline engages all of your muscles, and gives you a better cardio workout than running! While just bouncing can be great for your core, our fitness classes are designed to maximize your calorie burn and give you a great cardiovascular workout. We offer evening classes that will make exercise fun and make you feel like a kid again! Don't settle for another run on the treadmill—head to Rebounderz for your next fitness class!
Train For Sports
Many athletes find that a trampoline park offers a great chance to work their muscles, try out new moves, and bond with their teammates. Because bouncing works your core, and engages all of your muscles, you can really get in a great workout while perfecting your sports skills. A trampoline park is also great for bonding your sports team together and participating in a different kind of physical activity. Snowboarders, skateboarders, freestyle skiers, wakeboarders, and kiteboarders can use trampoline parks to recreate the feeling of being airborne without the danger associated with their various sports. Trampolines are a great way to avoid serious injuries while learning new sports skills.

Teenage Fun
While there are plenty of activities for young children, the teenage years can prove to be a challenge when looking for a safe place to hang out. You don't want your teenager just roaming aimlessly around, but they often think of playgrounds and other kid hotspots as too "babyish". Rebounderz provides a safe space where teens can have fun, be active, and hang out with their peers. Instead of wasting the day playing video games, watching TV, or complaining they are bored, your teen can be having a great time and getting some great exercise. Plus, Rebounderz is a place where adults can join in, providing a space where you and your teen can connect, play, and have fun. The teen years are a hard time, for both kids and parents, and Rebounderz seeks to make them more enjoyable with our trampoline arena and ninja warrior course.
Holiday Parties
Tired of the same old, same old when it comes to holiday parties? Looking for a spot to host your next company party? Rebounderz is a unique location to host a company or private holiday party that your guests won't forget! Don't let your party be a boring evening of picking at appetizers and making small talk, choose a trampoline park to get everyone moving, involved, and having fun!
Maybe you have had a great birthday party at Rebounderz in Newport News, but have never considered what other events would be perfect here. We want to be a space that you think of the next time you plan a corporate event, team building exercise, date night, or family reunion—call us today to schedule your next amazing Rebounderz event!