Halloween Trampoline Extravaganza!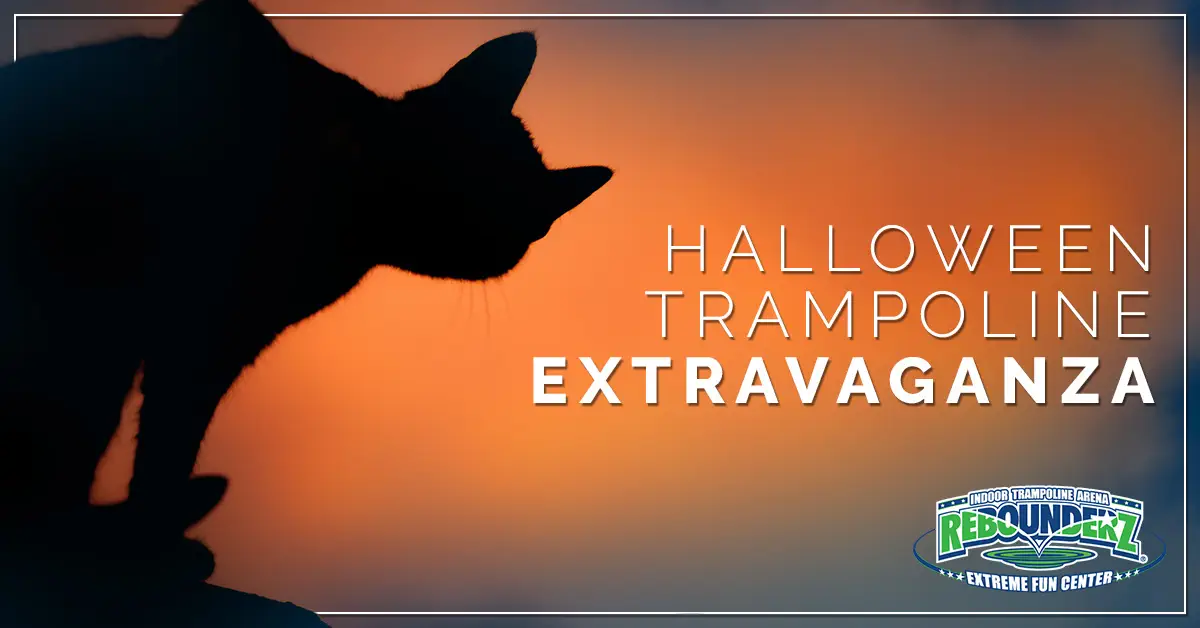 Halloween is a magical time of year. It's the time of year where spooks come out for a good haunt and candy is bountiful. With the hot summer temperatures cooling down and the days getting shorter, it's time to celebrate the fall season! If you work with school groups, church groups, or manage company parties, and are looking for great options for your Halloween party this year, you've come to the right place.
Pumpkin spice lattes aren't the only way to celebrate the fall and Halloween season. In fact, when you have to throw a Halloween party, you want to be able to provide a family-friendly environment with tons of fun and games. There's nothing better than hosting a Halloween event right here at Rebounderz of Jacksonville. With such a wide variety of activities and tons of space, Rebounderz is the perfect space to rent for a private event or just to throw a small party in a private room. Either way, it's easy to share the Halloween fun and have a great time at our family entertainment center all at the same time.
After you've enjoyed time at Rebounderz of Jacksonville for Halloween, make sure you're ready for trick-or-treaters with a few of these spooky ideas to spruce up your porch.
Pallet Wood Jack-O-Lantern
A spooky jack-o-lantern that you can light a candle in is great for your porch, but they don't last very long at all. Instead, create a clever jack-o-lantern that can last you year in and year out. Simply build a pallet board box and paint it orange. Provide a distressed look and then cut out a spooky face with a jigsaw. Top it off with some ever-lasting green foliage on top and you've got a yearly decoration that is sure to please.
Boo Barrel
If you're not a fan of opening the door for trick-or-treaters, don't let the kids miss out on candy. Instead create a boo barrel to hold your candy on the porch in a fun and festive way. Track down a bottle bucket with legs. They're hard to find, but you can always make do with a round side table and bucket to match. Spray paint the bucket white and drape the table with a white cloth. Add a spooky ghost face to the cloth and put all the pieces together prior to filling up the bucket, or a bowl placed in the bucket, with candy.
Webs Galore
There is nothing creepier than feeling a spider web brush against your skin. Deck out your porch with fake cobwebs. Mix the type you can purchase at the grocery store with torn up strips of cheesecloth to create different textures.

Floating Witches' Hats
For something cute, purchase a bunch of cheap costume witches' hats from your local Halloween store. Grab some fishing line and hang them from the ceiling for your porch. They'll look like they're floating on their own!
Hay Bales, Scarecrows, and Cornstalks
If you're not into spooky, opt for more traditional fall decorations on your porch. You can't go wrong with a few hay bales, some happy scarecrows, and bundles of cornstalks. Add some pumpkins or jack-o-lanterns and you're all set.
Painted Pumpkins
More and more people are opting to forego carving their Halloween pumpkins in favor of painting them instead! This is great for younger kids and there is a lot of variety you can do without having to use knives. Paint your favorite football logo or simply go for a classic jack-o-lantern face. Either way, the process of painting a pumpkin is just as fun as carving one!
When it comes to your Halloween party, come have fun at Rebounderz trampoline parks before a night of trick-or-treating! Call us for details today!