Even if we want to, we can't always be outside enjoying the beautiful Florida weather. Whether it's too hot, it's rainy, or you just don't feel like adding another dose of sunscreen, it's always important to have a list of fun things to do indoors in Orlando, FL.
Luckily, there are a ton of inside activities for kids, adults, and all ages to enjoy, from indoor playgrounds to chocolate museums to ninja warrior courses, and much more!
Best Ideas for Indoor Fun in Orlando, Fl
Ready for some fun? Cool off and investigate hidden indoor fun Orlando attractions for all ages. 
Indoor Fun for Kids in Orlando
The first options on this indoor-fun-list are great ideas for kids, but we're certain adults will enjoy them too! 
Indoor Trampoline Arenas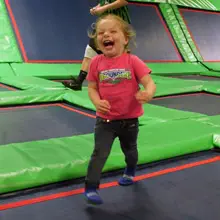 If your kids love adventure, Rebounderz is a must visit when in the Orlando area. Rebounderz is an indoor trampoline arena but they also have a number of other entertaining activities. The indoor trampoline arena can  be enjoyed by the whole family! 
It's a great activity to get your kids moving, kids of all ages will really enjoy this active experience. They can jump, bounce, and perform wall or floor trampoline feats. This safe and innovative trampoline facility is a great indoor fun Orlando activity.  
Check out all of Rebounderz affordable offerings today that your kids–and you–will enjoy! Plus, Rebounderz offers a "Parent's Night Out" option, where you can drop your kids off with them while you enjoy other parts of the city Orlando has to offer! 
Go-Karting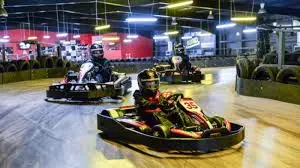 The sunshine state also offers heart-racing indoor activities such as go-kart racing, a perfect way for your children to get into a friendly competition race on the race track. There are specific requirements for kids to participate in go-kart racing depending on the location, such as age or height, and children must have a signed waiver from the parent.
There are many choices for indoor go-kart racing places for your kids to enjoy in Orlando, Florida including K1 Speed, Andretti Indoor Karting and Games in Orlando, and Orlando Kart Center.
Crayola Experience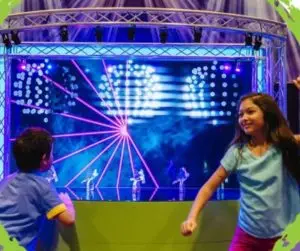 The Crayola Experience is a great place for indoor fun in Orlando that is open daily to the general public. There are over twenty hands-on projects ready for kids to awaken their imagination, and your kids can bring their art creation back home with them.   
Pro tip: purchase your advanced tickets online for some savings! 
Inside Playgrounds 
Children want to be in a safe and secure environment where they can play with other kids their age, and that's going to be Rebounderz! The inside playgrounds at Rebounderz in Orlando have swings and obstacles where your kids can unwind, explore and socialize with other children. 
Plus, get access to the other endless activities Rebounderz offers at their Orlando facility. 
Orlando Science Center

The Orlando Science Center offers several different exhibits to explore, such as Kids Town, Nature Works (some cool animals can be found here!) and Dino Digs. There's something for everyone here. 
There's also an awesome virtual reality flight lab that allows visitors 13 years and older to wear VR headsets and fly an aircraft on a mission solo or with a teammate. Plus, it's interesting for everyone of all ages who enjoy learning!
Ninja Warrior Courses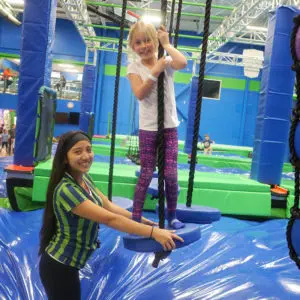 A young girl having fun in the Ninja Warrior Course (Photo credit: Rebounderz)
One of the most unique offerings on this list, Ninja Warrior courses is an extreme obstacle course kids love at Rebounderz. The indoor fun activity has three difficulty levels so all kids can feel like heroes! Kids, are you ready to be a true warrior?
Indoor Fun for Adults in Orlando
While indoor activities for kids are always important, adults have fun in Orlando too! Orlando has a ton of great indoor options for adults to enjoy, whether you're looking for a daytime activity or nighttime fun! 
Paintball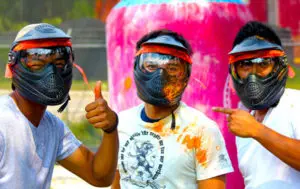 Central Florida also has some great indoor activities for adults. The largest and most well-known paintball facility is Orlando Paintball. It has 8 exclusive indoor paintball areas for adults. You need a reservation, but you have lots of options: it's open every day of the week, noon to midnight, then noon to 3 am on Friday, 9 am to 3 am on Saturday, and 9 am to midnight on Sunday! 
The Escape Game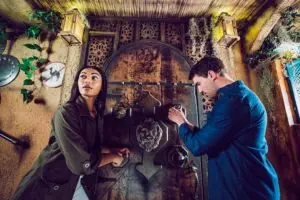 Ready to solve a puzzle? Escape the Room is a one-hour challenge to break out of a deep space, gold rush, playground, prison cell, or art heist room. Use the advice of your trusted team to find clues and solve the puzzle to escape before time is up. Everyone is welcome to try their luck in solving the mystery.
Food Tours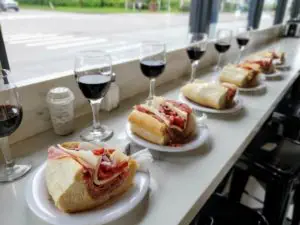 Who doesn't love a food tour? Orlando has lots of them! The Flavors of Winter Park Foodie Walking Tour to sample delicious foods and drinks on Park Avenue is highly recommended, as is the Food Tour of Local Orlando's Ivanhoe Village. 
Or, just take your own tour of Disney's Epcot! While this isn't an entirely indoor activity, it's a great option to keep yourself out of the sun or rain most of the day.
Beer Crawls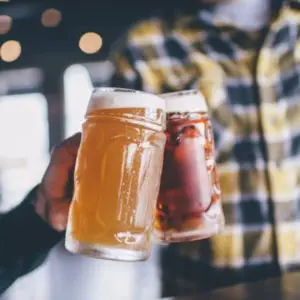 Beer crawls are a great way to break the ice with your significant other. The first location is World of Beer in stunning Downtown Orlando.  And there is a patio bar where you can sip down Bomb, which is their well-known drink and munch on pretzels. Then head to the Relax Grill at Lake Eola.
You can also find beer crawls to check out at Orlando Pub Crawl and Eventbrite! 
Virtual Reality Experiences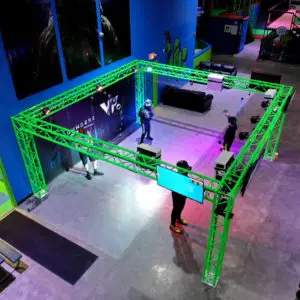 Get ready to be transported to a fantasy virtual reality world at Rebounderz! Throw a bowling ball or get your boxing gloves on…or choose from 300 other virtual games! This is a perfect way to end or start your night or day out in Orlando. 
Ice Bar Orlando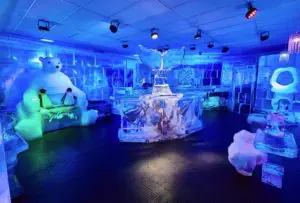 Couples or adults will definitely be able to cool off while hanging out at Ice Bar Orlando: the temperature is kept at 22 degrees. Make sure to dress with warm clothes as you enjoy the multi-level party atmosphere where you can warm up at the Fire Lounge with a DJ, try out their drinks, and even get VIP bottle service. 
Axe Throwing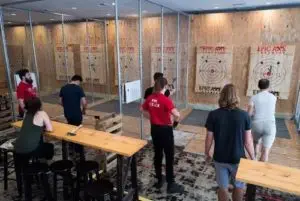 A popular place to perfect your ax throwing skills is Axe on Axe Off in Orlando, as long as you're older than 10 and with an adult. Get personal axe throwing coaching and a stress relief during this active and fun night. You could also check out Epic Ax Throwing or BATL Orlando depending on your location. 
Indoor Fun for Everyone in Orlando, FL
Now that we've covered top indoor activities for adults and kids in Orlando, let's talk about the best places for some family fun! 
Madame Tussauds 
Everyone must come visit the iconic and world-famous Madame Tussauds in Orlando. Get ready to be fooled by the most accurate wax statues you've ever seen, from celebrities to sports stars and more. 
You can even combine tickets to Madame Tussauds with SEA Life and The Wheel for some cost savings. 
Indoor Skydiving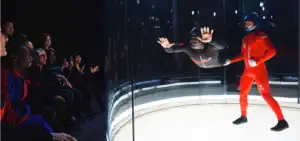 Ever wanted to jump out of the plane to skydive? Well, you can! The iFly Indoor Skydiving facility allows you to fulfill your wishes. You'll be able to freefall in the enclosed wind tunnel with your suit after a brief training session with your instructor. This memorable experience is one for the books for both kids and adults!
Unique Museums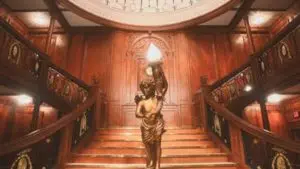 Museums are not a boring activity in Orlando! Take an adventure to April 15, 1912 on the historic Titanic ship at The Titanic Orlando, let your eyes play tricks on you at The Museum of Illusions, or have a delicious time at the chocolate museum! Any is a great pick for a fun indoor day. 
Indoor Arcades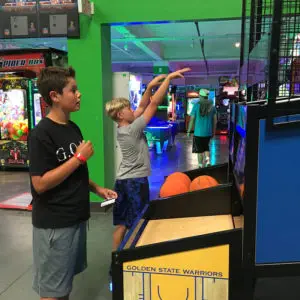 The arcade area at Rebounderz is an action-packed place where kids can play air hockey, shoot hoops and car racing to rack up arcade points to bring home fabulous prizes. They can challenge their friends and family as well. 
SEA LIFE Orlando Aquarium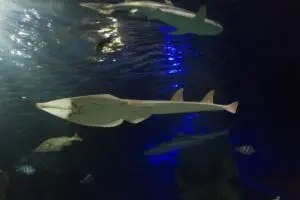 Plan an unforgettable day with your kids at the Sea Life Orlando Aquarium is an ICON park attraction. Awaken imaginations by viewing live sharks, turtles and seahorses in an enclosed 360 degree sea tank through their 9+ exhibits. 
Ripley's Believe it or Not

Interested in seeing strange and bizarre wax figures from around the world?  Peak your curiosity with the shrunken man or stand next to the world's tallest man at Ripley's Believe it or Not. Your kids will love being here, and so will you! 
The Top Place for Indoor Fun in Orlando, Florida?
We may be biased, but Rebounderz is ready for any sort of indoor fun! With endless activities and attractions–like the Ninja Warrior Course, Virtual Reality, Arcade, and Trampoline attraction–we offer something for everyone, including the parents! 
With great prices and activity options, robust safety measures, and lots of experience hosting events, you can't go wrong with Rebounderz. Check out all of our activity options today.