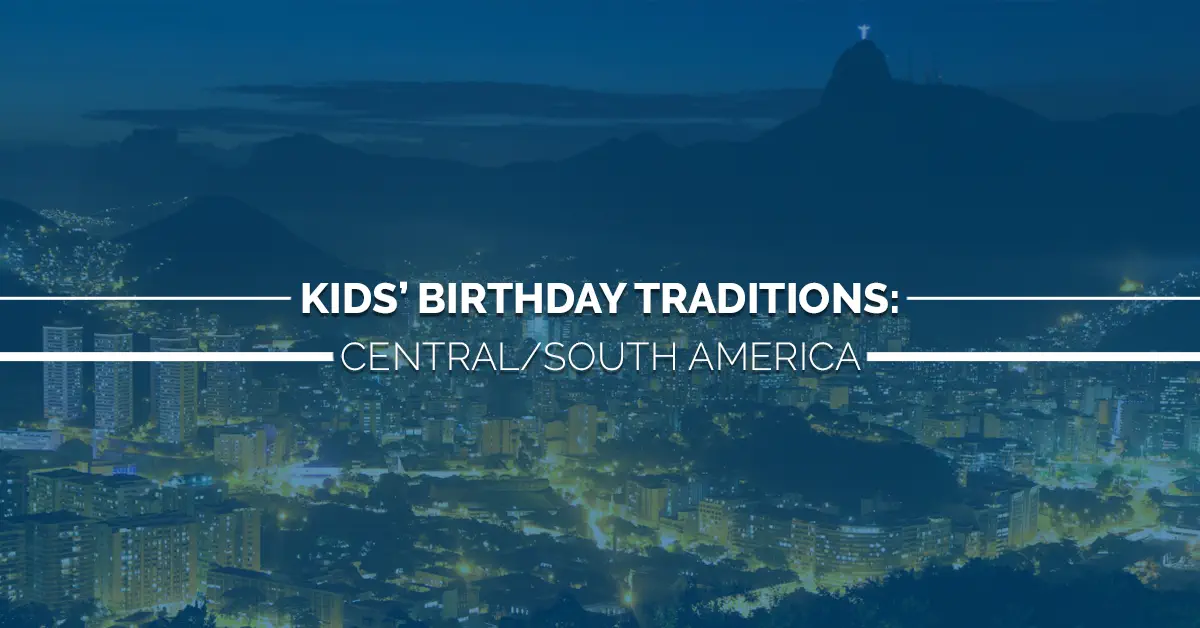 So far in our series on birthday traditions from around the world, we've learned that in some countries, people all celebrate their birthday on the same day. In other cultures, family members take turns feeding each other cake, and some kids get picked up by their ankles and have their heads bumped on the floor! And of course, there's that little-known fact that more kids slurp noodles on their birthday than there are people in the United States. Today's fourth and final installment on kids' birthday parties takes us to Central and South America!
No matter where you are around the world, kids' birthday parties are usually cause for celebration. Read on to see how kids are celebrated in Central and South America, and book your next event with Rebounderz in Rohnert Park! From scheduling jump time to after school clubs and more, we've got the active type of fun that kids simply adore.
South America vs. Central America
While sometimes associated with South America, Central America is actually part of North America. This association often happens because the national language in practically every Central American country is Spanish, which is similar to the most predominantly spoken language in South America.
However, it should be noted that the cultural and linguistic differences between Central and South American countries are extremely varied. From the indigenous peoples of the Amazon to those of the Yucatan peninsula, from the Portuguese-speaking country of Brazil to the English-speaking country of Belize, it's important to recognize that there are significant differences between the countries and continents alike.
Whether you're saying "Feliz cumpleaños," "Bon anniversaire," "Feliz aniversário" or "Happy birthday," there's a kids' birthday party out there to match. Read on to see how birthdays are celebrated for our many neighbors to the south!

Mexico
It wouldn't be a kids' birthday party in Mexico without the classic piñata. Piñatas are thought to actually be invented in China, and spread to the colonies. It was believed that the Aztecs would put a filled and decorative pot at the base of a temple or a god's statue, and then broken, simulating the breaking of piñatas that have been modernized today.
Traditional piñatas are pointed spheres, filled with candy, then hung from a tree or other surface that raises them off the ground. Kids at birthday parties are blindfolded, and take turns trying to hit the piñata while an adult moves it up and down. Today, you can find piñatas in practically any shape, design, or character, and they have become popularized in the United States as well.
El Salvador
Cakes bought from the store in El Salvador can be pretty expensive, so it's not uncommon for a kids' birthday party to be absent of birthday cake. While cake might not be on the menu, this is cause for a celebration, which means foods saved for special occasions are created. The process to make tamales is more on the lengthy side, so making them in bulk really only happens on super important days (like birthdays, of course!)
Tamales are dough made from corn, filled with chicken, cheese, tomatoes, or some other kind of meat. The filling is similar to an enchilada, but less saucy, and to preserve the flavor, the tamales are wrapped in leaves. Salvadorans are known for being some of the most hospitable people on the planet, and tamales are a delicious way to bring family and friends together!
Brazil
A Brazilian birthday party is usually very similar to that in the United States, though some of the culinary fare is different. Whereas really the only food that's considered commonplace in the United States is the birthday cake, it's practically standard for Brazilians to include salgadinhos, which are a type of dumpling. There are several varieties of salgadinhos, and all of them are filled with some combination or type of meat.
Chile
To the west of South America lies the long country of Chile, and also where some awesome kids' birthday party traditions take place. One of the most popular birthday treats is pineapple cake, which is a really decadent cake filled with whipped cream and pineapple, and topped off with—you guessed it, more pineapple.
As a person is blowing out the candles, it's customary to push the cake closer to them in attempts to get frosting on their face. For younger children, they are sometimes thrown into the air by family members, with the number of times they're thrown corresponding to their age.
Argentina
In Argentina, the standard in birthday food consists of sandwiches and sweet pastries from a local bakery called masas. For each year of a kid's age, friend and family pull said birthday kid's earlobes! If personal space is a thing for you, maybe avoid Argentina around your birthday, or just wear some really pointy earrings.
Peru
One of the things we think of most often when it comes to birthday cakes in the United States is the candles. Each candle represents a year of the person's life, or the birthday person's age is spelled out with numeric candles. In Peru, however, usually just one candle is used for the entire cake. For kids' birthday parties, it's common for all the kids in attendance wear fancy paper hats. The birthday kid wears a crown-shaped hat.
Honduras
Located in Central America, there's a very specific birthday celebration in Honduras that some might say is not so egg-cellent. Regardless of age, the birthday person gets egged, as in an egg is smashed over their head. After this, people throw flour and water on them, somewhat creating the consistency of an unbaked cake. Other than this unique tradition, Honduran kids' birthday parties are very similar in style to a traditional birthday party in the United States.

Venezuela
One thing you can expect at a birthday in Venezuela, whether it's at a kid's birthday party or not, is getting a bit of cake on your face. Many people celebrate by pushing the birthday person's face into their cake! This is a symbol of good luck for the year ahead.
Bonus Countries: The Caribbean!
Many islands in the Caribbean have similar influences to their country counterparts in Central and South America. Check out which country will cover you with flour and read on!
Jamaica
This tradition is reported as common practice in many countries in the Caribbean, but Jamaica is perhaps one of the more famous examples. Friends and family will throw huge amounts of flour onto the birthday person, regardless of how old they are. Sometimes the birthday person might also be covered with water first, just to really make it stick. Many people get flowers on their birthday, but in Jamaica you'll just get floured.
Dominican Republic
In the Dominican Republic, you don't have to go to a kids' birthday party to see someone get dumped with water on their special day. One of the most common birthday traditions is dumping water on the birthday person, no matter the age!
The Caribbean, Central and South America have some amazingly fun and festive birthday celebrations. No matter where in the world you go, birthdays are pretty special. When you're in the Rohnert Park area, make sure you book your kids' birthday party with Rebounderz! Call and schedule an event that is sure to be one to remember.