The Best Basketball Slam Games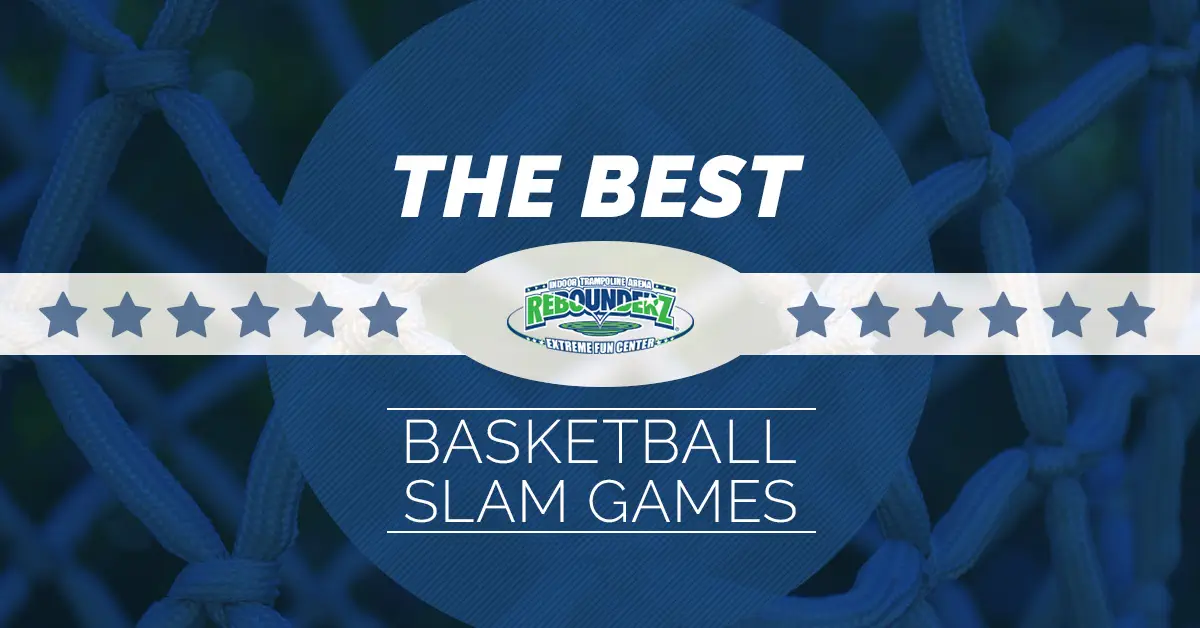 Everyone who has ever played, watched, or even heard about basketball has that one hoop dream.
Everyone wants to be able to dunk.
When you're watching LeBron James do it night in, and night out on ESPN, it's hard not to want to replicate that. But not everyone can lay the claim of being one of the greatest basketball players of all time — not to mention not everyone here in Grand Rapids, Michigan can boast a height of 6-foot-8.
But don't give up on your dreams just yet! There is still hope for those who have yet to achieve these great heights.
It's called Basketball Slam, and it's available for fun-loving, jump-happy basketball enthusiasts who fancy a new way to fly. At Rebounderz, which houses the most extreme trampoline parks in Grand Rapids, we have a full-court Basketball Slam court available for you and your friends to bounce around and shoot some hoops in a way you never knew could be possible.
You can compete head-to-head or side-by-side within a variety of different Basketball Slam games, and the bouncy trampolines at our park will help you soar like never before.
Our Basketball Slam parks give you all the fun of playing basketball on your own backyard trampoline but with a few added benefits. First of all, you and your squad will have plenty of room to roam at the Rebounderz trampoline parks. Next, our courts and hoops are fully adjustable to fit your height, we have added safety measures and padded rims for comfort, and easy-to-handle soft basketballs for easy grip and palm-action.
Ready to bring your squad in for a challenge? First, let's check out a few safety tips and features, and then we'll dive right into a few fun and challenging games so that you and your crew can finally decide who is king of the air court.
Basketball Slam Safety
First of all, you should be fully aware that our innovative basketball slam courts feature four lanes (each with its own hoop), with our custom designed face-to-face layout. Our courts are lined with our superior padding, and the rims themselves also have their own padding for maximum dunkability and comfort with minimal risk to your hands.
However, you need to be sure that you take some proper safety precautions of your own in order to help us provide you with a safe and dunk-filled adventure. Here are a few safety tips you should always follow at our indoor trampoline parks:
Follow the instructions of our Rebounderz Referees at all times.
Always wear your Rebounderz Jump Socks – NO BARE FEET ARE ALLOWED.
Sign you liability waiver (if under 18, make sure you have your parent or legal guardian fill out your waiver).
Wear safe, comfortable clothing (avoid things like jeans, metal buttons, chains, baggy jackets and hoodies, etc.)
If you're playing Basketball Slam, you may also need additional safety equipment such as helmets or elbow pads. Check with your friendly neighborhood Rebounderz Referee to learn more.
Game No. 1: Original SlamBall
Remember flipping to SpikeTV on some random weekend and seeing a crazy form of basketball featuring trampolines and teams of four jumping around and performing crazy tricks and dunks? That was the original, somewhat professional, sport of SlamBall.
While it featured some fairly rough play, it also featured a whole lot of high-flying fun that you can do your best to replicate on your trampolines at
Rebounderz – without all of the collisions and takedowns, of course.
Here's how it works:
Create your teams. It works best with either two or four players on each squad.
The object, of course is to score the most points. Scoring is achieved just like in regular basketball, although in this game shooting a field goal is worth two points and making a slam dunk is worth three points.
Play either two, five-minute halves or two, 10-minute halves, depending on the court availability and your group's preference.
Work with your team to set up sweet dunks, block the opponent's attempt, and have a safe, fun time!
Game No. 2: Bounce-Horse
We all remember playing a casual game of H-O-R-S-E on the playground, right? Well, think of this as just your normal, everyday game of horse, only with a high-flying twist.
This game is a fun, all-inclusive way to experience the basketball slam courts without having to go all-out with a game of SlamBall. Here, you are simply trying to make the best shot possible, and do it in a way that your fellow ballers won't be able to replicate. Here's how it works:
While the other players clear a path, one player starts on the trampoline and makes a shot in the most creative way possible.
The next player enters the arena and attempts to duplicate the shot. If they miss, they get their first letter.
Add additional players to the mix for an added challenge. If they make the original shot, they must then add their own personal twist to the end.
Then, the next players will attempt to replicate the original, the twist, and so on until there is only one baller left standing.
Game No. 3: Dunk Contest!
How could you go wrong with a classic, run-of-the mill dunk contest? It's a simple, fun, and competitive game that everyone can participate in at the indoor trampoline park. It's best if you can employ the services of an objective judge (not your mom; she'll always just vote for yours).
Then, you and your buddies can take turns trying to replicate and improve upon the dunks made by NBA stars on a daily basis. The person who gets the highest score from the judge wins!
Get To Jumping!
Indoor trampoline parks are great, innovative, and fun ways to promote exercise, team building, and a whole lot more. Maybe you want you or your kids to have their next birthday party at Rebounderz. Maybe you've just always wanted to hit a clean slam dunk.
The possibilities at Rebounderz in Grand Rapids are truly endless! Get your jump time now and have some high-flying fun!