Ninja Courses Coming To Rebounderz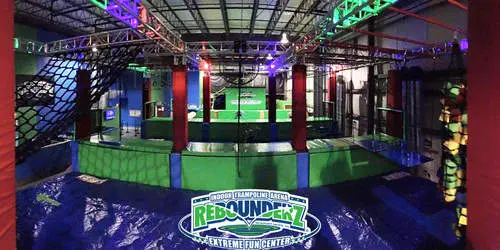 Now that August has finally arrived, we are pleased to announce that our new Ninja Warrior inspired course is almost ready to unveil itself! We are super proud and know all our jumpers are going to love it. Not only is this going to be a full sized state of the art course, it is also going to be for kids and adults. So now everyone can join in on the fun!
This awesome new attraction is going to have not one, but two courses for you to enjoy. One course will be for all the big kids out there-we are talking to you adults. You will actually be able to feel like you are on the television show! Running, jumping, and soaring over our elevated course will be the highlight of your day, if not your month.
Also, we will incorporate a separate course so that the little ones won't miss out on all the fun. This course will be available for kids seven and under. They will be able to experience the daring feats of the course made just for their tiny selves. This attraction is going to able to be utilized by all ages which will make for some of the most fun we have to offer.
The course is going to consist of many exciting and daring obstacles; cargo nets, zip lines, ropes, and more. This course is sure to test your limits. Thinking about what actual Ninja Warriors can do is quite perplexing. However, if we break it down to the basics it would be very easy to prepare for our course.
Grip, Balance, and Footwork
Grip

Abnormal and more difficult objects to grab hold of

Balance

Smaller surfaces to walk across and be exposed to

Footwork

To move fast and have more precise movements.
If you practice these three things, you will be a master at our course in no time! These abilities will lead to your success when competing against our other ninjas.
So we hope you are as excited as we are for this awesome new attraction we have at Rebounderz. We have put a lot of thought and effort into this course and we want you to enjoy it as much as we do. A release date is coming soon but keep practicing on those ninja skills, checking our website, and experiencing our other great attractions. Soon enough you can and will be a ninja with us!