The Perfect Fairy Tale Party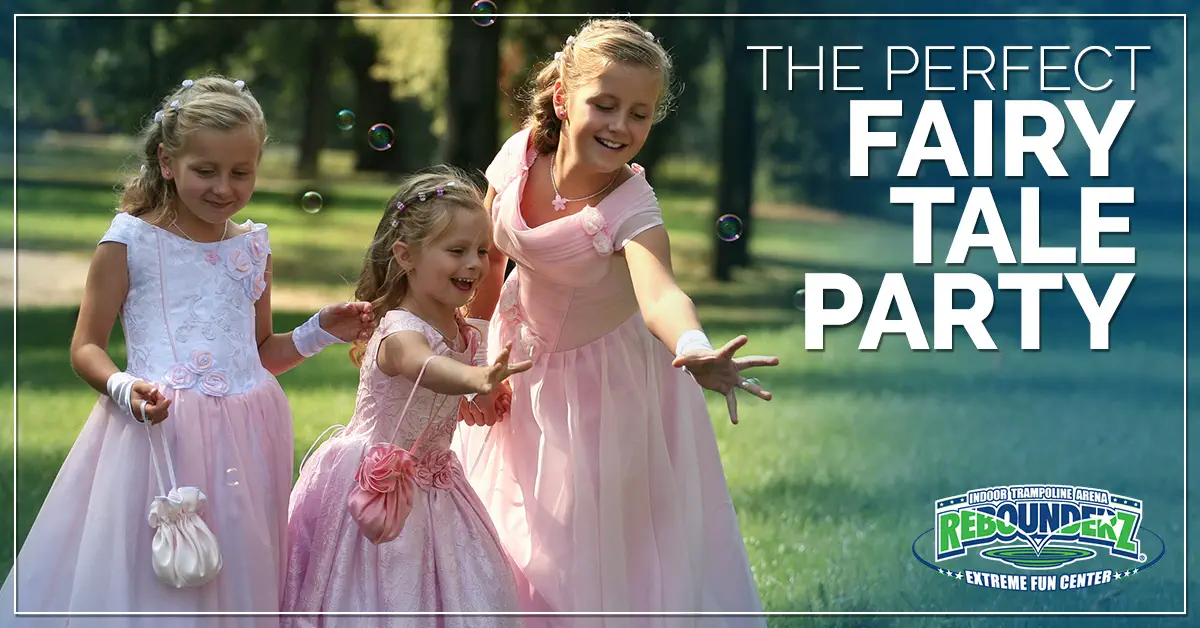 There are many reasons that fairy tales are the perfect stories for children. While some may be a bit scary in their original form, they're great options for kids to learn and explore. That's why we thought it'd be a great idea to have a fairy tale party room at Rebounderz of Sunrise. With so many different types of kids looking to have a great birthday party, we understand that they need have a wide variety of themes to choose from. Not all kids are going to be into sports or superheros. If girl wants to have her party in the fairy tale room, that's great! If your daughter loves Marvel, that's also great! The point is that any child has the ability to pick the themed room at Rebounderz of Sunrise that fits them the best.
Fairy tales are excellent for children to both learn and connect, along with the fact that they can be just fun. Before we get into some of the great party details you can include in your child's fairy tale birthday party, consider these reasons that your child should have fairy tales in their lives:
Fairy Tales Encourage the Imagination: While you may think of reading a fairy tale to a child as just reading them a story, the reality is that it's another way for kid's to see their own world and explore the bounds of reality. It helps to expand their imagination and encourages them to explore new possibilities. In fact, you may even find yourself exploring new possibilities as you reread old favorite tales.
Fairy Tales Teach Right and Wrong: When you boil down a fairy tale to its main basic elements, it's typically just some form of fight between right and wrong, good and evil. And for part of a fairy tale, good almost always wins unless the story was written by the Grimms Brothers. Fairy tales don't directly tell kids what is right and wrong, but teaches them how to infer what is right and wrong through specific story structures.
Fairy Tales Teach Emotions: Kids don't have an innate understanding of emotions and the world around them. They have to be taught these, and because fairy tales often center around children or young people, they're a great avenue to do just that. Fairy tales help teach children how to identify their own emotions by relating to the characters in the story.

Fairy Tales Are Just Plain Fun: Whether or not a child recognizes that they're learning right and wrong or that their imagination is growing, the one thing you can be sure of is that they are having fun. And they probably aren't going to be the only ones to enjoy the story, you probably will too!
For your child's fairy tale party at Rebounderz in the Miami area, there are many different things you can do to help make the day truly magical. The kids will obviously have a great time playing on all the attractions available at our family entertainment facility, but you can add to the magic with a few of the following ideas:
Princess or Prince Garb: For your a fairy tale kid's birthday party, you have to set the scene. One of the best things you can do is provide costumes or props that kids can dawn when they get to the party. Pick adorable tutus for girls and some neat felt gold epaulets for the boys. And of course, you need crowns for everyone. The best thing too is that kids can jump on the trampolines with these costumes and they could be great party favors.
Fairy Tale Photo Booth: Our fairy tale room at Rebounderz of Sunrise is the perfect place to set up a mini photo booth. With Cinderella's carriage as part of the setting, you can bring in some fun props and let the kids pose with them. Use a Fujifilm Instax and the kids will get to take home polaroids of themselves and their friends.
The Perfect Sweet Treat: When it comes to a Rebounderz party, the only food you will have to worry about is the cake. For a fairy tale party consider cupcakes decorated as forest mushrooms, a castle, or perhaps even a gingerbread house to shake things up!
Enchanted Party Favors: When it comes time to go home from an enchanting afternoon at Rebounderz, you'll want to send kids home with something fun. A couple options include a fairy tale coloring book and art supplies, or perhaps some fairy wands are the perfect fit. Get creative and use your own imagination to inspire your choices.
You don't have to stress yourself out to provide your child with an amazing fairy tale birthday party! Just turn to Rebounderz of Sunrise and we'll help make some birthday wishes come true. Call us today to book your child's party!