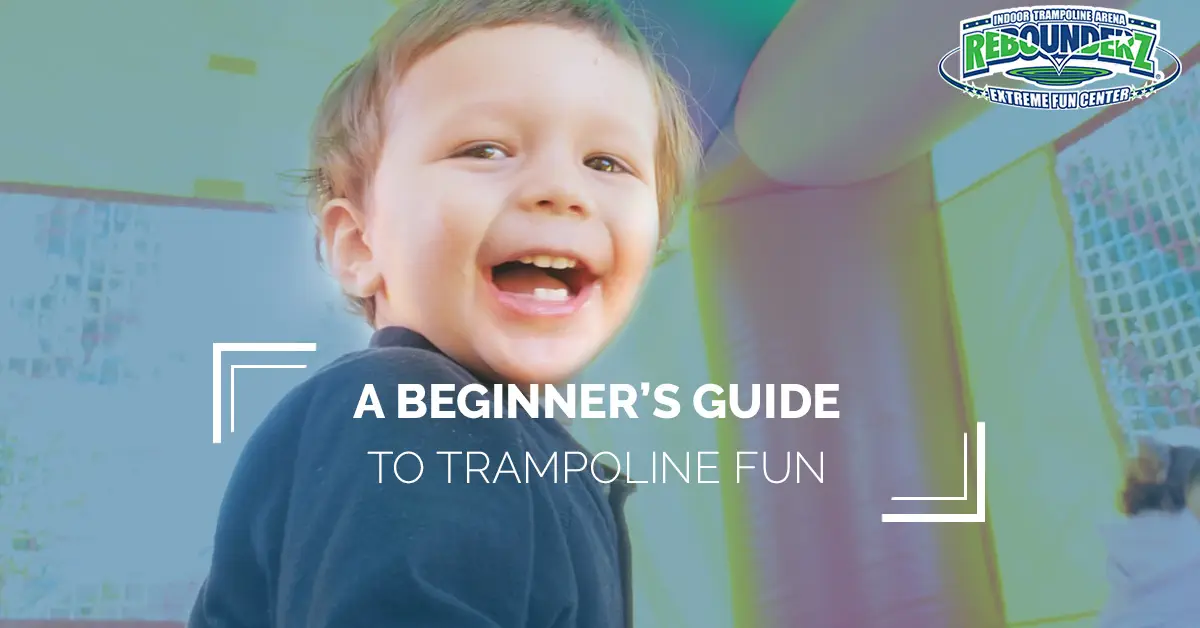 So you're going to the trampoline park—lucky you! If you have never been to an indoor trampoline arena and never experienced the magic of Rebounderz, you may not know what to expect. If you have been invited to Rebounderz for a birthday party we are excited for your first visit, and know you will love your experience! We want to prepare you for your first visit so that you have the most fun possible, so read on for some great information!
Who Can Jump?
Really, anyone who wants to! We welcome all ages (although our littlest guests may prefer our toddler time-read about it below) to jump and have fun. Rebounderz wants to be a space that caters to kids, teens, and adults, and to show everyone how fun it is to JUMP!
Sign a Waiver
This one is really important, and if you are a parent dropping off your kids, you need to know this before you go! Rebounderz requires all jumpers under the age of 18 to have a liability waiver signed by a parent or legal guardian, and a government-issued ID must be used and presented at the front desk. If you are bringing your child to a birthday party, make sure their waiver is completed before you leave!
Wear Something Comfortable
You want to wear clothes that will move with you, be breathable, and keep you cool. You will definitely work up a sweat on the trampoline, and you will be bouncing all over, so belt buckles, jewelry, and even a lot of buttons or snaps can be uncomfortable. Good choices of clothing include athletic wear, yoga pants, sweat pants, and loose t-shirts and shorts.
Wear Socks
Rebounderz requires you to wear our special jump socks in order to use our equipment. Don't worry, they are reusable! Socks help keep the arena clean, and everyone safe. You can purchase socks when you arrive.
Follow the Rules
Wait, rules? I thought this was fun! The rules we have in place ensure that you have as much fun as possible, so follow them to maximize your visit! Your pockets need to be empty before you jump—no keys, phones, or anything else that could fall out or poke you. No gum on the tramps, we don't want any choking or sticky messes! Along with gum, no food or drink—but feel free to enjoy those at our tables! Following these basic rules keeps the environment clean and safe, and helps everyone enjoy the jumping.
Practice
It's jumping—how hard could it be? Bouncing is easy and intuitive, but it is good to get a few practice bounces in before you start trying new moves. Learning how to stop jumping, how to not bounce toward the edge, and how high you go with each bounce. Giving yourself a few minutes to get ready will start you off on the right foot…or, bounce!
Listen to the Referees
Our referees are our friendly staff who monitor the jump areas and remind bouncers of safety tips. There are a few guidelines that may not be intuitive to jumpers, and the referees can help you know how to bounce. There is no laying on the bounce area (you might get squished!), no double bouncing (someone's always unhappy about this one!), no double flips, no wall flips, and no running. The referees know how to keep the bounce area safe while making sure everyone is having fun, so be sure to listen to them!
Listen to Your Body
While a trampoline park allows you to do moves that you never could on solid ground, it does not make you invincible. Stay within the range of moves that are comfortable for you, and increase your skill gradually so you don't get hurt. Everyone has different abilities, so don't try a super flip just because your friend can do one.
Stay Aware
This goes for both adults and kids—be aware of your surroundings! Your flip might be amazing, but if you are landing on another jumper someone could get hurt. Before you attempt a move, look around to see who is nearby. Staying aware will keep you safe and keep you connected to the group you came with.
Know About Toddler Time
Every Tuesday, Rebounderz has a dedicated time for our littlest jumpers to ensure the stay safe and have the most fun they can! Toddlers can become overwhelmed and even scared when they jump with a lot of older teens and adults, and their experience will be more enjoyable surrounded by their peers. Every Tuesday from 12-2pm we welcome children two to six years old to join in the jumping fun!
Discover Dodgeball Again
Dodgeball might be a thing of your childhood, but at Rebounderz we are bringing it back better than ever! Dodge, dip, duck, dive, and dodge your way to success in one of our most popular games! What is more fun than evading a dodgeball with a jump? When you ninja-flip over a ball and miss it by less than an inch! Many older jumpers love the dodgeball part of our trampoline arena and the fierce competition that can ensue. Start a team with your friends and let the dodging begin!
Air Basketball
Have you ever wanted to feel like an NBA pro slam-dunking your way to a win? Our Basketball Slam lets you do just that, and you can experience what it feels like to get some serious air. The padded rim and soft ball keep this activity totally safe, and the height can be adjusted. Feel like a superstar!
The Number One Rule…
Are you ready for this, the number one rule is to HAVE FUN! That is what Rebounderz was designed for, and when you follow our tips and tricks you will maximize your experience with us and have a blast. Having fun is what we do best, and we can't wait to share that fun with you! Whether you want to slam dunk, start a dodgeball game, or just practice your flips to perfection, you are able to do a variety of different activities, all of which are designed for fun.
Are you ready for your visit? If you have been invited to a birthday party at Rebounderz in Newport News, are taking the family there for a fun-filled evening, or are planning a team-building exercise, knowing what to expect will help you be safe, be aware, and most of all, have FUN!