Trampoline Fitness Classes: The Workout Of The Future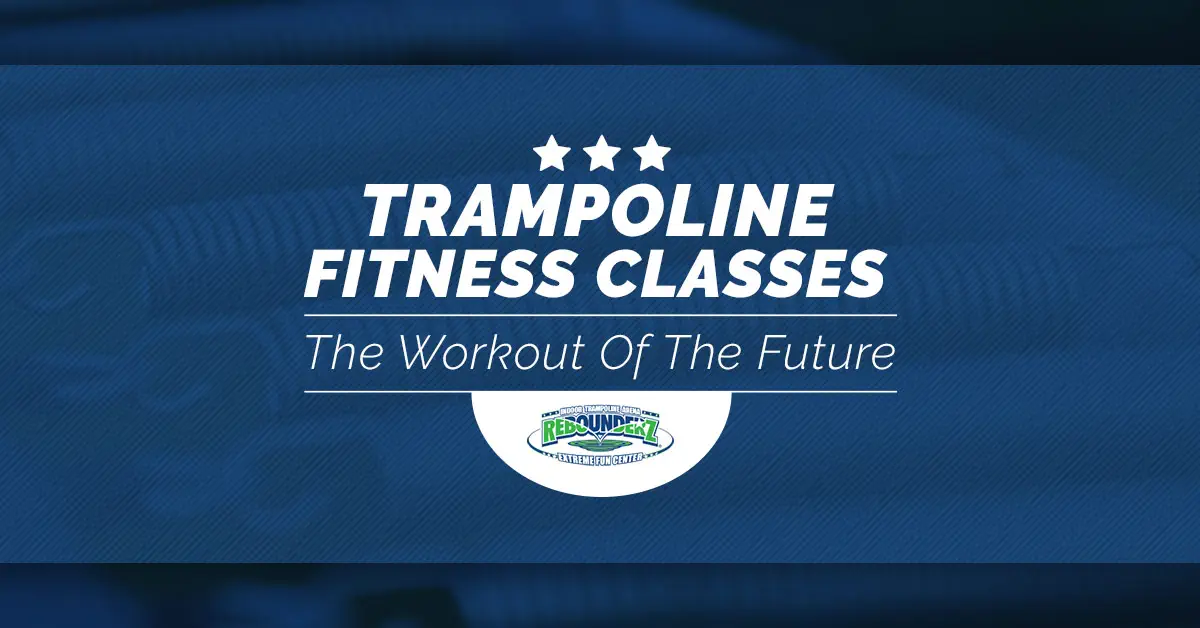 Remember the olden days of exercise?
Where it was just walking or running on a treadmill, maybe lifting a few dumbbells, and finishing up with a steam in the sauna.
Sure, that's been an effective way to get into shape for a long, long time. But it's also so…BORING!
Exercise doesn't necessarily need to be all work and no play, adding no extra excitement to your already full work day. In recent years, there have been newer, more exciting forms of exercise popping up all across the country; from things like dance classes to hot yoga and a whole lot more, there is now no shortage of ways to improve your fitness in a fun and challenging atmosphere.
And now, you can go ahead and add trampoline fitness classes to that ever-growing list.
That's right, your favorite backyard plaything from your childhood can now be transformed into a new and thrilling way to burn calories, improve cardio, and have a downright great time.
Indoor trampoline parks across the country are starting to take notice and get in on the ground floor of this trend, and there's nowhere better in Grand Rapids than Rebounderz to take part in these thrilling trampoline fitness classes.
So, let's jump on in (get it?) and learn more about the history and benefits of trampoline fitness classes. But before that, let's take a look at what our Grand Rapids Rebounderz has to offer when it comes to exercise classes.
Rebounding at Rebounderz
Our indoor trampoline parks offer state-of-the art trampoline arenas that are great for birthday parties, group outings, and yes even exercise. Here, we encourage you to jump towards your fitness goals, and our environment allows you to have a whole lot of fun while doing it.
Perhaps not-so-coincidentally, working out on a trampoline is commonly known as "rebounding," which is why it's only fitting that Rebounderz trampoline parks offer this as one of our core programs. At Rebounderz in Grand Rapids, we have rebounding classes every Monday and Thursday, from 7:30 p.m. until 8:30 p.m.
Costs are $7 per class, and they are available to anyone in Grand Rapids looking for a challenging, efficient cardiovascular workout. We also have a punch card system which allows you to purchase 10 of these classes for a discounted price of $50.
Need to bring the kids with you? Well, they will certainly thank you. And you can allow them to play and jump around while you exercise with $4 off for an hour of jump time for the little ones.
Come on in to Rebounderz in Grand Rapids to learn more about our trampoline fitness classes today.
History Of Rebounding
The origins of rebounding, which refers to the act of jumping or moving on a miniature trampoline as a form of exercise, are difficult to pin down. While it is widely known and accepted that George Nissen invented the modern trampoline in 1936, and the first small trampoline was created two years later by Ed Russell, it's difficult to track down the actual origins of rebounding.
Many people tend to cite the study performed by NASA in 1980, which claimed that jumping on a trampoline can increase cardiovascular health at a rate that is greater than jogging. Their study, according to some, claims that 10 minutes of bouncing on a trampoline is a more efficient cardio workout than 30 minutes of a slow jog would be.
While some scientists have refuted these claims to varying levels of degree, rebounding is still widely accepted as a reliable and effective means of cardio exercise.
And with good reason!
Benefits of Rebounding
Trampoline fitness classes, or rebounding, has been known to produce significant results. Its intensity level is not all that high, which means people of all ages, shapes, and sizes can participate and have a great time while doing it. Among the many benefits of rebounding are:
Balance: Rebounding is said to improve balance, particularly in elderly participants, because of its reliance on stimulating the brain and "middle ear."
Strength: With increased blood flow, you can experience more energy and oxygen to your muscles, which can lead to not only added strength but also greater muscle tone.
Flexibility: Rebounding is considered to be a low-impact form of exercise, and because it utilizes several different muscle groups it can help promote flexibility as well as create less stress on the joints.
Conditioning: Believe it or not, there is some pretty high-level science behind this benefit. Because it is, at its core, an aerobic exercise, rebounding can help with heart strength and function. However, participants may also experience strengthened and more oxygenated cells because of the gravity and levels of pressure experienced while jumping. How neat!
Rebounding is fun for people of all ages. Rebounding at your local Rebounderz? Well, that's just a match made in heaven! Contact us today to learn more and sign up for your first class today.