Activities for Kids Over School Winter Break
The holidays are coming, which means that winter break from school is quickly approaching. Regardless of what traveling you do and whether your children have two weeks or two months out of school, there is bound to be plenty of downtime for your kids. While unstructured time is important for play and creative expression, left bored too long, it can lead to mischief! Winter presents some special challenges for activities for children because temperatures are lower and daylight hours are much shorter, making it much less desirable to frolic and play outside all day. Having your whole family cooped up inside for the entire school break can lead to bored kids and frustrated parents. To help keep your children engaged this winter break, and help you maintain some sanity, we'd like to offer you some helpful winter break tips for kids.
Activity stick jar.
Combat boredom now and in the future by making an activity stick jar. All you need for this project is a jar and either strips of paper or popsicle sticks. Everyone should write down some activities to cure boredom — "put on a talent show," "build a fort," "paint a picture" — and when your children complain of boredom over the winter break, encourage them to draw an activity to do. This kills two birds with a single stone — creating the jar is in itself a creative activity, and then when the activities are drawn, it provides your kids with an activity instead of having to continually search for ideas. Additionally, when your kids help make the jar, they can be sure that everything inside is something they want to do!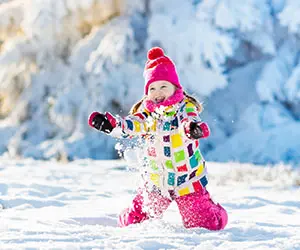 Get outside!
Yes, winter is a time that it is a little more difficult to get the kids outside to play. The sun isn't up as long and temperatures have plummeted to uncomfortable levels. And, kiddos don't seem to readily sense when they are too cold and will continue to play despite losing feeling in fingers, toes, and noses. However, that does not mean that your children can not still play outside, it simply means you'll have to monitor it a little more than the warmer days. Playgrounds and water tables aren't winter options when they are iced over. Some ideas for getting kids outside include sledding, ice skating, snowball fights, and building an igloo. Even when it is snowy and cold, it is still important to get fresh air and a healthy serving of sun-administered Vitamin D.
Family Entertainment Centers
Family entertainment centers (FEC) are great for winter breaks from school. Not only do they provide your entire family with exciting entertainment, but they get everyone out of the house and engaging in active fun. At Rebounderz of Lansdale, we have more than 10,000 square feet of trampoline surface in our jump arena along with a laser tag arena and other fun activities. All of these attractions are sure to keep your kids active during their entire stay, wearing them out. The best part about family entertainment centers is that they offer a wide variety of safe activities, which is sure to make your entire family happy.
To get your kids out of the house over winter vacation and provide them with active entertainment, stop by your local Rebounderz location today!
For more ideas, check out some of our other articles: