Avoid Winter Hibernation and Get Active With Rebounderz!

It can be hard to stay motivated and active in the winter when all you want to do is cozy up and hibernate until spring. Stay motivated with Rebounderz indoor trampoline park!
Staying active in the summer months — especially in Sunrise — is effortless. Between surfing and swimming, moving is mindless! And then rolls in the slightly cooler Sunrise winter temperatures that make us want to put on the kettle and hibernate, but staying active in the winter months is so beneficial.
At Rebounderz indoor trampoline park in Sunrise, you can stay active with the whole family all year long. Enjoy and celebrate birthday parties or use it as an excuse to have a fun day out with your friends. Venture into the topic of staying active in the winter and why it is beneficial for everyone.

Don't Blindly Abandon Your Activity in the Winter!
It can be easy to forego your workout routine because of the winter blues — the days are shorter, the temperatures drop, and there is less vitamin D to be absorbed — but even if the indoors beckon you, you should opt to stay active no matter the conditions.
Regular exercise is beneficial in so many areas of your life as it boosts your mood, improves your energy levels, and helps you sleep better at night.
Need a few ideas of what to do in the winter months for fitness inspiration? Below are a couple of ideas to keep you motivated.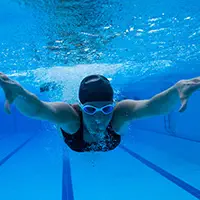 Hot Yoga
There is nothing like going to hot yoga in the wintertime — you enter a calm, quiet, and perfectly warm environment. Your muscles stay warm and you can really improve your flow.
Indoor Swimming
You can swim year round, just find an indoor swimming facility! Improve your stamina and aerobic performance by swimming laps — the wintertime is a great time to increase your fitness and get you ready for all of your outdoor spring and summer activities.
Join a Gym
Joining a gym in the winter can get hectic — hello new year's resolutions — but if you avoid peak times, it is a perfect place to get a well-rounded workout. From treadmills and rowers to weights and group classes, a gym is a multi use facility.
Rebounderz Indoor Trampoline Park
Anyone — young or old — can have an amazing time while staying active at Rebounderz. An indoor trampoline park keeps you moving and active in the best way — you don't even realize it! You're bouncing with friends and playing games, that the time passes quickly!
How amazing is our indoor trampoline park? Bounce into these attractions including:
Ninja Warrior Course
JumpXTRME Tower
Air Dodgeball
Basketball Slam
Air Pit
Open Jump Arena
Arcade
Wifi Cafe
Weebounderz
Jumping is great for your muscles and ignites your body's detoxification system (lymphatic), so why not have fun while burning calories?
Hopefully, your fitness motivation has been restored and you're ready to try out a few new activities this winter!
Hop over to Rebounderz and get moving with us!