Chilly Weather Activity Ideas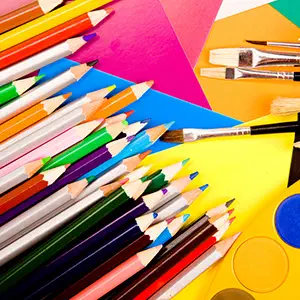 Winter has arrived! And, along with it, the cold weather, snow, and dark afternoons that keep kids coming inside much earlier than the summer months. All this being inside early can lead to either an increase in screen time or boredom. As we discussed in a previous blog, boredom can be a good thing to inspire some creativity, but when it leads to an increase in sedentary behaviors and added screen time, it can have a severe negative effect on learning and cognition, sleep patterns, weight, and eyesight. To help quell the boredom and prevent your children from developing poor habits as we wait out the winter, we want to offer some fun chilly weather activity ideas for your kids.
Arts and Crafts
Arts and craft time has become a highly overlooked activity in the digital era. With access to cleaner, more reusable forms of expressing creativity, many parents are hesitant to allow their kids to make the mess and play with things like scissors and glue that require supervision, not to mention the use of supplies that must be restocked and then having a tangible item that is sure to be displayed. However, arts and crafts time is incredibly important to brain growth and development as well as honing essential tactile skills that digital forms cannot provide. Don't be afraid to head to your local discount store and buy all sorts of random craft supplies, let the kids make a mess — and even join in! You can create a box to keep their work in, an empty frame to display it in, or pass it on to loved ones as gifts this holiday season.

Staycation
All too often, we get caught up in the hustle and bustle of life that is interjected with getaways. While this is just healthy life, it can serve to prevent us from exploring and appreciating what is in our own communities. When the chilly weather falls, it is a perfect time to do all the local things you never have time for. Check out the local museum, catch story time at the library, or head downtown to check out the holiday lights and local shops. Use this winter as an opportunity to celebrate mini staycations and discover your hometown with your kids.
Family Entertainment Center
As a positive and active bonding experience that is sure to be the opposite of boring for your kids, treat your entire family to a day at your local family entertainment center! At Rebounderz, we offer a wide variety of activities for kids of all ages. We feature our trampoline arena, ninja warrior course, and arcade for hours of entertainment for the entire family. Your kids will be able to burn off energy, making them more content to be inside while it frosts over outside
Rebounderz in Jenison is your local indoor trampoline park, offering a variety of indoor activities to keep kids of all ages engaged and enjoying life. If you have not stopped by before, use the chilly weather as an excuse to get out and stop in. Contact us or just stop by our Jenison location today!