Laser Tag Tips and Tricks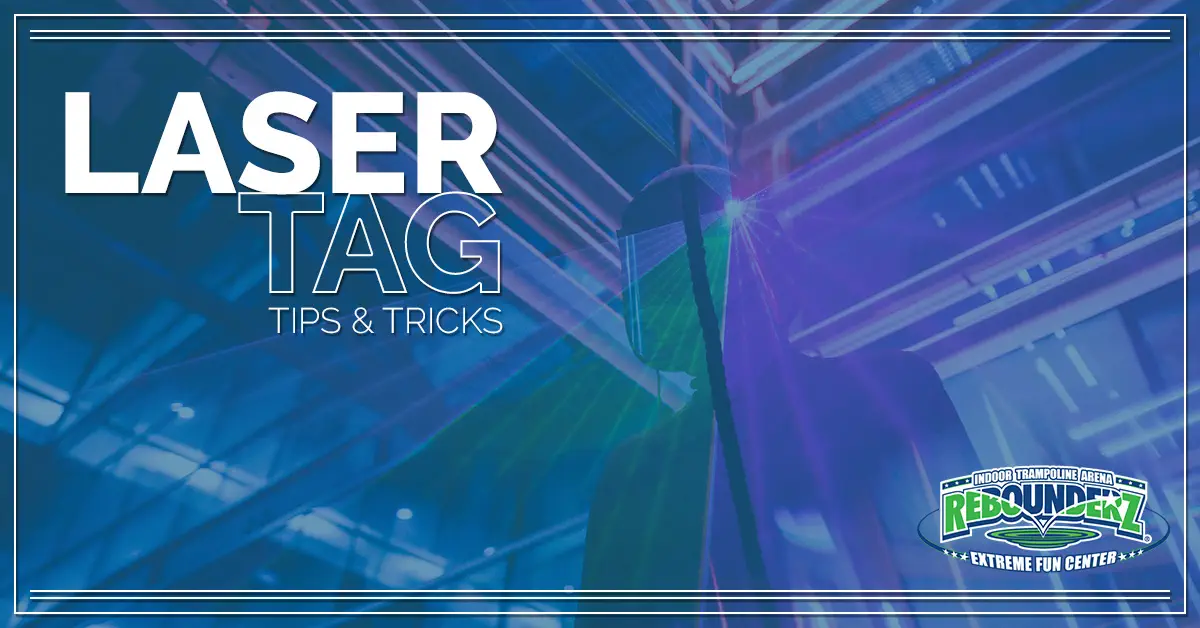 When it comes to having a great time, nothing is as great in terms of competition and laughs than a rousing game of laser tag. And when you live in Jacksonville, you don't have to go far to have a truly unique laser tag experience for your family or for a kid's birthday party in Jacksonville. At Rebounderz of Jacksonville, not only are we packed full of extreme trampoline fun, but we also have a variety of other activities that make your time here great.
Our laser tag facility is state-of-the-art, and covering over 8,000 square feet, you're sure to get some great game time in.
When you do decide to come on by and play a few games of laser tag, you'll probably want to be ready to play and play well. As easy as the game may look, in reality, whether you're an adult or kid, there are some very specific techniques that can help you to do better. Keep reading to pick up a few tips and tricks from the Rebounderz of Jacksonville laser tag pros.
#1 Wear Dark Colors
Success with laser tag starts before you even don your gear and enter the arena. With the lights down low and black lights placed all over the facility, you're going to stand out like a sore thumb if you decide to wear white, or any other bright colors for that matter. If you know you're going to be playing laser tag, make sure to dress in dark colors that aren't going to light up under the black lights and make you an immediate target.
#2 Be Aware of Your Shoes
While there is some room to wear many different types of shoes when you play laser tag, you're going to want to make sure you wear comfortable shoes that you can move quickly in. At Rebounderz of Jacksonville, we do not allow you into the laser tag arena if you are wearing flip flops or crocs, so come prepared. A sturdy pair of tennis shoes are going to be your best bet for this attraction.

#3 Scope Out the Layout
Once you get into the game space, it's important to move around a lot and scope out the layout of the arena. More likely than not, you're going to find patterns that will help you to move with ease throughout the space. Try to memorize as much as you can so that when you're moving, you don't have to think too hard about where you need to move for your strategy. Get to know where the points for getting to upper and lower levels are. Also, find one good spot that you can hunker down if you need to catch your breath.
#4 Keep Moving or Hunker Down
There are two different strategies for laser tag. For the most part, it's important to keep moving. The more you move, the harder it is to hit you and the harder it is to catch up with you. When you keep moving, you also give yourself more opportunities to take shots at competitors. On the flip side, you can find a great place to hunker down. Ideally, you'll want to be on an upper level for this method, and if you find the right spot, you can just let people come to you. However, this method is a bit riskier as you may get stuck in a surprise shootout.
#5 Sideways is Good
Whether you're staying put or moving about, you'll want to try and stay sideways. This reduces the ability for shots fired to hit you. You become a smaller target and still maintain your ability to shoot at others. This is a standard tactical defensive method that works really well in the game.
#6 When in Doubt, Rapid Fire
Lastly, if you're ever in doubt when playing laser tag, that's okay. Simply move sideways, keep moving and just rapid fire in the general direction of your opponents. While this is not necessarily an accurate tactic, it at least increases your odds of scoring some points. It's better than not shooting at all.
When it comes to having a great time, there's no better choice than visiting Rebounderz of Jacksonville. Play on the trampolines or dominate in laser tag; the choice is yours!