Celebrate the Holidays With Rebounderz!
Giving experiences instead of things — because really, who needs more stuff? — is a holiday tradition more and more families are adopting and Rebounderz is the perfect place to get started!
Celebrate the coming new year by giving experiences instead of material things this holiday season — from traveling to exciting locations to supporting local Sunrise businesses such as Rebounderz —  new experiences enrich our lives in ways things never can.
Come and experience new things with us at Rebounderz Sunrise! Join in the fun with our Ninja Warrior Course and dodgeball to the classic jumping fun! In today's post, we'll dive into what is available to you this holiday season at Rebounderz indoor trampoline park.

Jump into New Experiences in the New Year
The holidays usher family fun and an abundance of good food — which can leave families motivated to get moving. Experience a new kind of bliss at our indoor trampoline park in Sunrise.
Holiday Gifts at Rebounderz
We are offering holiday bundles to get everyone jumping for joy this season!
The Holiday Rebounderz Pack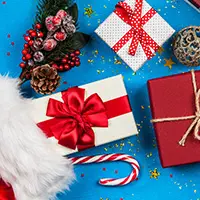 When you purchase a $100 gift card you will also receive a $25 gift and included swag such as:
Rebounderz t-shirt
Rebounderz water bottle
Rebounderz stadium cup
Rebounderz grip socks
Rebounderz bookmarks
Rebounderz calendar magnet
Rebounderz wristband
Gift Cards
A Rebounderz gift card is the perfect gift to give — all ages can enjoy it. This gift goes beyond a night at the movies or going out to a restaurant — it is a place you can gather with all your friends and be active, enjoy a new experience together, and having the most fun.
In case you need more coaxing…
Rebounderz has
the
best indoor trampoline attractions around!
Our 32,000 square foot extreme fun venue is a fantastic birthday party venue and great for corporate holiday parties, spirit nights, and fundraisers. Rebounderz is truly an experience for all ages. Check out the following attractions and stop in during the holiday season!
Ninja Warrior Course
Train like the professionals on our ninja warrior course! With three lanes of thrilling adventures, you can navigate the hanging doors, quad steps, slackline, warped walls, cargo netting, and more!
JumpXTREME Tower
This 14-foot tower tests your fear of heights! Stand on a platform and trust your jump onto an inflatable landing surface.
Air Dodgeball
Who didn't love playing dodgeball growing up? Take dodgeball to the next level and get extreme air from our trampolines. Come with your friends for some friendly competition and get your dodgeball game on!
Basketball Slam
Do you love basketball but are too short to dunk? Well, Rebounderz has made your dream come true! Slam dunk like the pros and get air!
Air Pit
Rebounderz Sunrise is one of the first indoor trampoline parks to have an air pit. Learn new tricks while landing safely on this comfortable surface, or just have a blast hurling yourself from our five-lane trampoline platform!
Rebounderz can offer a greater gifts than material objects this holiday — instead of filling a stocking, fill your loved ones with the joy of a new and fun experience!
Shop our holiday bundles today!