Corporate Team-Building Events
Rebounderz Rohnert Park is proud to announce the newest addition to our lineup of great activities in our indoor trampoline park.  We now offer corporate events that are sure to boost camaraderie and team spirit of any group! This package is a great way to reward employees with a fun, but also productive outing.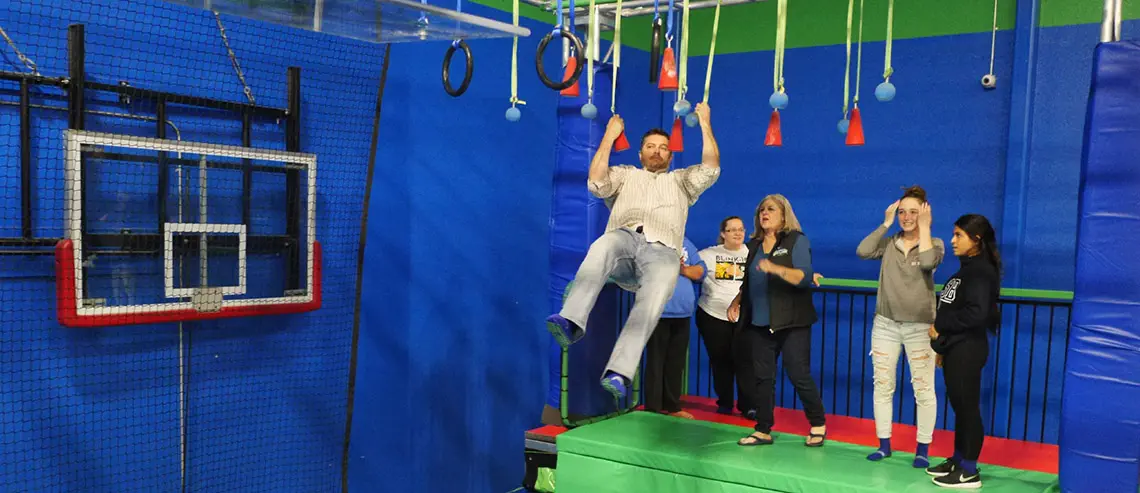 Corporate Team Building Package
45 Minute Facilitated Team Building
An experienced facilitator will lead this interactive program designed to meet your group's unique needs
"All Access" to attractions for 45 minutes
Rebounderz Socks that are required for jumping
A bottomless cooler of PowerAde
Platter of fruits and veggies or two cafe pizzas
Access to cafe menu
Use of Corporate Room or choice of party rooms
Package is based on 10 participants
Extra people can be added for $22 a piece
Corporate events, such as this, are great for morale building and building team spirit among employees. It gives the participants a chance to engage in the facilitated group activity to learn how to work together better (or whatever you and the facilitator decide is needed), and then to go have fun together. This type of team building helps overcome personal interaction barriers that can stand in the way of creativity and group productivity. Working together to solve a fun problem such as you will find at Rebounderz Ninja Warrior Course can help people learn to problem solve in the office as well. When people learn to go through a problem together, instead of going through it against each other, the job gets done better, faster, and more efficiently.
Get out of the office for a fun time at Rebounderz, bond, and then go back and conquer your job!