How to Give Great Birthday Presents On a Budget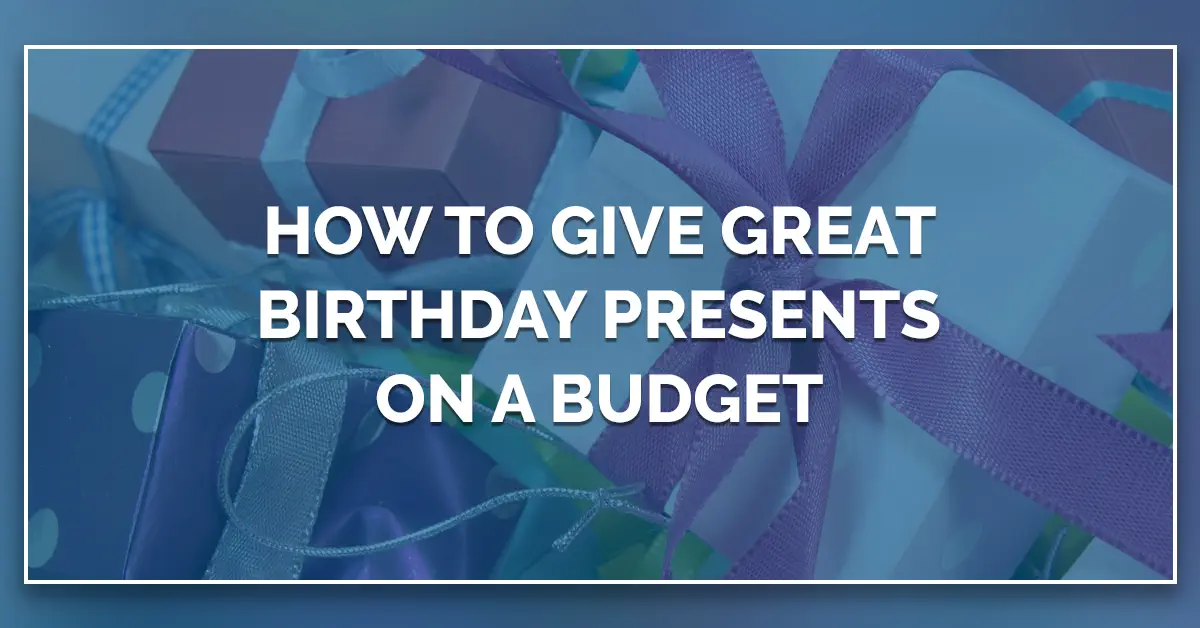 How many birthday parties is your child invited to in the next month? Chances are good that it's more than one. It's becoming a common practice for children to invite their entire class to their birthday party. That means your child could be getting twenty of more party invitations during the school year, and if you say yes to all of them, that means you'll be attending two or three each month. And if you have more than one child, you'll be multiplying those birthday party obligations. It's easy to see how the birthday party social schedule can quickly get out of control.
For most parents, the issue isn't the time that it takes to go to the birthday party or even that your child is eating more than their fair share of the birthday cake. Sometimes the issue becomes more about the financial obligation that comes with attending a birthday party every other weekend. Spending $20 or more on each present is going to add up quickly. If you spend that on 20 birthday presents this year, that means you are shelling out at least $400 annually on birthday presents for other kids. That's a lot of money, and probably more than you want (or can afford) to spend.
Don't start marking no on those RSVP cards just yet! There are plenty of ways to give gifts while staying on a budget so your child can still attend all the best social events of the season. Because we're a premier kid's birthday party place in Rohnert Park, we've seen presents of all kinds at birthday parties. Here are some of the best ideas we've seen for giving birthday gifts while staying on a budget.
Budget Saving Ideas for Birthday Gift Giving
It's okay to spend less on some people.
You don't have to spend the same amount on every birthday party you attend. It's okay to spend less money (like $5 or $10) on someone your child is only acquaintances with and spend a little more (like $15 or $20) on children with whom your child spend more of their time. You might decide to spend even more on family members or your child's best friend. Set a budget and talk to your child about how much you are willing to spend on each party. This will give them a goal to stick to when shopping and help them learn to budget their money, too!
Stock up during sales.
If you know that your child is going to be attending a lot of birthday parties in the future, keep it in mind when you are out doing your shopping at other times of the year. Christmas and after-Christmas sales are a great time to stock up on birthday party gifts for the rest of the year. Pick things that are age appropriate for the kid's around your child's age and pick a selection. Of course, you probably won't be able to do much tailoring for individual personalities, but things like games, books, art supplies, and outdoor activities can be great for almost any kid no matter the gender.
Build an activity kit.
You can make a gift look much more expensive and special when you spend a little more time putting it together. Think about what the child likes to do, and then create an activity kit that will encourage them to do it. It's a great way to pick up a few inexpensive items and then put them together in a fun, brightly-wrapped way. Here are a few ideas:
For kid's who like to bake: Add all the dry ingredients they'll need to make their favorite cookies to a mason jar. Include the recipe and finish the jar with some brightly colored ribbons. Include a kid-sized chef's hat and spatula to make it even more special!
For kid's who love the movies: Pick up a copy of their favorite DVD (or choose one that your child loves) and pair it with a bag of popcorn and a pack of their favorite candy. They'll be able to enjoy a show and a treat after a long day of birthday party festivities!
For kid's who love to create: Build up their artistic skills with a new pad of paper and some new markers! Include a list of things to draw, like themselves, their pets, their room, or their backyard. It's inspiration and an activity all in one!
None of these gifts should set you back more than a couple bucks, especially if you go to the local dollar store for the supplies, but the time and thought that you put into them will make them even more special!

Create a homemade gift.
Homemade gifts can be a welcome break to loud, shiny toys and they are often the hit of the party. Play to your strengths as a parent. If you love to bake, ask the child what their favorite treat is and bake them up a supply all for themselves. Or if you love to paint, paint them a picture of their favorite cartoon character to hang up in their bedroom. It's even better if you can involve your child in the process. They'll be proud that they helped create something that they can share with their friends, and you'll be glad to share your talents with others. These presents may be heavy on time, but they'll be soft on your bank account.
Offer an experience.
Sometimes the best gift is time! Instead of buying a child something to clutter up their room, invite them along on an adventure with your child. Create a sign that invites them to one free adventure. Maybe your family loves to go on nature walks and the birthday boy or girl could go with you the next time. Or maybe you want to host a movie night over at your house. Or even let them sleep out in tents in the backyard. These kinds of experiences are often the most memorable and might not cost you a dime.
Want to make this a memorable birthday for your child without breaking the bank? Rebounderz in Rohnert Park offers birthday party packages for a variety of budgets. Visit our website to learn more today!