Indoor Trampoline Park Attractions – Part One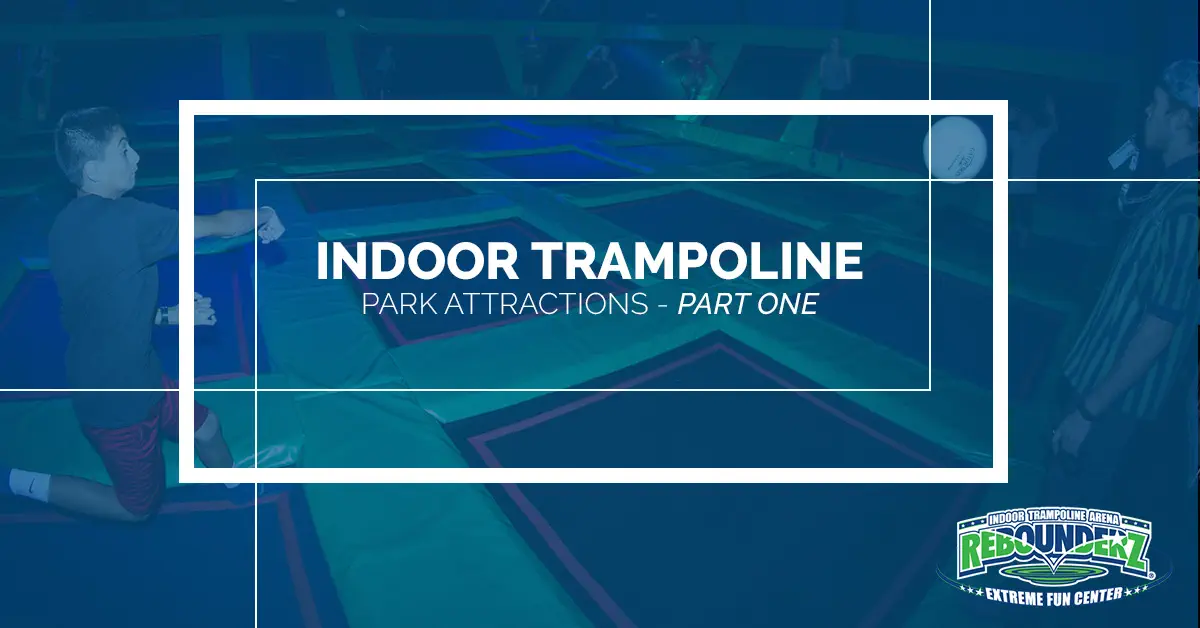 Trampoline parks offer far more than just an open area for gaining serious air. When many people book their jumping session, they often aren't aware that trampoline parks are filled with a number of additional activities like obstacle courses and foam pits. The many different attractions that trampoline parks possess can often turn a normal day of bouncing into an unforgettable experience filled with rigorous physical activity. Not only is this a great way for your child to exercise and expend energy, it will also ensure that they are entertained for hours on end. That's why, throughout this post, we will discuss five additional attractions offered at our indoor trampoline arena.
If you are located in Orlando, Apopka, or the surrounding areas, and are looking for an excellent way to spend time with your family, look no further than Rebounderz. We offer our customers a number of beneficial programs such as our exercise classes, or our home school program which allows homeschoolers from around Florida to meet for a day of excitement. To learn more about all that our indoor trampoline arena has to offer, continue reading more below!
Dodgeball
One of our most popular attractions, air dodgeball is fit for the most fierce competitors. What sets air dodgeball apart from traditional dodgeball is the ability to fly through the air to evade your opponent's attempts to eliminate you from the game. This makes for an entertaining event for all parties involved while completely changing the way many view the sport of dodgeball. For the most competitive individuals, we have even created an air dodgeball league, where the best teams constantly compete for the top spot. If you want to become a part of our Rebounderz league, or would simply like to experience how much fun air dodgeball can be, our dodgeball arena is always welcoming of new contenders willing to put their skills to the test.
Ninja Warrior Course
If you have ever watched American Ninja Warrior, you have probably seen the top acrobatic competitors weaving through obstacles, climbing extreme heights, and jumping from object to object. These gauntlets require incredible physical endurance and a steady balance in order to successfully maneuver through the various obstacles presented to challengers. For those who can't get enough of the TV show, and would like to experience the rush that comes with navigating through a maze of obstacles, our Ninja Warrior course is perfect for you. Our challenging obstacle course offers three different difficulty levels so that both beginners and experts alike can join in on the fun while testing their might. With several different obstacles to navigate through like our netting, climbing walls, and slack lines, Rebounderz' Ninja Warrior course is loaded with a diverse range of obstacles that are waiting to be conquered by those who are brave enough.
Trampoline Basketball
Many kids dream of one day playing as a professional basketball player in the NBA. Although your child may not be tall enough to dunk a basketball on a standard basketball court, they can easily throw down the most extreme dunks by using Rebounderz' trampoline basketball court. This is an easy way to turn your little one's dream into a physical reality, and will make them want to keep their basketball skills while at home! With padded rims for the most protection, and soft basketballs that ensure a secure grip, your child can practice in a completely safe environment without worry of injury. Best of all, our trampoline court has a number of basketball hoops that all feature adjustable heights to accommodate young and old individuals alike. From flashy one-handed tomahawk dunks to powerful two-handed spinning dunks, your child can show off their basketball skills to spectators while our trampolines send them airborne.
Arcade
Once your child has spent a day full of fun on our trampolines or obstacle courses, they may be physically worn out. However, the fun doesn't have to stop after your child is finished jumping! While we are an indoor trampoline park, we are also an extreme fun center! That's why our arcade is filled with retro games as well as modern arcade machines. Kids will also have the chance to accumulate tickets before trading them in for any amount of prizes. This is a great way to continue the fun while taking a break from our open jumping areas. Not only is our arcade area great for kids and adults, it is also perfect for your younger children who may not be old enough to use our bouncing areas.
Rebounderz Cafe
While your little one is enjoying their time on our trampolines, obstacle courses, or foam pits, why not visit Rebounderz Cafe for a refreshment or appetizer? At Rebounderz Cafe, customers can enjoy a variety of delicious snacks like wings, pizza, and even ice cream! With several TVs around our cafe, you can even catch the big game while your child has a blast on any of our featured attractions. If you have work obligations that just can't wait, we also offer free WiFi so that parents can use their laptops or cellular devices to browse the internet. We even provide customers with comfy massage chairs that will be sure to destress you after a long day of work. Whatever your needs may be, there is something for everyone at Rebounderz Cafe.
The five attractions highlighted above are just a glimpse into all that Rebounderz' indoor trampoline arena has to offer its customers. To view our full list of featured attractions or to read about the programs we offer, simply visit our website today! Our trampoline park was designed with the highest safety standards kept in mind, so that you don't have to worry about the safety of your child while they enjoy themselves on any of our trampolines or obstacle courses. If you would like to learn more about any of our services offered, our high level of safety standards, or would simply like to book your next trampoline session with Rebounderz, visit us online today or contact our friendly team of professionals!