Indoor Trampoline Park Attractions – Part Two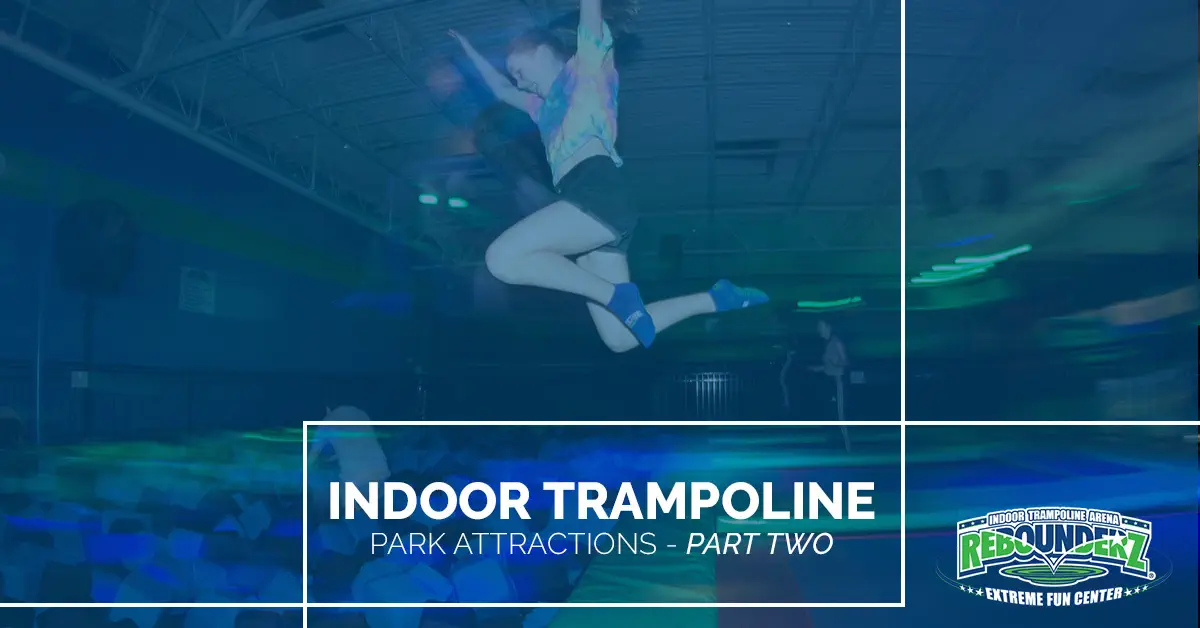 In part one of our multi-part series, we discussed how indoor trampoline parks feature a number of different attractions for all those who enter. While many plan for a day full of bouncing, visitors will also often find entertainment in a number of other fun activities like our arcades, obstacle courses, dodgeball arenas, dunk contests, and so much more. During part two of our series on indoor trampoline park attractions, we will highlight a few more fun things to do while you spend your day at Rebounderz.
As Florida's top indoor trampoline park, Rebounderz has provided a safe and unique form of entertainment for both children and adults living in Orlando and its surrounding areas. With three separate locations in Florida alone, you can easily find a Rebounderz in your area. While we provide an open jumping area for people of all ages, we also offer several additional classes like toddler time, a program that allows younger children to experience the excitement that comes from jumping on a trampoline. If you are considering visiting one of Rebounderz' many locations, or would just like more information on our various attractions, read more on the topic below!
The JumpXTREME Tower
While many children and adults come to Rebounderz to jump on our countless trampolines, others prefer taking a leap of faith from taller structures. A popular attraction for many wanting to experience the weightlessness of freefall without worry of injuring themselves, the JumpXTREME Tower allows participants to jump from 14 feet in the air before landing safely on an oversized inflatable cushion. Whether you are looking to combat your fear of heights, or just want to know what it feels like to leap from a tall surface, the JumpXTREME Tower gives individuals an extremely safe way to have fun while flying through the air.
Foam Pit
For those who have never experienced the joy that comes from jumping on a trampoline into a giant foam pit, Rebounderz is the perfect place to live out your dreams. Not only do you not have to worry about landing on your feet while using our foam pit, you can even work on perfecting tricks and flips while having a safe landing area directly underneath you. With foam cubes made of Lycra, a material designed to wick away moisture while preventing the growth of bacteria, you can be sure that our foam pit is both safe and sanitary. Start rounding out your trampoline tricks today by taking the plunge into Rebounderz' oversized foam pit!
Weebounderz
Many of our jumping areas are reserved for children and adults, which may leave your little one feeling left out. Luckily, we know that youngsters want to have just as much fun as older individuals, which is why our Weebounderz play area was designed with your child in mind. Our kiddie play areas are reserved for children under 44 inches in height, ensuring that your kiddo has a safe space to play in away from adults, teens, and youth. We offer several inflatable play structures that are perfect for children, and even have mini obstacle courses to prepare your child for our more extreme obstacle courses once they are older! If you want to give your child a safe place to expend their energy while they bounce on decorated inflatables, visit the Weebounderz kiddie area at your local Rebounderz.
Open Jump Arena
The area that individuals love most at Rebounderz, our open jump arena is incredibly safe and large enough for a number of children to use at once. Each trampoline in our open jump arena possesses a red outline along their edges which indicate where to avoid jumping if you are trying to achieve the greatest airtime. By staying within the red lines, participants can easily find the trampoline's sweet spot, ensuring that you safely maximize your bounce while experiencing an endless amount of fun. Our trampolines are made of the highest quality materials, and are designed to keep our customers safe at all times. In fact, our trampolines are so safe that we are the only indoor trampoline park in the country to possess a number of patents on our trampoline technology. For this reason, there is no safer trampoline park in the United States than Rebounderz.
There are far more activities available at indoor trampoline parks than many would think. Rebounderz is proud to offer so many additional attractions which will keep your child entertained throughout the entire day. We even have a variety of fun activities available to adults while their child enjoys navigating through obstacle courses, foam pits, and much more. If you are located in Orlando, Apopka, or its nearby areas, would like to read about our entire lineup of attractions available to customers, or would like to learn about our programs offered, visit us online or get in touch with our staff of highly qualified individuals today!