More Fun Means More Money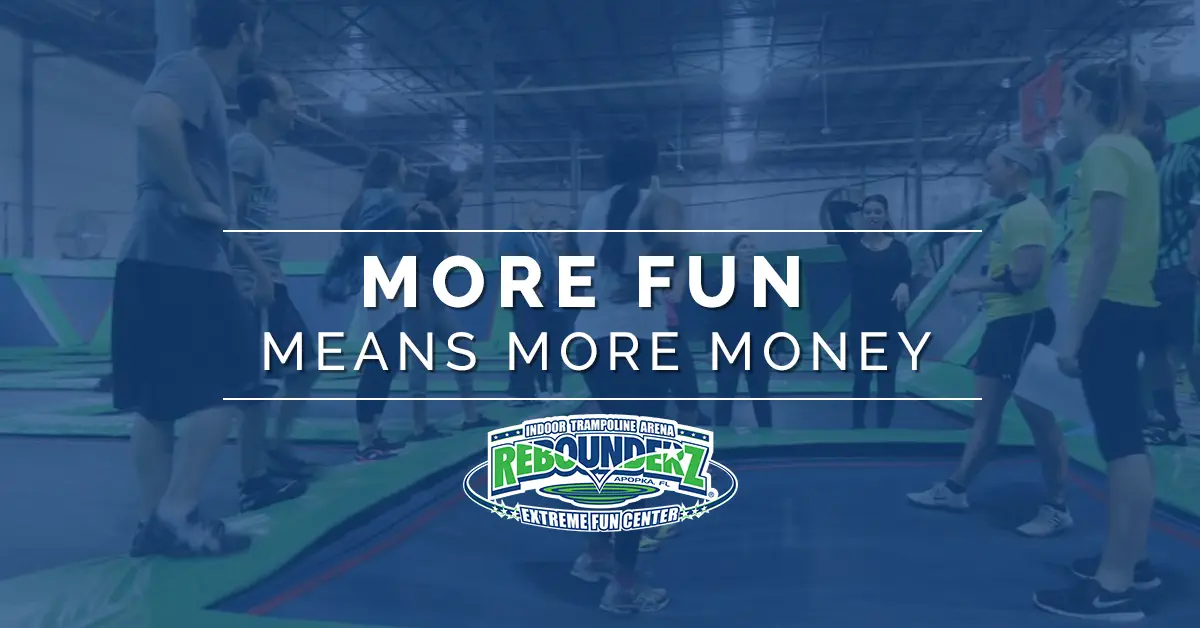 Calling all cheerleaders, band members, booster clubs and scholarship funds. Raise more money for your school by having more fun. At Rebounderz Indoor Trampoline Arena in Apopka, you'll have more fun and raise more money! Your supporters will have a lot of laughs, get to know each other, and you'll be exposing your cause to new people who may become supporters.
In addition to a portion of the night's sales being donated to your group, we'll help you come up with fun ways to raise even more money. Start with a dodgeball tournament, a jumpathon and a dunking contest. Let's discuss what else we can do to bring in the bucks on your big night. We love to get creative and will do whatever we can to help your fundraiser be a smashing success. Maybe you can get your principal to participate in a foam-pit race,or have a parents vs kids dodgeball or air-hockey tournament. Get our mascot Rick O'Shay in on the fun and you've opened up a door to a whole new set of fun activities for kids and adults alike.
What to Look for in an Event Venue
We've been supporting fundraisers for a long time and we know how important it is to make an event as simple as possible. Making more work for already stressed-out volunteers is the last thing you want from your special event venue. We get that. You can depend on us for help promoting and supporting your event. We provide customized flyers, spirit night stickers, and much more. We want to make this as easy for you as possible.

Show Your School Spirit
Make your big night at Rebounderz part of Spirit Week and make the fun and fundraising go alot further. Announce contest winners and give out prizes at your Rebounderz night to encourage more people to attend and to bring their friends and families. Here are just a few Spirit Week activities that can help you build momentum toward your big night.
Deck the halls. Decorate your school with Spirit Week posters and announcements about Spirit Night.

Theme it up. Make Spirit Week theme week. Tie it into your big night or your fundraising focus. If you are raising money for the band, have everyone dress up as their favorite rock star or musician. Sending a sports team to a national tournament? Get in the spirit with a sports-themed day during the week.

Hold lunch-time contests and games that support your theme and fundraising focus.

Get parents involved with opportunities for them to volunteer, bring snacks, and supervise Spirit Week activities.

Combine your Rebounderz fundraiser with school colors day. Everyone will still be sporting their school spirit when the arrive at the fundraiser. Add school-color face painting for a little added school spirit.

Make something to sell at  your fundraiser. School spirit bracelets, themed t-shirts, and other items can add big bucks to your fundraising effort.
Give Rebounderz in Apopka a call to learn more about our Spirit Night and fundraising event opportunities. We look forward to helping make your event a huge success!