Let Your Inner Child Out. Celebrate Your Birthday at Rebounders in Apopka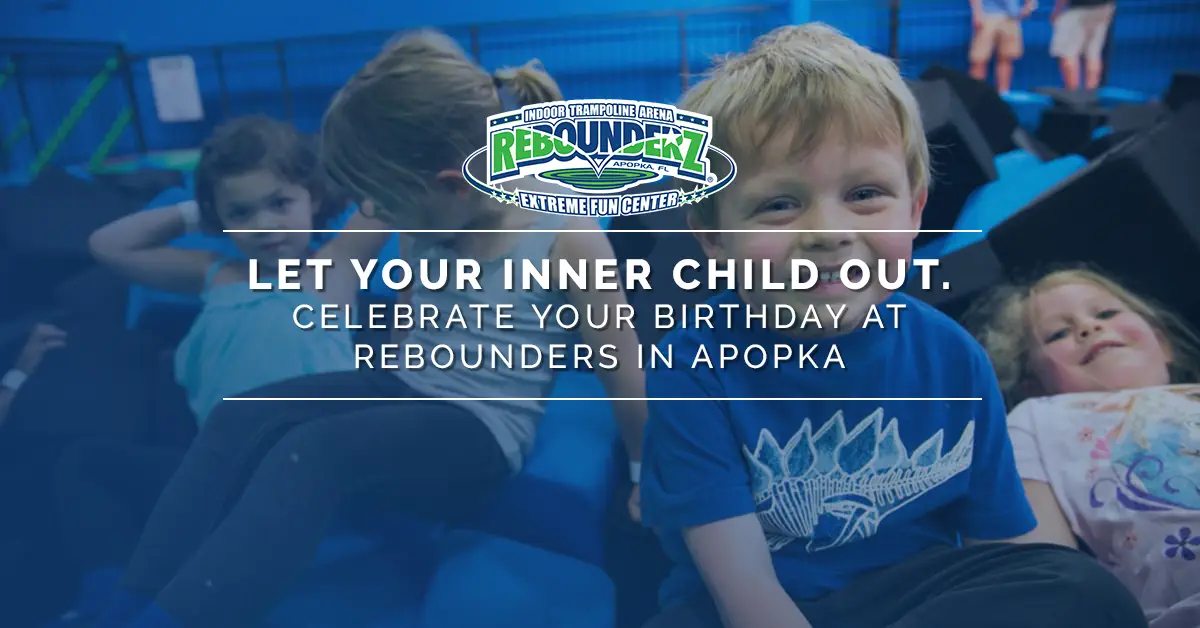 Do you have a big birthday coming up? Turning 30, 40, 50?
How are you going to celebrate? Do you really want to go out to another dinner or host another party, or be subjected to a well-intentioned "surprise"?
Would you rather have to get dressed up and act your age on your birthday, or let loose and go wild, let go of your inhibitions and laugh hysterically like you did when you were a kid?
If your answer is that you'd rather go a little wild and feel like a kid again, we've got the perfect birthday plan for you.
Plan a Trampoline Arena Birthday
Lock out everyone else. Leave the kids with a sitter. You and your friends will have exclusive use of the Rebounderz facility and access to unlimited activities. Bring 30 of your closest friends, or invite the whole neighborhood. We can accommodate up to 250 adults for a private party.
Look, we know that adulting every day is tough. No matter how much you love your job, your family and your home, things get stressful. Take advantage of your big day to burn off an entire year's worth of stress and start off the next year with an extravaganza of no-holds-barred fun!
Remember when you were a kid and didn't worry at all about looking silly or foolish, would take on a dare from your best friend without a second thought, had the freedom to roam and explore? Be that free again at Rebounderz in Apopka. Everyone's going to be behaving as silly as you. You can leave the expectations and judgements of the real-world behind.
Fifty is The New Five! Play Like a Kid Again

You and your friends can have more than 10,000 square feet of rebounding surface all to yourselves. And don't worry, you can feel free to let your inner-child roam. Safety is our number one concern and we've worked hard to make our trampoline arena the safest one in the industry.
Create your own games! Want to play a little dodgeball on the trampoline, having a dunking contest, or make up your own competition? We've got everything you need. What about the foam pit you ask? Yep. You can jump, somersault, and cannonball into the foam pit until you are too tired to crawl out.
Don't forget the arcade. When was the last time you played skeeball or air hockey? Have a tournament and compete for bragging rights. Winner plays first at the next Rebounderz late night, lock in!

Eat Like a Kid For the Night
We agree that at your age you should probably be eating a little healthier. But heck, it's only one night. Bring a big cake and order pizza, pretzels, hotdogs, nachos and fries from our snack bar. Don't forget the ICEEs. Bet you haven't had one of those since you were a kid. Go for it, it's your birthday!
Book Your Indoor Trampoline Arena Party
You know you want to. Come on, let your inner kid out to play for a night. You'll be glad you did. And your friends will have so much fun they'll want to do it again. Make it an annual tradition that everyone looks forward to year after year. You'll be that guy. The guy whose birthday party everyone tries to get invited to each year. The legend. The hero.
Give us a call or stop by for more information. We look forward to helping you plan your big night!