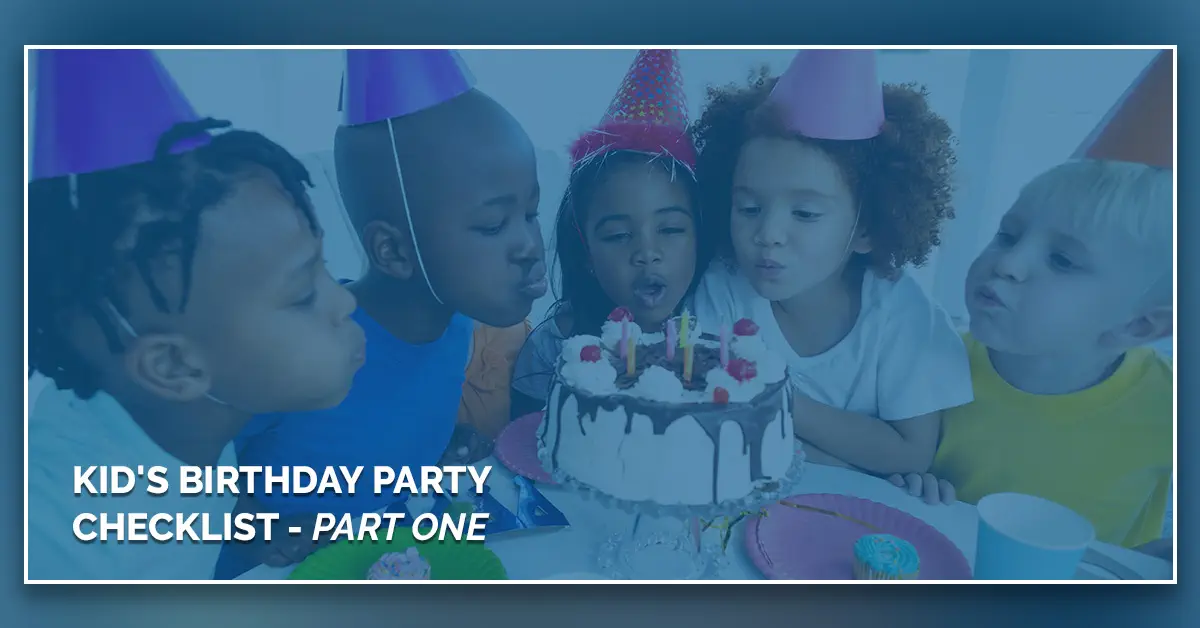 So your little one has a big day coming up. Planning a birthday party can feel pretty overwhelming sometimes, but you can bypass a lot of stress and headaches with a good checklist. We've compiled a checklist that you can use as your roadmap to a fantastic kid's birthday party. One of the biggest decisions that you have to make when planning a party is the location. Take out the guesswork and go with a location guaranteed to be a hit with all partygoers, Rebounderz Trampoline Park right here in Rohnert Park!
Before we dive into the checklist, it's always recommended to talk with the birthday boy or girl to see what they would like. Not only will that help narrow down your decisions, it'll also give them a sense of involvement and pride when they see their idea come to life. With that out of the way, on with part one of our birthday party checklist.
-Budget
You don't need to break the bank to have a successful birthday party. When you start off determining your budget for the event, it makes every other decision much easier. Keep in mind, just because a party has lots of stuff doesn't necessarily mean it's any more enjoyable than something smaller. Decide on a budget that you're happy with and gives you the flexibility to work around.
However, just because you set a number for your budget doesn't mean that's exactly what you have to spend. It will instead act as a framework for the rest of the checklist items. There are many ways that you can save some money without losing out on items that often raise a party budget. Baking a homemade birthday cake and making your own invitations are both cost effective as well as a great way to make your party look and feel unique. A creative and affordable party is much more memorable than a generic store-bought one, so let those ideas flow. Plus, if you come in under budget, you might be able to get your little one an extra present they weren't expecting!
-Time
There are two ways that time will need to be factored into your party planning. The first, what time you decide to have the party, will typically determine what type of food you'll be having. If it is a party that starts at noon, it stands to reason you'll have a more extensive lunch menu. On the other hand, if it starts in the afternoon, the partygoers are more likely to have already eaten their lunch, so the focus can shift to snacks. The second factor that needs to be accounted for is the age of the children. With younger children, they typically get tired and cranky after a few hours, especially when it's close to their nap time. Doing either a morning party around 9 am or an afternoon party between lunch and dinner can ensure nobody gets cranky and everyone has fun.
-Length of Party
This goes hand-in-hand with what time you're holding the party, as well as the age of the children. For toddlers and young kids, a party that lasts about two to two-and-a-half hours should be a perfect sweet spot. When kids get older, a party that lasts around four hours gives a bit more freedom, as you can pack that time with activities or games without the worry that they'll get bored or cranky.
-Guests
Deciding how many guests you will be inviting impacts just about everything on your birthday party checklist. How much food will be needed, the size of the cake, number of party favors, and activities that involve everyone are all items that change depending on how many people will be attending. It's also a good idea to determine if the party will be all boys, all girls, a boy and girl party, and whether there will be a range of ages invited. If you have a wide range of ages attending, it's a good idea to go with party favors that aren't age specific.
-Party Theme
This is usually the easiest decision to make, as children will have a character or subject they love that you can center the party around. Whether that's making a superhero or princess party, it gives you a basis to form all of the activities, invitations, party favors, and other bits and bobs around. When they get older, their interests may move away from characters to activities, which could be a day at the trampoline park or skating rink. You can add some extra flair to the party regardless of the theme by including your child's favorite color to make it feel made for them specifically.
-Invitations
As we said before, invitations are a great way to save some money while flexing your creative muscles. However, if you aren't looking to DIY your invites, there are some other options available to you. Naturally, you can buy packages of invitations at party stores, grocers, and other retailers. They often have characters or themes attached to them, so if your party will have a theme, this is a great way to set expectations and get the kids excited for what's to come. Otherwise, you can avoid wasting paper and time spent mailing by using evites online.
-Decorations
This is an area where it is very easy to overspend. Even if your theme is focused on a specific character, that doesn't mean that every piece of decoration needs to have that character on it. Use the color palette of the color to find accent pieces to go with the character decorations. One cost-effective option is getting stickers of the character or theme and attaching them to plastic cups in the color palette.
-Party Supplies
Just like the decorations, you don't need to have a character or theme on every piece of party supplies. With licensed products often carrying a premium price, supplementing them with generic but colorful pieces can end up looking better and more cohesive than if you drop a bucket full of cash on all character-laden party supplies. A fun and inexpensive idea is to give all guests a blank name tag to put on their cup, which everyone can then color and customize to their heart's content. That makes it a creative group activity which allows everyone to make their own imprint on the party, no matter how small.
-Cakes
While this checklist item may be called 'cakes,' that doesn't mean you can only choose a cake for your kid's birthday party. This is another opportunity to really get creative and work with your child's taste. Whether it's store-bought or homemade, classic or ice cream, cupcake or cheesecake or pie, the options are just about limitless. If you want that look of a themed cake without shelling out for a bakery to make a custom one, making a homemade one and adding small figures is not only more affordable, it gives you more freedom to make a cake that fits your kid's interests (and dietary needs) instead of a generic design. Most party supply stores have a section with a wide variety of cake toppers.

While this concludes part one of our look at making a birthday party checklist, rest assured we'll be back with part two shortly. However, once you take these preliminary steps, the rest of your party planning will be a piece of cake. In part two, we'll be diving into party food and drinks, party favors, entertainment, activities, games, and music. Luckily for you, there's a perfect location for you to hold your little one's birthday party, right here at Rebounderz in Rohnert Park. With our incredibly safe trampoline park, intimidating JumpXtreme Tower, exciting Ninja Warrior course, and the dunk-friendly SlamBall court, we're sure there's something to make all of your party guests have a blast. There's no better place when you're looking for a fun place no matter your age than Rebounderz. We hope to see you soon!