Sports That Train on Trampolines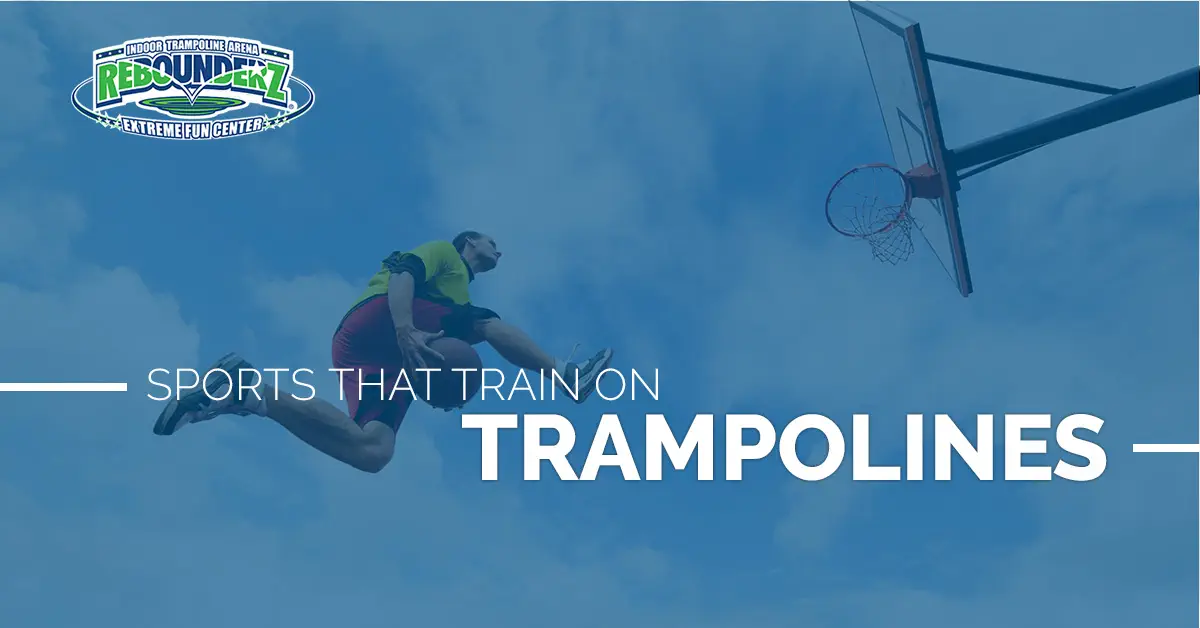 Trampolines are considered one of the most effective training apparatuses around, with NASA reporting that it is 68 percent more effective than jogging. It's not just astronauts that are training on trampolines, though. Many athletes from a wide range of sports utilize trampolines in their training to great effect. With that in mind, we've gathered some of the sports that benefit the most from trampoline training along with why it is so beneficial for them. If you're looking for a great place to start your trampoline training, come to Rebounderz Trampoline Park here in Sunrise.
-Basketball
It's probably not that surprising to hear that a sport that involves as much jumping as basketball benefits greatly from trampoline training. Players have found that it has greatly improved their vertical leap while being more low-impact than comparable exercises taking place on solid ground. Trampolining also improves agility and balance, which are two invaluable skills needed to be a successful basketball player. At Rebounderz, our SlamBall court sees a lot of prospective basketball players take their game up a notch with exciting, high-flying dunks.
-Gymnastics
No matter which event a gymnast specializes in, they see results from adding trampolining to their regimen. Learning how to bounce, spin, twist, and flip are all easier and safer when done on a trampoline. Jumping also strengthens core muscles that are vital to performing their acrobatic feats. A trampoline provides a safe area to get used to the flux and torque of a gymnastic routine while maintaining their bearings. They also see the added benefit of increasing their vertical leap, which is of particular importance for the floor exercise and uneven bars.
-Extreme Sports
Snowboarders, skiers, and skateboarders all love training on trampolines. Thanks to the safe area it provides for their training, they're able to push themselves harder and go for bigger tricks without the danger hard ground presents. Many will take their board or skis onto the trampoline so they actually have the physical object with them as they train. Skateboarders remove the trucks and wheels and train with the board on its own, which is incredibly helpful since most skateboarding tricks heavily involve the board moving in some way. When you combine the safety and verticality of a trampoline with the soft landing area of a foam pit (just like we have a Rebounderz), they're able to try things that would never be possible on solid ground. This is great for removing the anxiety and fear that can come with extreme sports, making for a more confident and boundary-pushing competitor.
-Professional Wrestling
Whether you see it as a sport or an elaborate dance, it's not hard to be amazed by the incredible acrobatic performances they put on in front of massive crowds. Due to the danger many of the moves present, many pro wrestlers will take their training to a trampoline. This gives them a safe place to practice moves and learn how to do the high-flying attacks that wow the crowds in a controlled environment. Similar to the other sports we have discussed, pro wrestlers also benefit from a low-impact workout that strengthens their legs and core without putting their joints and muscles under undue strain and stress.

While we only shined a light on four sports, the fact of the matter is trampolining is a low-impact, high-yield workout that athletes of all disciplines and experience levels can benefit from a great deal. If you're looking to improve your vertical leap, strengthen your core muscles, or you just want a safe place to have some fun, look no further than Rebounderz Trampoline Park here in Sunrise. We hope to see you soon!