How to Make Kid's Birthday Parties Fun for Adults, Too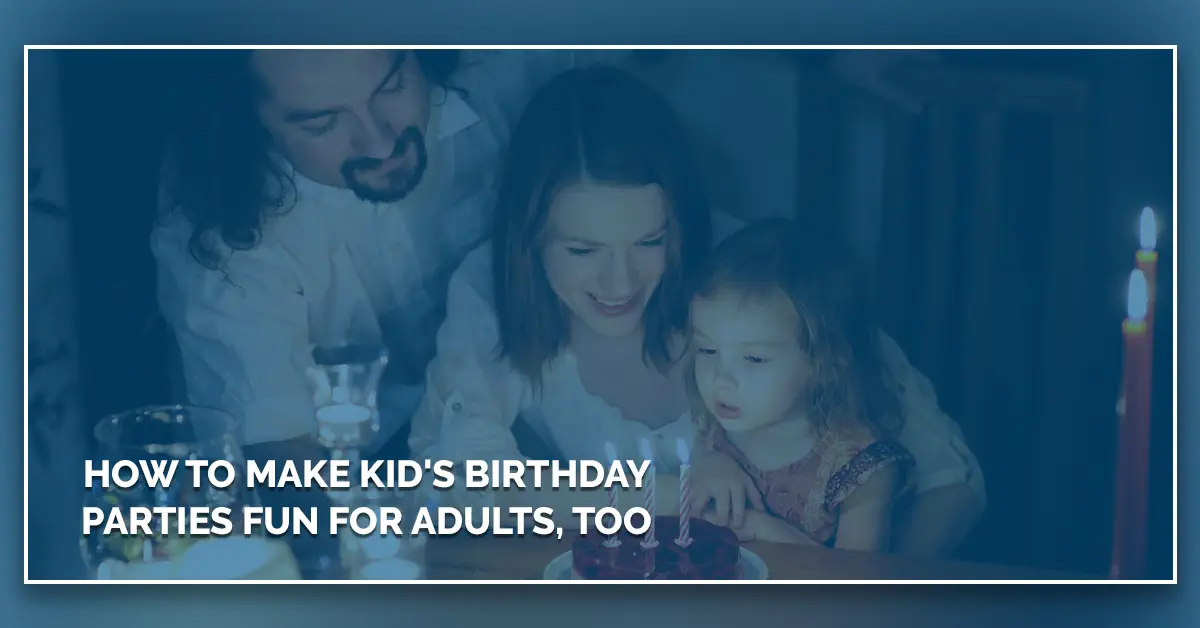 We recently wrote about birthday party gift giving on a budget, and how for many families, all those birthday parties can start to be a strain on their bank accounts. For a lot of adults, it's not the gift giving that is the hard part. it's attending the party itself. Let's face it: going to a children's birthday party isn't always fun as an adult. Sure, you want your kids to have a good time, enjoy themselves, and build relationships with their peers. But you could probably do without some of the other things that come with attending a kid's birthday party, like the cleanup, the boring small talk, and the constantly glancing at the clock.
If you want to throw a birthday party that's fun for the adults to attend, too, we have some suggestions! As Rohnert Part's premier place for kid's birthday parties, we have seen a lot of parties over the years and we know what makes them fun for both kids and adults. Here are some of our suggestions for making it a successful party for everyone involved.
Want to Make a Kid's Birthday Party Fun for Adults?
Make expectations clear on the invitation.
One of the worst things you can do to a parent is to make their weekend more confusing or more of a hassle. Start the party off right by setting clear expectations on the invitations. Let parents know where or not the siblings are invited, or if they drop off their child and pick them up later (provided there will be plenty of safe adult supervision, of course!). You can also put on the invitation whether you have any requests about gifts, dress code, or allergy warnings. When all of the information is clear, you can get the party off to the right start!
Have activities there for the grown up, too.
Parties should be about the birthday child and their guests, of course. But it won't hurt (and will definitely help!) to have some activities there for the grown-ups, too. Keeping the grown-ups happy means they'll be more likely to stay longer and allow kids more time to play. You can do things as simple as providing more grown-up snacks and beverages so they don't have to ruin their diets with pizza and soda. Or you can go all out and provide them with board games or a space to watch the latest football game.
Give them a quiet place and some wifi.
Sometimes, adults just want some peace and quiet…and wifi. Make an "adults only" space at the party where the grown-ups can go hang out and get some time with other adults without participating in the noise and frenzy of the birthday party. Just having a few quiet minutes to check in on Facebook or send a couple emails can make a parent's day. Suddenly your event will be their favorite one of the year!
How We're Making Parties Better for Adults
We have created a space that's built around both kids and their parents, making it ideal for birthday parties and more. Here are some of the things the adults at your next kid's birthday party will love about Rebounderz.
We have great coffee. Sure, kids love our pizza and soda, and many grown-ups do, too. But sometimes all you need to get through a party is a nice cup of coffee. You'll find it in the cafe here at Rebounderz, along with hot dogs, ice cream, and other grab-and-go items that will keep you full and happy while the party goes on.
Get away in the parent's lounge. Want to get away from the noise of the birthday party? Head up to the parent's lounge. This is a great place for grown-ups to gather and catch up. Enjoy our comfortable seating along with all of the free wi-fi you could want!
Enjoy the football game. We're football fans, too. If the birthday party you are attending is during a Giants game, don't worry! We'll have it on the big screen television in our parent's lounge so you can catch all of the action on the NFL Redzone.
Spend some time in our massage chairs. Just want a few minutes to relax? It's something that is a rarity for parents, but we wanted to give them an opportunity to rejuvenate while here at Rebounderz. That's why we installed state-of-the-art massage chairs. Hop in and take a turn…you might not want to leave!
Keep an eye on the kids. Even when you are enjoying the parent's lounge, we know you'll want to keep an eye on your little ones. That's why we installed windows in our parent's lounge that overlooks the play area. You'll have a bird's eye view of all of the action that's happening down below, so you can check in with your kids without putting a stop to your fun.
Or join in the fun! Sure, all this grown-up stuff is great, but sometimes you want to get in on the fun with the kids! At Rebounderz, you totally can. Go play in the arcade or try your hand at some of our other attractions. You might end up having just as much (or more!) fun as your kids do!

Let Us Host a Birthday Party Both Kids and Adults Will Love
Do you love the idea of having a birthday party that's as much fun for the adults as it is for the kids? Then you'll love having your birthday parties at Rebounderz. With all of our amenities, there is plenty to keep every guest happy no matter what their age. We can even tailor your birthday party to make it even more special. We even have birthday party hosts on hand that will manage the entire event so the adults can relax; we'll even handle the set up and clean up of your event. Check out some of our birthday party packages and find one that's right for your next event. Book your party online or by giving us a call today!