Indoor Trampoline Parks for Birthdays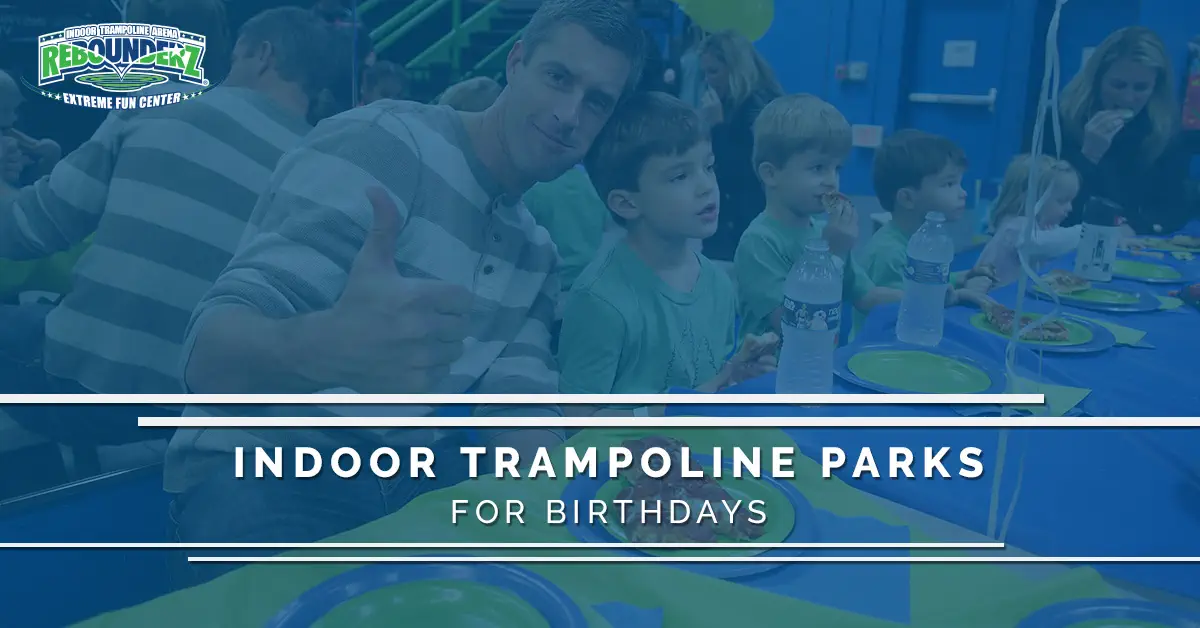 When trying to plan a child's birthday party, determining the location or venue can be challenging for many. Finding a business that can accommodate a number of children is often difficult, especially when trying to appeal to all of your children's friends. For example, while some may love the idea of throwing a birthday party at an arcade, other children may become quickly bored, leading to an underwhelming birthday party. For this reason, you should consider hosting a child's birthday party at a location that offers a number of different activities to appeal to a wide range of children. Luckily, if you are planning a birthday bash in Orlando, Apopka, or the surrounding areas, there has never been a better birthday venue than Rebounderz.
As one of the top indoor trampoline parks in the entire country, Rebounderz offers far more than just an area for kids to experience extreme airtime. We provide children with a number of additional attractions that will continue to keep children of all ages entertained throughout the entirety of the day. That's why, during this article, we will talk a little bit on why you should consider celebrating your child's next birthday at a venue that was designed to keep your child engaged during fun physical activities. At Rebounderz, we are committed to providing the safest environment for your child, so that they can experience an unforgettable birthday party that will be exciting for everyone involved. To learn about our services offered for birthday events, continue reading!
Our Qualified Birthday Hosts
Rebounderz knows that a child's birthday is a very special day for them. This is a time for children to enjoy eating delicious cake, receive thoughtful gifts, and spend time with their friends and family. That's why our trained birthday hosts are devoted to meeting every need you may have to make your child's birthday a memorable one that they won't soon forget. Since our hosts are responsible for setting up and facilitating your child's birthday, you will be required to do far less work while still being able to provide your child and their friends with a day filled with fun.
Countless Activities
One of the downfalls that many kids' birthday parties experience is the lack of variety in activities. Since children generally have shorter attention spans when compared to adults, the more activities they have at their fingertips, the better. With countless activities and innovative attractions, Rebounderz is the perfect location for your child's next birthday. We offer several different trampoline activities designed to keep your child and their friends entertained, and even let those daring enough to take part in our challenging obstacle course.
If your child's birthday party is on the larger side, they can even form teams to face each other head-to-head in a competitive game of trampoline dodgeball. For the more athletically inclined, your child and their friends can challenge each other to an exciting dunk contest, thanks to our multiple trampoline basketball hoops. These are just a few of the many activities that we offer that are perfect for both children and adults alike.
A Wide Variety of Arcade Games
Your child may have friends who aren't as physically active and would rather play games than spend time jumping on our state-of-the-art trampolines. We know that fun comes in various forms outside of trampolines. For this reason, our arcade is perfect for those looking for endless entertainment with the chance of winning neat prizes. With both classic arcade machines as well as modern-day arcade games, you can be sure that you will never become bored while visiting our gaming area. After your child's friends have collected their arcade tickets, they can easily trade their tickets in for cool prizes and candy. At Rebounderz, there truly is something entertaining for every type of individual.
A Place for Adults
You may not know what to do with yourself while your little one and their friends enjoy bouncing on our trampolines throughout the day. Many times parents will find themselves sitting in the corner during their kid's birthday party, but it doesn't have to be that way at Rebounderz! Our cafe is the perfect spot for adults to relax while their children have fun. Not only do our cafes sport oversized TVs, you can also access free WiFi for all your internet browsing needs. If you find yourself becoming hungry during your child's party, you can order delicious snacks and appetizers like pizza or wings directly from our cafe. You may even find yourself becoming stressed at your child's party, which is why our cafe area also features the latest massage chairs to help remove any tension that you may be experiencing. Retreating to our cafe after your child and their friends have started their party is a great way to enjoy your time at Rebounderz.
If you are looking for the top location to host your child's next birthday party, view all that Rebounderz has to offer today by visiting our website. With countless activities and attractions to choose from, you can be sure that your little one and their friends will enjoy an unforgettable experience that they will continue talking about well past your child's birthday. We make it easy for you to relax while we coordinate your child's party, resulting in a more enjoyable experience for everyone involved. You can easily receive more info about renting one of our private birthday party rooms by contacting our friendly staff today!