A Rebounderz Birthday Party Planning Checklist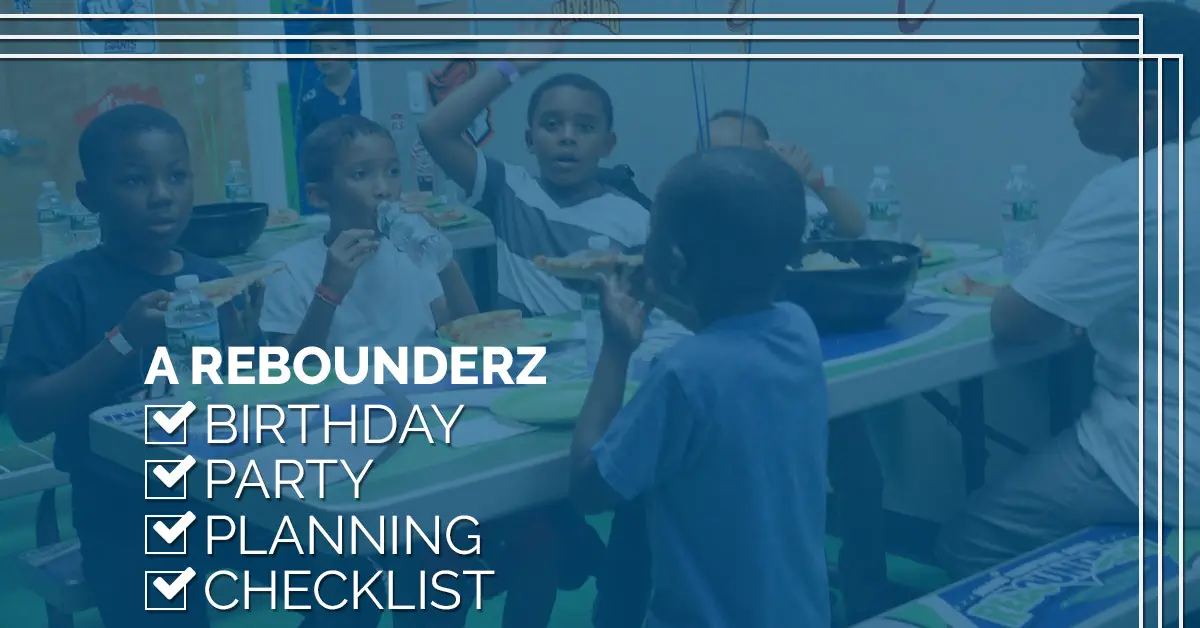 Planning a party for your child's birthday can be a lot of work. In fact, it's more stress on you as a parent than just about anything else. How do you plan something where a gaggle of kids will have fun, and yet, won't cause you to work yourself to death. The solution is obvious: plan your kid's party at Rebounderz of Apopka.
When you're getting ready to plan your child's Rebounderz birthday party, there are a few easy steps you can follow in order to make sure your child has a phenomenal day without causing you additional angst. Just tackle the following checklist!
Book Your Venue
The first thing you always want to do when you plan a kid's party is to get the venue booked. You'll pick a good day and time, and then approach your venue of interest, such as Rebounderz, to see what availability and pricing looks like. Have a couple of days picked out, just in case your first choice is already taken. When you book your party at Rebounderz of Apopka, you'll want to decide on the following:
Day and Time

Party Room

Party Size

Additional Add-ons
Pick a Theme
Each Rebounderz location is packed with tons of jumping and arcade fun. However, when you book a kid's party with us here in Apopka, you can opt for a private room to use during the celebrations. We have five unique themes at our Apopka location, and you're sure to find one that will fit your child's personal style. Choose from the Rock n' Roll Room, Diva Boutique Room, Special Ops Room, Beach Luau Room, and Extreme Sports Room. Availability will vary from room to room.

Invitations
Once you have the venue booked and you've picked a Rebounderz party room theme that you know your child will love, then it's time to send out invitations. You can opt for party store invitations that match the room, or you can print the Rebounderz Invitations right off the website! Our invitations even have a reminder for parents to sign the liability waiver prior to the party, so that no one has to sit out on the fun.
Choose Your Menu
Even if you like cooking, cooking for choosy kids can often be a hassle. Why slave away when many kids will just snub their noses at anything that isn't peanut butter and jelly or pizza? So, once you've decided on a Rebounderz party, take a look at the various food options, and take your pick. Our party packages come with pizza, but you can add on a fruit or veggie tray and even nachos to feed all those hungry kids. No outside food is allowed unfortunately, so make sure you've ordered a sufficient amount of food ahead of time. And of course, don't forget the cake!
Recruit Parental Help
Does the idea of managing 20 kids on your own during a birthday celebration scare you? We don't blame you. However, you will have help and supervision throughout the Rebounderz facility. On top of that, it never hurts to wrangle up some extra parental help, depending on the party-goers ages, and have the extra eyes just to make sure everyone stays safe and has a good time.
Buy Decorations
Want to know the best part about hosting a Rebounderz birthday party? You don't have to buy decorations. When you opt for a Rebounderz kid's party, we provide everything from a tricked-out room to paper wear for food and drink. You can opt to have balloons, and we'll have them there for you. If you want to bring in a few extra decorations, that's fine, but the best part is simply that you don't have to if you don't want to.
Bring a Present
Once again, this is an optional item on the checklist, but it's one that can be a bit of fun. While friends will be bringing gifts, it can still be fun to sneak in a small present from mom or dad just to remind them that you're there for them and their big celebration too!

Load Up the Goody Bags
You may think that the party is a big enough gift for all the kids enjoying it, and it should be, but there is always an expectation for kids to go home with goody bags. You can bring goody bags to the party packed with delicious candy, or opt for some small toys that are affordable and easy to play with. You might even find some really good little toys that match the theme of the party, such as guitar keychains for a rock n' roll party or leis for a luau.
Transport Birthday Child
No birthday party is complete without the guest of honor. So on the day of the party, load up your car and head over to Rebounderz of Apopka a little early. We'll get you settled in your private party room and help you get everything organized right from the start. Your child will feel special all day long!
Greet Guests
Since you'll be a little early, you'll be there just in time to greet guests as they arrive. Every guest will receive grip socks for jumping on the trampolines and be shown where to store their belongings. In addition, all of the party-goers will be given a quick safety briefing in order to get on the trampolines. Once everyone has done these things, they'll have plenty of time to play throughout the facility prior to food.
Have Fun!
No matter what, the number one thing for any kid's party is to have fun. Even as a parent, it's important to have fun. In fact, join in on the rebounding fun and get a jump pass too! Rebounderz of Apopka makes it easy to throw a kid's party that is fun and entertaining for everyone who attends. And on top of that, it's stress and hassle-free for you. For your child's next birthday party, plan a Rebounderz party! Contact Rebounderz of Apopka today with any questions or to book a party today!