Rebounderz Sets the Safety Standard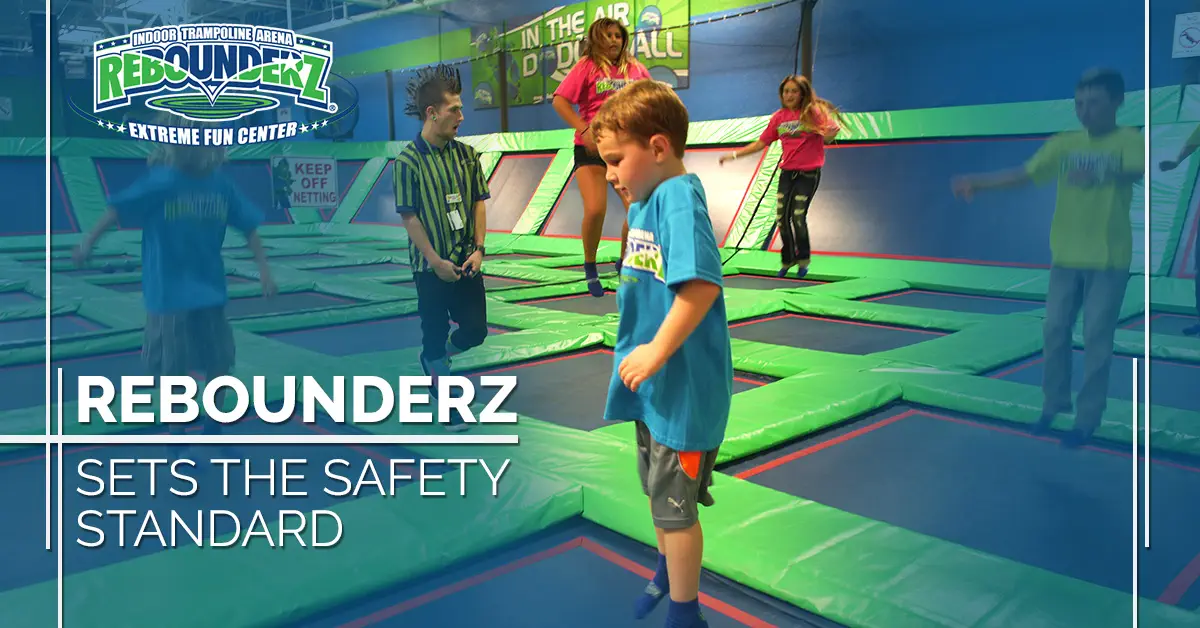 When you choose a place for your family to spend the afternoon, we know that you look for both fun and safety. In fact, you probably have many different places you can pick from in the Sterling area when it comes to spending time with your family. However, when you look at the different choices, you may face several questions and challenges. These can include looking for something the entire family can participate in, something fun, and something safe. Here at Rebounderz of Sterling, we set the bar for family safety. In fact, we're the safest trampoline parks in the nation. We can claim this because of some of the following safety features you'll find at each and every Rebounderz family entertainment center you visit.
"Joshua" Lines and Trampoline Beds
When you enter a Rebounderz with your family, you'll probably notice that we look a bit different than most other trampoline parks. Our main jumper is completely enclosed, and our trampoline beds look a bit different. When you enter our jump arena, you'll notice that almost all of the trampoline beds are square and that the edges of each bed have red lines around them. The beds are the smaller size in order to provide control while jumping. The smaller size still allows for fun, but it makes sure that no one jumps too high and injures themselves. In addition, all of our trampoline beds are double lined in case one of the layers fails. The faulty layer is promptly replaced for safety. The red lines are truly unique to Rebounderz. We call these "Joshua" lines after the individual who helped invent them. They are lines to help visualize the safe jumping space on a trampoline bed. You don't want to close to the edge for you safety, and these help to prevent that.
The Exoskeleton
In addition to focusing on trampoline bed safety, our entire jump arena is patented for safety. The jump arena we fondly call the "Exoskeleton" has several patents, and for good reason. The structure is made into one solid piece of metal and then firmly bolted into the foundation of each building. The Exoskeleton's cup design also keeps individuals safely in the middle of the arena.
Referees
Every location is staffed with trained individuals who monitor all of the equipment. These Referees help to make sure everyone abides by the roles when they're in a Rebounderz facility. What a Referee says, goes. However, Referees are also present to help facilitate fun as well!

Rules and Guidelines
Before you step foot onto any of the trampolines, you'll be informed of all the rules that the Referees enforce. These rules include no double bouncing, always land on two feet, and only single front flips, to name a few. These rules are for your safety, as well as the safety of everyone around you. So please abide by them.
Grip Socks
Lastly, every participant must wear a pair of Rebounderz grip socks. They serve two purposes. They help to avoid any slipping, and they also help to keep our facility sanitary and clean.
Rebounderz of Sterling is the number one choice in the Sterling area for families to come and have fun in a safe environment. Come jump with us, or if you have any questions, just give us a call!