Rebounderz: The Safest Trampoline Park Environment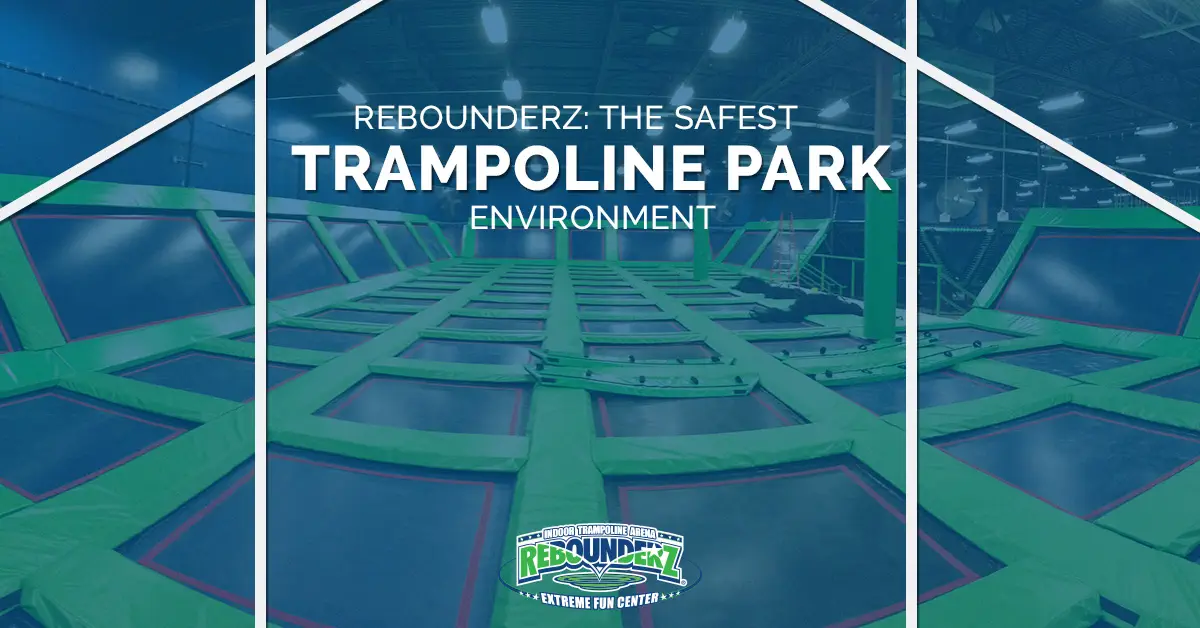 When it comes to trampoline parks, you may have heard some bad rumors going around when it comes to safety standards. And while there are some trampoline parks in the industry that are lax about rules and safety standards, Rebounderz is not one of them. In fact, Rebounderz prides itself on being the safest trampoline parks in the family entertainment industry, because you and your family's safety is non-negotiable. You can have extreme fun and still remain safe when you visit any of our trampoline parks. Today, Rebounderz of Edison wants to go over what helps Rebounderz stand out from the rest so that you can rest assured that you've made the right choice for your family fun outing.
Trampoline Beds
The trampoline beds at Rebounderz aren't like the trampoline beds that you will find at other trampoline parks. We use a couple of additional precautions in order to protect all of our customers. Most of our trampoline beds are square to just slightly rectangular. This smaller trampoline bed size helps to control the bounce and height that can be achieved on our trampolines. A smaller bed size simply means more control. In addition, all of our trampolines are double lined for safety. Any trampolines that are damaged are promptly replaced, but you can always rest assured that there is a redundancy for your safety.
"Joshua" Lines
Unique to all Rebounderz facilities is a feature called "Joshua" Lines. These red lines added to the trampoline beds help individuals to visualize the safe jumping space on a trampoline. Many problems occur when individuals jump far too close to the edge of a trampoline bed where the springs are attached. "Joshua" Lines help you to stay clear of this area and maintain a safe jumping space.
Arena Design
Not only do we work hard to make sure that we have superior trampoline beds, but the way in which they are laid out helps to protect all the individuals having fun in our arena. The arena is meant to help keep people inside of it and prevent any falls towards the outside. The design is much like a bowl and you can even bounce off the sides when you're having fun.

The "Exoskeleton"
Our patented "Exoskeleton" technology for our trampoline arenas helps to maintain the structure and integrity of our main jump arena. This structure is made of many pieces, but when finished and fully installed, it's one completely welded together structure. In addition, the "Exoskeleton" is bolted into the facility's foundation for additional security. You won't find anything quite like it at any other trampoline park.
Referees
Much like a pool has a lifeguard, here at Rebounderz, we have Referees on duty to help enforce rules, supervise activities, and encourage all different types of play. All Referee decisions are final and all rules need to be followed for everyone's safety. With this in mind, Referees are there to help in anyway they can, so feel free to ask them questions or just hit them up for a little chat!
Grip Socks
At Rebounderz, every jumper wears grip socks on the trampolines. This is for two specific reasons. The first is that these reusable grip socks help protect individuals from slipping when on the trampolines. In addition to having a safety purpose, they also help to keep our facilities hygienic for all to enjoy. Grip socks are reusable and only have to be purchased once as long as you remember to bring in your pair when you visit!
Safety Briefing
Before using any of the Rebounderz equipment or jumping on a single trampoline, every individual has to go through a short safety briefing on what is allowed and what is not allowed here at Rebounderz. Our rules exist for your safety, so please respect them. They include, but are not limited to, the following:
Always land on two feet.

Never reach out to catch yourself. Roll instead.

Single flips only.

No double bouncing to get extra height.

Be respectful and careful of others.

Listen to the Referees.
Here are Rebounderz of Edison, we pride ourselves on  providing you with both a safe and fun trampoline park environment. There's a reason that our motto is, "Extreme Fun, Maximum Safety." We live by this saying and want you to have a great time here at Rebounderz. Call us with any questions you may have!