Team Building Events with Bounce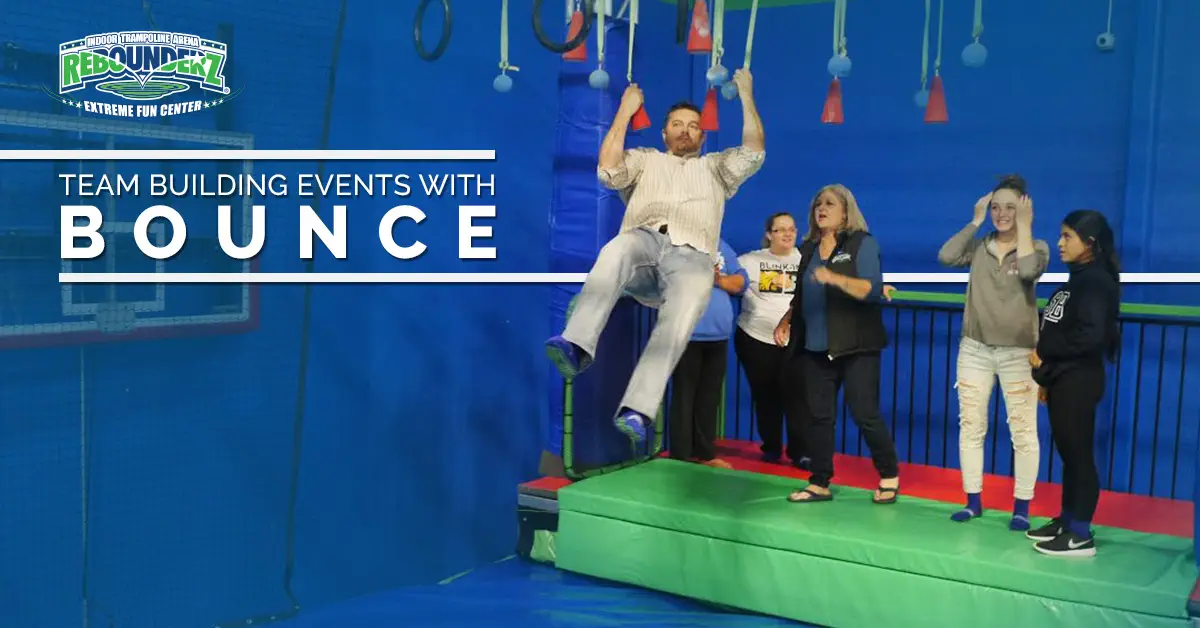 At Rebounderz Indoor Trampolines, we offer a truly special experience. One, that will be talked about at every single work-related event for years to home.
To Whom It May Concern: What Do We Offer?
At Rebounderz, we offer to any business the chance to rent out our trampoline park for their use. This is the perfect way to amp up your team-building events and create a great bond amongst your workers. When you rent a Rebounderz park, you are given the chance to pick and choose which tracks to use. For example, for corporate team building events, a company can rent out the entire park after kid hours are over. This allows your team full use of the park and all of our amenities.
To an Employee: Why Is It Special?
At Rebounderz, we believe that fun doesn't stop at a certain age. Fun is constant, and stays with you long after your childhood. The thrill of bouncing on a trampoline is transcendent, and can be felt at any age. When you bounce on a trampoline, small traces of dopamine are released into the brain, creating a happy, light-hearted feeling. At Rebounderz, we offer this feeling to all—not just children.
If you are worried about hurting yourself on the trampolines, we can assure you that you can bounce at any pace you would like. There have been studies that show that trampoline exercise is extremely healthy for you. Even those who have injuries or sensitivities use trampolines to gain strength and balance in their bodies. Studies have shown that trampolines actually help build up core strength in weaker bodies and improve overall athleticism. Trampolines are a win-win, you can workout and spend quality time with your co-workers.
When we work nine to five jobs, we learn that we spend most of our days with our co-workers.
Going on work-related outings is a great way to learn about the people we interact with the most—especially when trampolines are involved!

To an Employer: Why Would This Be Worth the Effort?
Nothing is more important than the efficiency of your workforce, so why not invest in creating the best environment you can? The well being of your employees is what makes your company special, makes it work. Any result that your company achieves would not be completed without the diligent work of your staff. By putting in extra effort to ensure the best team bonding experiences, your employees will benefit. They will not only become closer, but they will have an appreciation for their employer and company. In a way, a sense of pride will grow. They will be proud to work for a company that values them, their work, and their free time. The impact of the outing will result in the continued success and improvement of your employees' work and attitudes toward their work.
Your workplace will become a more friendly place, which customers will sense. When employees enjoy their job and peers, it shows in the quality of their work. By improving the quality of work, this will affect your customers and how they conduct business with your workers. It is commonly thought that customers buy your product because they need to. No, they don't; they buy the energy your company gives them. If a customer clues in that a workplace is healthy and thriving, their own minds gravitate towards that positive energy and those feelings, making a purchase more likely to occur.
By putting in the effort to create a long-lasting experience of fun for your employees, the whole company eventually benefits.
If you are at all interested in renting out our trampoline parks for your corporate team building events, visit Rebounderz online today. We can help make your team bonding experience one that no one in the office is likely to forget.