Unique Kids Birthday Party Places In Orlando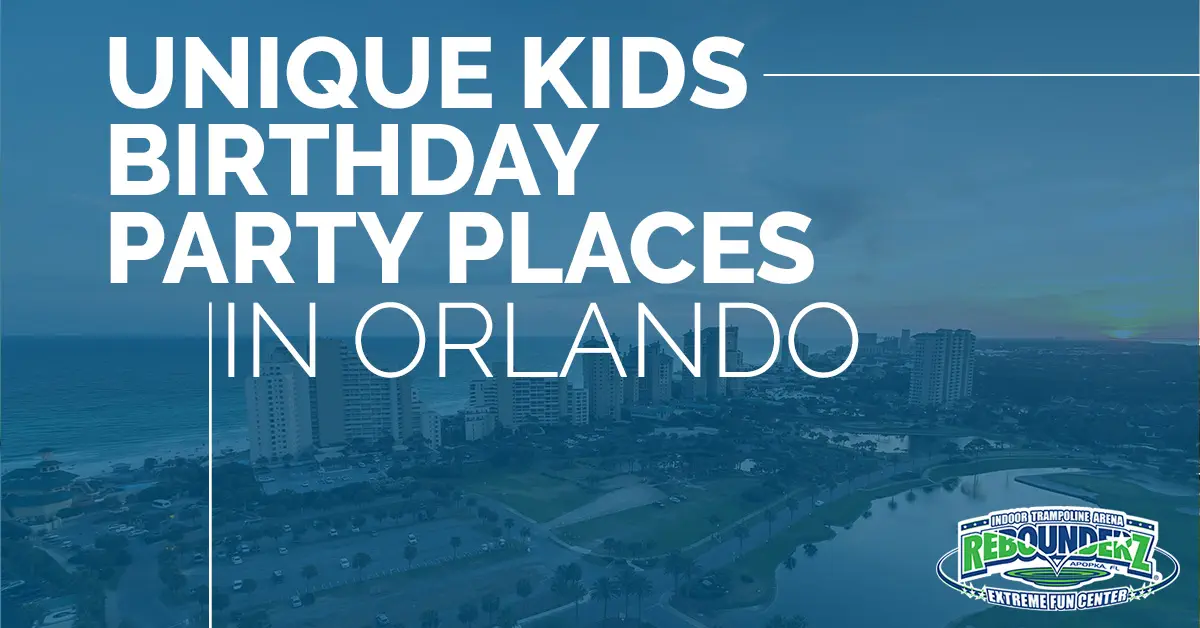 Ah, Orlando.
"The City Beautiful," is what they call it. It's also garnered quite the reputation as the "Theme Park Capital of the World."
However, Orlando has a whole lot more to offer than high-priced theme parks and congested attractions. While many people tend to choose the big-name parks for their kids' birthday parties, we'd like to let you know that there are a whole lot of unique kid's party options that are lesser-known and are still just as fun. In this blog, we'll be pointing out a few of the unique kids' birthday party places in Orlando that will have your child begging to return each and every year. Who knows, maybe one of these places will allow you to sprout a new family tradition.
Let's jump in.
Blue Spring State Park
There's no better place to explore our great state's natural beauty than at Blue Spring State park. Located just over 30 miles north of Orlando, this 2,600 acre state park features the largest natural spring on the St. Johns River. If you go during the right time of the year, typically around the summer, you can even enjoy the 73-degree waters of that spring with swimming, snorkeling, kayaking, and more.
Blue Spring State Park is perfect for a weekend getaway or even a day trip for your kid's birthday party, with ample cabins and lodging, picnic areas with covered pavilions, playgrounds, and a whole lot more.
But why else is this beautiful stretch of land, water, and trees special? Well, it happens to be a designated manatee refuge, housing hundreds of manatees throughout the year and particularly during the season that runs from mid-November through March. While the spring is closed during these months, you can still stop by and behold the majestic manatees as they swim about right here in our own backyard. Your kid might just have a new obsession after having their party at Orlando's manatee manor.
Central Florida Zoo
Speaking of fun animal attractions, the Central Florida Zoo sits right near the coast of Lake Monroe and offers the perfect unique adventure opportunity for your next kids' party. The zoo offers several different birthday party packages, which include zoo admission for guests plus access to the Tropical Splash Ground (weather permitting). Your kids party will also feature a train and carousel ride through the zoo, access to an indoor party room, a party host or hostess to aid with serving cake (provided by your party), animal-themed decorations, and of course access to all of the zoo's great exhibits.
Orlando Science Center
For the kids who are a little more into science and education, the Orlando Science Center offers a unique opportunity to host a kid's party surrounded by fun and learning. The Science Center also has their own unique birthday party packages, which include admission plus parking, themes such as Party Animals, Exploration Space, or Fantastic Jurassic, and a whole lot more. Get a guided tour through the center and give the birthday honoree an opportunity to have a blast while learning about the wonders of science.
Rebounderz Trampoline Park
We've saved the best kid's birthday party venue for last. If you're looking for a more extreme, unique, and indoor activity that not only provides a lot of fun but also helps promote fitness, then look no further than Apopka's own Rebounderz extreme fun center. Located less than 15 miles north of "The City Beautiful," Rebounderz is proud to serve as Orlando's premier trampoline park.
Our kid's party packages include full access to our fun centers, a private themed party room, pizzas, soda, a host/hostess, and a whole lot more. Experience the high-flying thrill of the most unique birthday party idea around. Our facility houses wall-to-wall trampoline jumpers, an air dodgeball arena, basketball slam courts, a thrilling detached foam pit, and even an arcade.
We certainly throw the best kid's party in Apopka, Orlando, or anywhere throughout the great Sunshine State — we guarantee it! Our patented jumpers have changed the game when it comes to trampoline parks. Just come on in and find out for yourself!
If you're looking for a unique kid's birthday party idea that will have your child and their guests jumping for joy — literally — then contact Rebounderz Apopka to learn how to book your jump time today.