Trampoline Birthday Party Game Ideas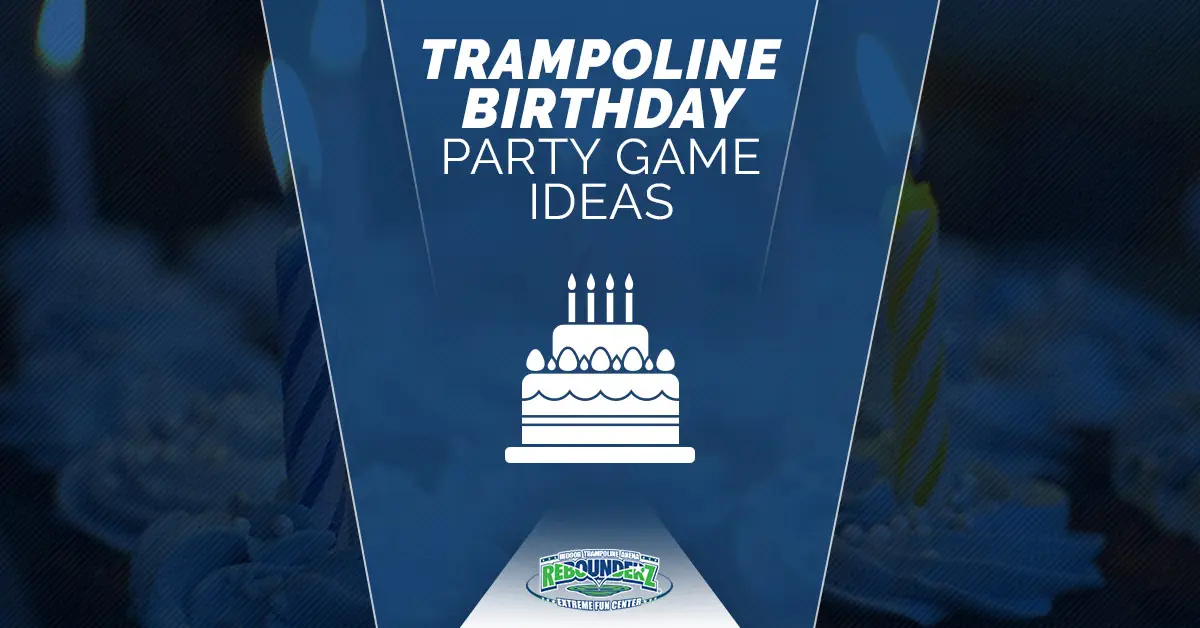 Is your child's birthday party right around the corner?
Hip, hip, and hooray! It's an exciting time, especially for the youngster, but also for the parents. That's because you'll want to create an event that your child will remember and cherish for many years to come. How can you do that? Well, hosing your kids' birthday party at Rebounderz indoor trampoline park in Grand Rapids is a great start.
Our extreme fun centers are the ideal birthday party utopia, harboring not only wall-to-wall trampoline action, but also arcades, Ninja Warrior Courses, and a whole lot more.
We have a couple of different kids birthday parties packages from which to choose to help make your youngsters' fun-filled dreams come true.
Those party packages include:
Major Rick O'Shay Party Package: This 2 ½ hour party features a themed party room and dedicated Rebounderz party host for the duration of your event, as well as all-access trampoline park entrance and socks for 15 high-flying jumpers, food and drinks, arcade game cards, and even a specialized birthday t-shirt for the birthday girl or boy.
Unrivaled Air Party Package: This package also includes 2 ½ hours of Rebounderz action, but here your price includes unlimited jump access for up to 20 kids, four large pizzas, 20 arcade game cards, and more. Rebounderz also offers a number of party add-ons to help make your day as special as possible.
So, now that you know where you'll be heading for the kids' birthday party, it's time to help them figure out the types of games they can play in a world full of trampolines. Let's jump right in.
Crack The Egg
This is of course an all-time trampoline classic. The kids will likely already know how this one goes, but just in case they don't let's do a brief run-through. It would be a great kick-start to the party to begin with the birthday boy or girl starting in the middle with their arms wrapped around their knees tightly. The other party-goers will then bounce around and try to "crack" the egg, otherwise known as jumping like mad until the person in the middle has to release their grip. It's a load of fun!
Rock, Paper, Scissors
When the ground is transformed into trampolines, this game becomes a little more interesting. Instead of using hands to determine the three throws — rock, paper, or scissors — participants use their whole bodies to form their weapon of choice. Choose rock by landing on your hands and knees, paper by flopping flat on the trampoline, and scissors by landing as a seat drop.
Ninja Warrior Race
Only at Rebounderz indoor trampoline parks can you offer your child an opportunity to become a Ninja Warrior legend! Our innovative, extreme Ninja Warrior Course is 200 feet long and has dozens of obstacles, including the famed warp wall! Have the kids race through the course, which you will have exclusive access to during your party, and see who emerges as the one true warrior.
Air Dodgeball
Since you'll have the run of the place for almost two full hours, your kids will have exclusive access to an extreme game of air dodgeball! Have them split into teams and get the high-flying fun started with a game that will be sure to create memories and bonding friendships. Heck, even the adults can get in on this action if they want; just remember, safety first!
Basketball Slam
Kids birthday parties at Rebounderz have more than one advantage. Adding to our state-of-the-art features at our facility are the face-to-face basketball slam courts, which make for bonkers basketball bonanzas and a whole lot of fun. Get your kids on the court and see who can have the best dunk.
Contact Rebounderz of Grand Rapids today to book your kids birthday party and become the coolest parent on the block!