Trampoline Safety Tips from Rebounderz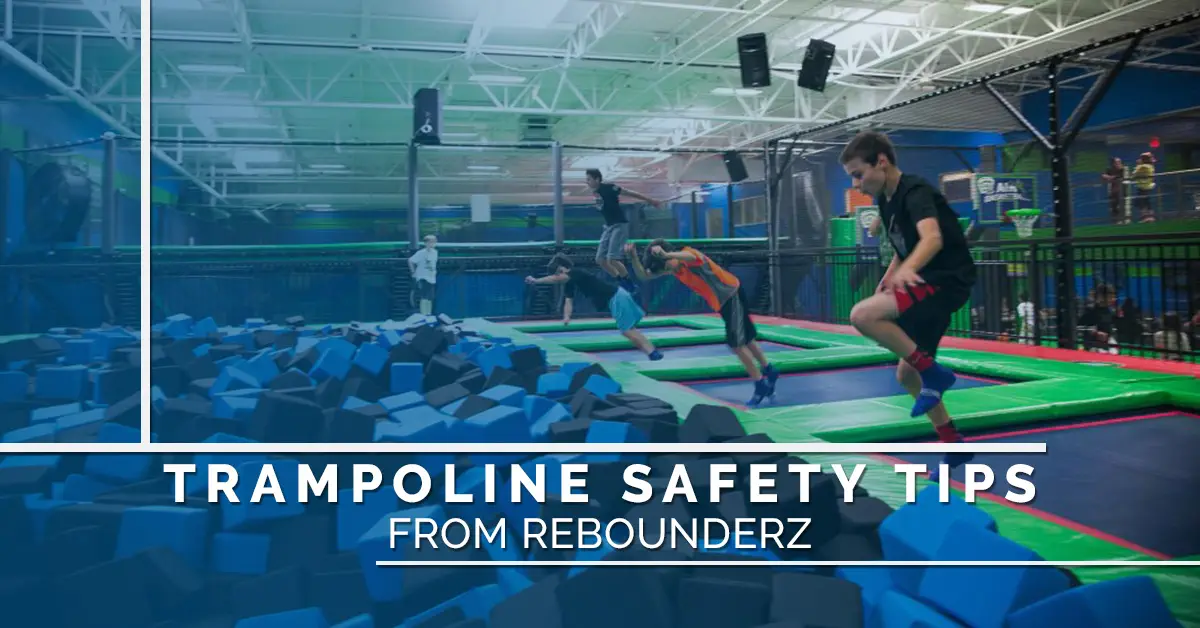 Trampoline jumping is a fun pastime. In the early 1990s, personal trampolines became popular and most children had access to one in their own backyard or neighborhood. Annually in the United States, emergency rooms treat more than 200 thousand trampoline-related injuries, most of which are musculoskeletal. Although they are popularly believed to be unsafe, over the entire decade leading up to trampoline jumping making its debut in the Olympics, there were only 11 trampoline-related fatalities. To keep trampoline jumping a fun activity, we have assembled a list of trampoline safety tips.
Restrict Access
Personal backyard trampolines are popular, you'll likely find at least one in each neighborhood. However, children should not have unlimited access. Trampoline time should always be supervised for safety. When backyard trampolines were first sold, they included a metal rung ladder for an entry point. However, in 1999, the attached ladder was outlawed because children who were far too small to climb onto the trampoline otherwise were able to gain unassisted access to the trampoline and, even without jumping, fall off at heights sometimes twice their own. A general rule of thumb is if a child has to be lifted onto the trampoline, they are likely too small to be using it safely.
One Jumper at a Time
Most trampoline injuries occur when the jumper lands too close to the edge of the trampoline, or worse, beyond the edge. Having more than one jumper on the trampoline significantly reduces the available landing space for each jumper. Each jumper that is added to the mix makes everyone jump just a little closer to the edge. Allowing only one jumper at a time will allow them to jump safely in the middle of the trampoline, with plenty of room for error.
When multiple jumpers are bouncing it also increases the likelihood of a collision. Whether one jumps into the other or lands on another, injuries are generally more dramatic when they involve more than one person.
A trampoline depends on the bounce and elasticity of the jumping surface to launch the jumper into the air and then safely catch them as they rebound. When multiple jumpers are bouncing, if they become out of sync and a jumper lands right after one has taken off, it is the landing jumper who will absorb the rebound shock of the other jumper and it causes a halt in the jump. This can lead to injury when the jumper was prepared to rebound and instead falls.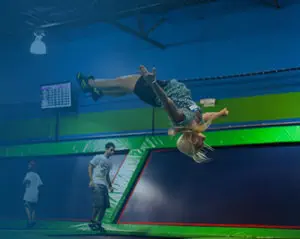 Prevent Falling
It is a natural part of bouncing that you may not nail the landing every time. The danger in this is when the landing occurs over the edge of the trampoline. Always make sure to have the spring guard in place to prevent jumpers from landing on or in between springs. You can invest in a safety net to go on the trampoline to help keep jumpers "in bounds." If at all possible, it is a good idea to make a soft landing all the way around the trampoline.
Inspect Trampoline Regularly
Trampolines require regular inspection to ensure that it has not been compromised and is in peak condition. If there are tears or micro holes in the jumping surface, it should be repaired or replaced immediately. Because the jumping surface relies on elasticity, any small insult to the material can escalate with each bounce and have devastating consequences should anyone land on it. Also be sure to thoroughly inspect the springs. The should be tight and difficult to manually bend. If there is rust present, it is an indication of corrosion on the metal and should be replaced. Inspect the spring cover to make sure it is still providing the protection from the springs it is intended to. Regular inspections will afford you the opportunity to correct any deficiencies before they cause harm to a jumper. If you live in an area with extreme sun or frequent precipitation, it is a good idea to keep it covered with a tarp to prevent weather damage from occurring.
Choose a Trampoline Park Instead
The safest alternative to a backyard trampoline is an indoor trampoline arena. Indoor trampoline parks are able to keep their trampolines in a temperature controlled environment which reduces weather damage. Trampoline parks have safety monitors and trampoline repair technicians to ensure the jumpers and equipment are kept safe. Going to a professional facility reduces your liability and the need to inspect a trampoline. Not to mention the space it saves in your yard and the peace of mind you'll have knowing your children can only jump when you take them!
Kids of all ages have been jumping for joy on trampolines for decades. When the trampoline is cared for and jumpers exercise safety at all times, it can be a safe and enjoyable activity. Follow these tips to help keep your little ones safe and bouncing for a lifetime. And if you want to take your kids to an indoor trampoline park, make Rebounderz Indoor Trampoline Arena your first choice! Safety isn't just our motto, it's our business.