The Ultimate Power Rangers Birthday Party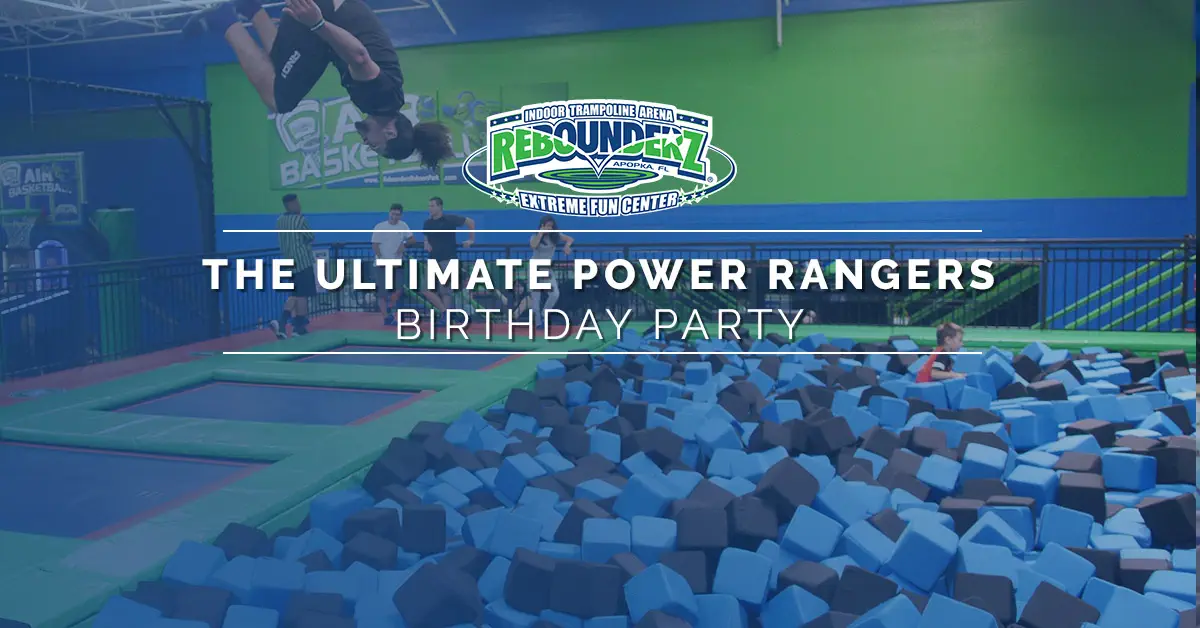 Power Rangers and trampoline jumping just seem to go together. Don't you think? If your child is a big fan of the rangers, we think a themed birthday party at Rebounderz Apopka will turn out to be one of their happiest and most memorable days.
If you are super crafty, there's no end to the do-it-yourself Power Ranger ideas you can find. But for those of you who are looking for a one-and-done solution, there are a lot of options for everything from invitations to cake toppers.
We've put together some of the theme ideas we've seen. We hope to see you and your little Power Ranger at Rebounderz in Apopka soon. As always, we are here to help plan your big day. Give us a call!
The Birthday Boy or Girl
No matter how old your Power Rangers fan is turning, we bet they'd love to be their favorite Ranger for their big day. You'll want to make sure that any costume or mask doesn't impede their ability to safely jump on the trampoline. Other than that, the sky's the limit. We've seen birthday girls and boys in shiny Power Ranger Tshirts. There are cute matching leggings and skirts for the girls. And for the boys, a power ranger jumpsuit is a great option.
The Invitations
If you are feeling really creative, you can design and print out power ranger movie-ticket themed invitations. They're sure to be a big hit. But if you are less crafty than that, you're sure to find a good assortment of power ranger invitations, stickers and stationery at your local craft store. We've seen a few invitations that double as power ranger masks. Those are always a big hit. 
The Party Decor
Thanks to the popularity of the new power rangers movie, you'll find no shortage of power rangers plates, napkins, bowls and table cloths. You can get a lot more creative than that with your decorations though.
For the table, themed pop-up table toppers are a great addition. Consider an inflatable power ranger airwalker to oversee the festivities. Spread an assortment of power rangers ninja power stars on the table to keep little hands occupied and engaged. Save the disk shooters for the goody bag to make sure disks don't get lost and the little ninjas don't take things too far.
To set the scene, we don't think you can do better than an inflatable power ranger airwalker to oversee the festivities.

If you are throwing a party for particularly young Rangers fans, or if there are little brothers and sisters that need to be entertained, a Power Rangers themed coloring book is the perfect activity.
You'll also find no shortage of themed cake and cupcake toppers. If you are going all out, we've noticed that local bakeries are doing some pretty amazing things with Power Ranger themed desserts. We've even seen Power Ranger cake pops showing up at some parties!
Power Ranger Goody Bags
Here's where you can really get creative. Really, there is so much Power Ranger stuff to choose from, you might have trouble deciding. We've seen mini light-up Power Ranger swords, temporary tattoos that are sure to please no matter which Ranger is the favorite, and themed pencils that'll be a hit at school the next Monday. Power Ranger themed bracelets, stickers, and sunglasses are really popular as well. One of our favorites are the mini-toy figurines, available in a variety of action poses. The kids love them!
We hope you like our Power Ranger party ideas. Please give us a call here at Rebounderz Apopka. We're here to help make sure your trampoline party is a huge success, whatever theme you choose. We look forward to seeing you soon!