5 Reasons to Hold Your Corporate Event at Rebounderz in Sterling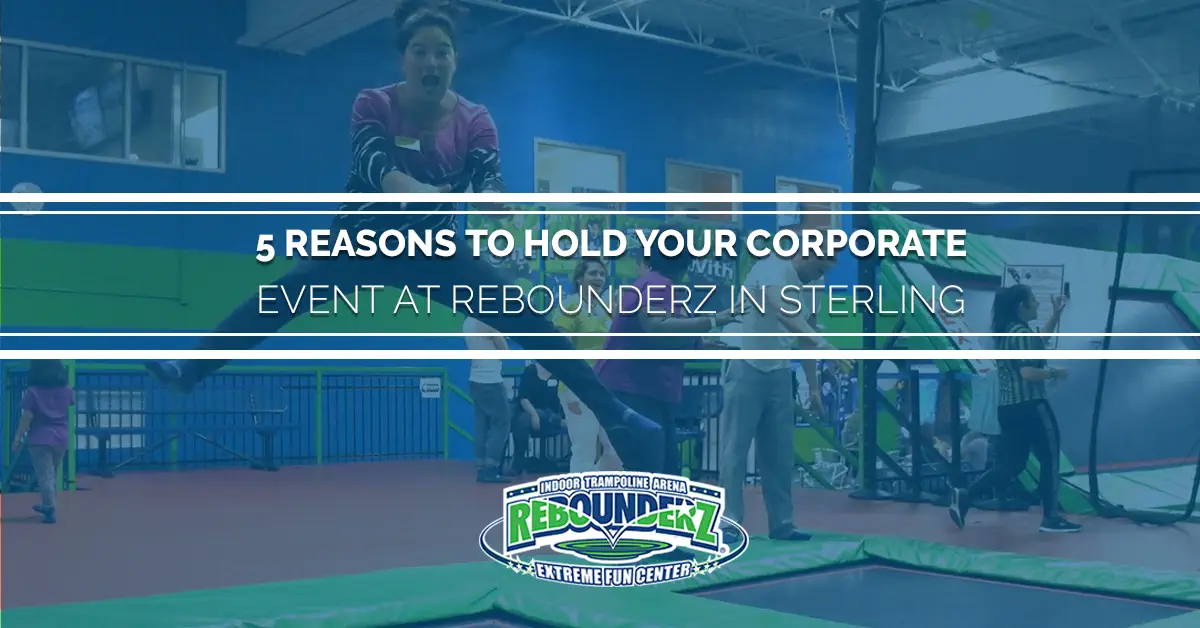 If you are planning an outing for your employees, either for team building or just as a reward for work well done, you don't have to look any further than Rebounderz in Sterling. There is nothing better for bringing teams together than laughing together, and you'll have no shortage of that as your team competes in basketball dunking and dodgeball contests while jumping and balancing on our trampolines.
Not Convinced Yet?
Here's why we don't think you'll find a better place for your team outing.
#1 You'll have the place all to yourselves.
You can reserve the entire trampoline park for your team. With no distractions and no kids in the way, you can plan your day however you want. Plan a dodgeball tournament, a basketball dunking tournament, and for those who aren't inclined to jump on the trampoline, you can plan other team-building challenges and activities.
Because you'll have the entire place to yourself, you can plan games that will help people connect in all kinds of ways including some teambuilding classics. Before the tournaments begin try breaking the ice and getting everyone in the mood with "two truths and a lie" or the always fun, "human knot."
#2 Play time is not just for kids.
The evidence is in, and playing is good for adults, not just for kids. Health benefits include stress relief. When stress results in headaches, fatigue and trouble sleeping, an afternoon of trampoline jumping, dodgeball and other active, team-building activities is sure to help.
Getting your team away from the environment they are used to may help them to connect on new levels. If everyone is wearing suits, ties, and Manolo Blahniks to the office, getting them out of their element and into t-shirts and jeans creates a whole new dynamic. And just like physical activities can bring shy children out of their shells, if you've got some introverts on your team, you might find that this is just the thing to bring them out of their shells.
#3 Trying something new.
How many times have you told your kids to try something new, that learning is fun? We tell them that, because it is true! Everyone will have fun. Even if you have a few people that sit on the sidelines and watch, they'll be sure to spend most of the day laughing at the antics of their co-workers.
Additionally, changing your perspective can often illuminate skills and talents of team members that get overlooked at the office. And we can't think of a better way to shift your perspective than by bringing your team to our trampoline arena for a team-building day.

#4 You'll start a tradition.
We're pretty sure that your team is going to have so much fun that they'll want to come back again. And, once you see that their play time translates into better work relationships, you'll be all for it too.
Maybe some of your team members will even start a dodgeball league or make trampolining a regular after-hours activity. Introducing your team to an activity that they'll run with and use to continue to strengthen team dynamics, sure seems a heck of alot better to us than traditional team building activities like trust falls.
#5 Your team will love it.
Sure, we're a little biased. We love this stuff. Regardless, we're really confident that your corporate team-building event at Rebounderz will be a huge hit. And if it is a big hit, you know who gets all the credit. You do!
Get in touch with our party and event planning team today. They'll help you plan the perfect corporate team-building event. We look forward to hosting your event here at Rebounderz in Sterling.