There are many virtual reality rooms and centers to try in the Sacramento area. These centers offer a variety of different experiences from virtual escape rooms to flight simulators. With all of the emerging technology in virtual reality, you'll never get bored!
Virtual reality gives you the opportunity to not just play video games but really feel the games. It's a full sensory immersive experience that will keep you wanting to come back time and time again.
Best
Virtual Reality
Centers & Rooms in
Sacramento
Whether you're looking for something to do with the kids, something to do with your friends, or just want a novel activity, check out our list of the best VR experiences in Sacramento today! 
     1. Rebounderz
–
Sacramento
Rebounderz Sacramento is Sacramento's premier family entertainment facility that offers a virtual reality experience. Rebounderz also offers a variety of other activities including trampoline jumping, basketball slam, and a challenging (but fun) Ninja Warrior Obstacle course. 
Rebounderz Sacramento has a massive selection of over 300 virtual reality games available. There is a fenced area for guests to safely enjoy the virtual reality experience. Everyone can get lost in the immersive world of virtual reality at Rebounderz!
Rebounderz also offers a great membership program that can help you save money all while enjoying everything they have to offer. They also have a terrific summer camp program to keep your children engaged and active. 
And let's not forget their parents night out program, where Rebounderz staff watches your kids for the evening, so parents can take some much-needed time off. 
At Rebounderz Sacramento, the whole family can take part in activities, from toddlers to adults!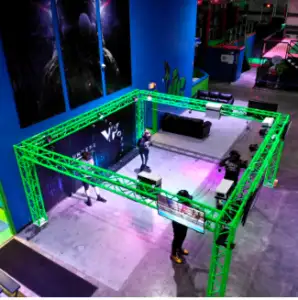 Activities Offered at Rebounderz Sacramento
Virtual Reality 

Indoor Trampoline Arena

Toddler Trampoline Zone

Colorful Themed Climbing Walls

Air Pit

Basketball Slam

Extreme Dodgeball 

Spin Zone Bumper Cars

Junior/Floor Warrior Course

Multi Level Indoor Playground

Jump Xtreme Tower

Indoor Arcade

Birthday parties

,

summer camps,

and group programs
Pricing: 
Ultimate ticket:

For $34.99, you can enjoy all day admission to all of the great activities as well as 1 free 500-point arcade card, 1 free fresh popcorn, and 1 free fountain drink.

Premium Ticket

: For $29.99, you can enjoy 2 hours of play time for all the activities.

Basic Ticket

: For $24.99, you can enjoy 1 hour of play time for all the activities. 
They also offer two membership options: $14.99/month for Basic, and $19.99/month for their ultimate unlimited.
Check out all Rebounderz offerings!
    2. Zion
Virtual Reality

Zion Virtual Reality offers several different virtual reality experiences for guests of all ages with around 50 virtual reality arcade games to choose from. The pricing is per hour and there are options to free roam or to engage in a single activity for the whole time. 
Zion also offers seasonal experiences such as their virtual reality Halloween experience that runs for the month of October.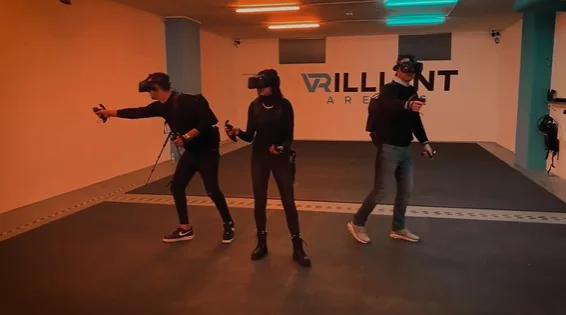 Activities Offered: 
VR Games

VR Free Roam Arena

VR Laser Tag

VR Escape Room
Pricing: 
Laser Tag VR Free Roam:

$37 per person per hour

Escape Room VR:

$40 per person per hour

Arcade Premium VR:

$37 per person per hour

Hero Zone Free Roam VR Co-Location:

$40 per person per hour

Killing Zombies Free Roam VR Hyper Reality:

$45 per person per hour
   3. Heroes Virtual Reality
Heroes Virtual Reality has two locations in the Sacramento area. They offer 40 different virtual reality experiences for anyone ages 8 and up. There are both single player and multiplayer options available, and you'll have to reserve your time to come in and play.. Heroes Virtual Reality also offers birthday party or event packages. 
They have standard VR equipment and premium VR equipment available at a higher price point.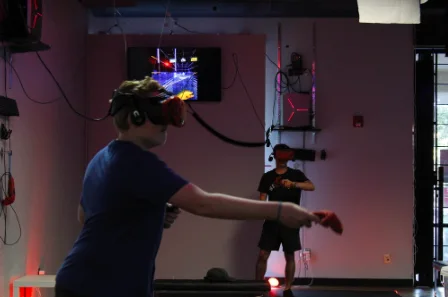 Activities Offered: 
Standard VR games

Premium VR games
Pricing: 
Standard:

$50/hour or $85 for 2 hours

Premium:

$55/hour or $90 for 2 hours
     4. The Gamery
From card games to virtual reality experiences, The Gamery has multiple activity options. The two games that are played most at The Gamery are Dungeons and Dragons and Magic: The Gathering. 
They also carry Pokemon, Yu-Gi-Oh! and Dragon Shield games as well. They have both VR escape rooms and VR game experiences.
Activities Offered: 
Pricing for VR Escape Rooms: $30 per session
    5. 916 Virtual Reality Game Truck
916 Virtual Reality Game Truck is a mobile virtual reality experience serving the Sacramento area. There are several packages to choose from and pricing varies depending on specific circumstances. 
They supply the equipment for various VR experiences from flight simulators to escape rooms. Players are recommended to be seven years old and up.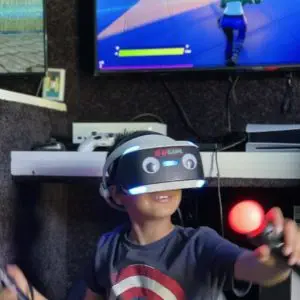 Activities Offered: 
Pricing: Packages start as low as $20, but you'll have to call for pricing. 
    6. XVRoom Virtual Reality
XVRoom Virtual Reality is located in The Country Club Plaza Mall that offers several different VR games and consoles. They offer shorter experiences at around 10 minutes each, which gives kids a chance to try a virtual reality experience without having to commit to a whole hour of play time.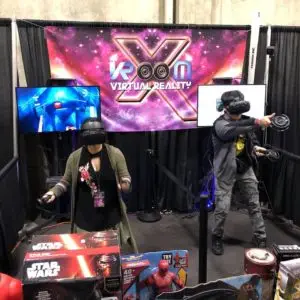 Activities Offered: 
VR games

VR simulator

Console games

PC games
Pricing: 
10 minute VR Gametime:

$10

VR Simulator Ride:

$10

30 MInute PC Gametime:

$10

30 Minute Console Gametime:

$10
    7. Dave & Buster's
Dave and Buster's is the go-to spot for adults to have some fun like they're kids again. They have the arcade games that everyone grew up playing and some newer games like their virtual reality experiences. There is a bowling alley and plenty of pool tables that add up to a fun-filled night for any adult.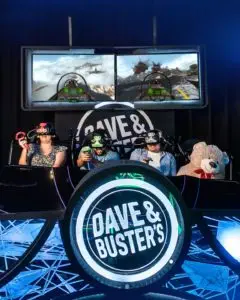 Activities Offered: 
Virtual Reality

Billiards

Bowling

Arcade games
Pricing: 
75 Chips:

$15

135 Chips:

$25

200 Chips:

$35

275 Chips:

$45

400 Chips:

$60

550 Chips:

$75

750 Chips:

$100
    8. Van Gogh Exhibit
The Van Gogh Exhibit is an immersive experience that allows visitors to see the work of artist Vincent Van Gough like never before. With two story projections of the artist's work in a 20,000 square foot area you can see every last detail. 
There is also a virtual reality experience that shows some of the inspirations for his most famous paintings. The exhibit has been available since 2017 and will be up and running through 2023.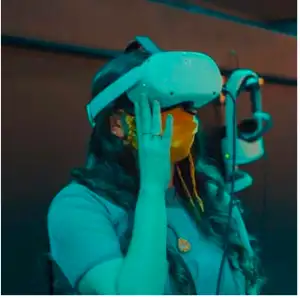 Activities Offered: 
The immersive room

Virtual Reality

Museum

Art studio
Pricing: 
Adults:

$34.90

Children:

$19.90
    9. Davis Cards and Games Virtual Reality
Davis Cards and Games is all about the world of fantasy gaming. They have virtual reality escape rooms and gaming experiences as well as events for card game players to get together.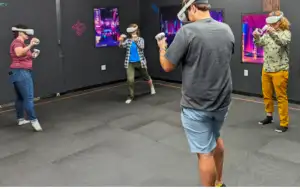 Activities Offered: 
VR escape rooms

VR adventures

Card games

Board games

Roleplay games
Pricing: 
10 Minute VR Game:

$12/player

VR 3 Game Bundle:

$30/player

VR Escape Room:

$80/2 players

VR Laserbots:

$15/player
    10. Red Door Escape Room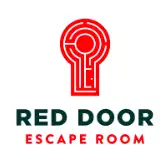 Red Door Escape Room hosts several escape room experiences that also includes a virtual reality experience. Each escape room episode is ranked for its difficulty level to help you pick the appropriate option for your group's skill level.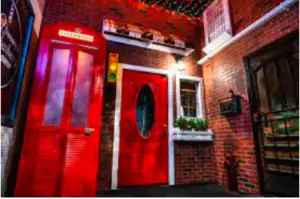 Activities Offered: 
VR escape rooms

Physical escape rooms
Pricing: 
2-3 People:

$39.95/person

4-5 People:

$35.95/person

6+ People:

$33.95/person
    11. Sandbox
Sandbox VR offers premium VR equipment with custom experiences. They have six virtual reality options to choose from and each one provides a different immersive experience. Sandbox is a franchise and can be found throughout the world.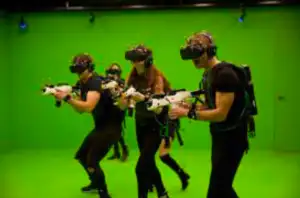 Activities Offered: 
Pricing: 
Monday-Thursday:

$50/person

Friday-Sunday:

$55/person
Other
Virtual Reality Options in Sacramento 
If you are looking for specific VR experiences here are some options in the Sacramento area.
VR Escape Rooms
For a VR escape room experience these are some good options:
Zion VR

The Gamery

Davis Cards and Games
Virtual Reality
Laser Tag
If you would like to try out a virtual reality laser tag experience, here are some places to check out:
Zion

Lazer X

Jas Laser Tag
Virtual Reality in Roseville
For some VR options in Roseville, check out:
Rebounderz

Heroes

Dave & Buster's
Best Virtual Reality
in
Sacramento
Virtual reality is getting more popular and more advanced every day. Having an at-home virtual reality setup can be extremely expensive, so going to a VR center is the perfect way to enjoy the technology!
In the Sacramento area, Rebounderz is the best virtual reality option around. In addition to state-of-the-art VR equipment, there are activities for every family member. So if you have a family full of virtual reality fans, trampoline fans, and a toddler, everyone has an activity to try. 
Whether you are trying it out for the first time or want to find a regular spot to play some VR games, Rebounderz has you covered!