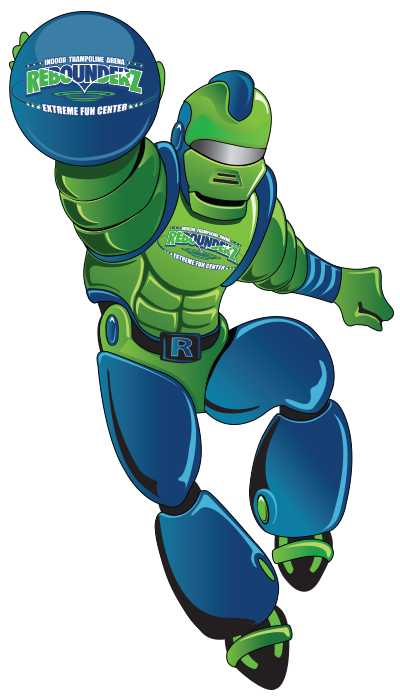 Rebounderz of Apopka is Permanently Closed. We Wish you well and thank you for your years of patronage!
REBOUNDERZ APOPKA
THE PREMIER INDOOR PLAY EXPERIENCE
Rebounderz Indoor Trampoline Park and Family Fun Center is Apopka's premiere family entertainment facility and is the best place for birthday parties! Our park offers entertainment options for the whole family! Enjoy our air conditioned facility with a massive combination jumper, a multi lane Foam Pit, multi-lane basketball slam, trampoline dodgeball, arcade and skill games with redemption toys, a cafe and parents' lounge with free Wi-Fi, fitness classes, and family and kids programs!
NOT JUST ANOTHER
TRAMPOLINE PARK
Rebounderz has activities and attractions for kids of all ages - you're never too old to have a blast with us!
COME VISIT US AND JOIN CLUB REBOUNDERZ!
30 Day Pass (Monday through Thursday only): $29.99
Valid for 1 hour admission Monday through Thursday for 30 days
30 Day Pass (7 Days a week): $59.99
Valid for 1 hour admission 7 days a week for 30 days
60 Minutes
$14
1hr
Open Trampoline

AND

Trampoline Dodgeball

AND

Foam Pit

AND

Basketball Slam
Unlimited Jump Time
$16
All Day
Open Trampoline

AND

Trampoline Dodgeball

AND

Foam Pit

AND

Basketball Slam
Limited Time Deal!
Major Rick's Fall Deal
$20
All Day
All Trampoline Activities

AND

Small ICEE

AND

FREE Popcorn

AND
All Jumpers must have a valid waiver on file. All guests who want to take part in any activities at a Rebounderz location are required to have a valid waiver on file to do so. There are no exceptions to this policy.  Each waiver must be filled out completely to be considered valid- this includes presenting a valid government issued identification to front desk staff in order to validate the waiver information.  Waivers are valid for 365 days from initial submission. If a guest is above the age of 18, they may fill out a waiver for themselves. If a guest is under the age of 18, their parent or legal guardian must fill out a waiver and list the guest as their child or legal ward. A valid ID must be present from the parent or legal guardian. Fill out our waiver in advance at one of our in-store kiosks or online by following  You may sign the form here.
Rebounderz Grip socks are required, we do not exchange other park socks. Rebounderz grip socks are $3.00 per pair plus tax and are reusable.
Pricing and packages listed above do not apply to parties, groups or special events.
All Jumpers must have a valid waiver on file.

Our trampolines are designed for one person and one person at a time.  No double bouncing.

Always land on two feet.  If you land on the green divider, please bend your knees.

No tricks or flips off the walls.  You may jump with your back off the wall or your feet and turn so you are facing the trampoline when you land.

No running on the jumper or in the facility.  In entering or exiting the jumper watch out for other guests and proceed slowly.

No-one in the younger kids jump area over 44" except their accompanying adult.

Please empty your pockets and do not have anything loose when entering the air pit (foam pit).  If you get stuck in the foam pit, the best way to get out is to roll like a log or ask a friend or referee to hand you our rope.

No head first diving, belly flopping, pencil diving into the air pit (foam pit).

Single front flips permitted, but no double flips

Guests with casts, splints or hard/sharp objects will not be allowed to participate in trampoline, foam pit or Ninja Course activities.

The basketball air slam has 3 levels of baskets that you can slam dunk the ball into. Remember, please do not hang on the rim.

Rebounderz grip socks are required for safety and cleanliness on all activities and yours to keep and bring back for another time.

Take breaks and drink water as our activities can be tiring.

 
Rebounderz has programs running year round to keep kids and adults engaged and active!
Toddler Time at Rebounderz!
Toddler Time is our dedicated time for children ages 6 and under to enjoy all the fun that Rebounderz offers during an exclusive time when the facility is not open to the public. It's the perfect indoor activity for toddlers to burn off excess energy in a safe place. Bring your little ones to jump, jump, and jump some more before nap-time! As always, enjoy free coffee and donuts bec
ause we love the parents too!
SCHEDULE:
Tuesdays from 10:00 AM - 1:00 PM!
RATES:
Children ages 6 & Under jump for $8.00. No charge for parents.
Rebounderz Grip Socks ($3.00/pair) are required (washable & reusable).
Sundays "4" Family Fun
Rebounderz Apopka was built for family fun. The whole family can spend Sundays at Rebounderz and take part in our "4" Family Fun Deal. Receive 4, one-hour jump passes, one large one-topping pizza, four small fountain drinks all for only $60.00. For an additional $10.00 per person turn your one-hour jump passes into unlimited all day fun.
Neon Nightz
Fridays and Saturdays will never be the same when you visit Rebounderz Apopka during Neon Nightz. The lights go down, black lights turned on and a club-like atmosphere takes over Rebounderz. The fun takes place 6 PM to 10 PM both Friday and Saturday nights. For just $20.00 you'll receive 4 hours of jump time, 2 slices of pizza and 1 fountain drink! Purchase your Rebounderz reusable grip socks, sold separately.
FAMtastic Wednesdays at Rebounderz Apopka
$45 Package: 4 family members, 1 hour each of jump time, 1 pizza, 1 pitcher of soda
$55 UNLIMITED Package: 4 family members, unlimited jump, 1 pizza, 1 pitcher of soda
Homework room available!
Rebounderz grip socks sold separately for $3