Jump 'n' Jam at Rebounderz!

Jump 'n' Jam at Your Local Rebounderz
Hey Teens! Your Friday Night Just Got An Upgrade…
---
---
Your Friday nights are significant.They mean the end of a long week of work or school, or perhaps even both. It is the one night of the week where you can forget about your responsibilities, homework, school, and even chores! Fridays signify the beginning of a fun weekend and the ability to reconnect with family and friends. More importantly, Fridays are meant for fun and exploration, to do something new and create memories.
However, sometimes it is hard to determine what to do on a Friday night. Unfortunately, many Fridays go to waste because a decision cannot be made on where to go. It is not as if you lack enthusiasm for fun; you just don't know the activities or events available in your area. You have the motivation to explore, however, you just have no direction of how or where to have your adventure. Well, that will change once you hear about all the fun activities at your local Rebounderz Trampoline Park.

For example, every Friday night Rebounderz Trampoline Parks hosts a Jump 'n' Jam event at all of their locations. Imagine it, a fun-filled Friday night with a room filled with indoor trampolines and music. Rebounderz even hires a live DJ to take song requests from participants! It sounds like an upgrade from your usual Friday nights, right?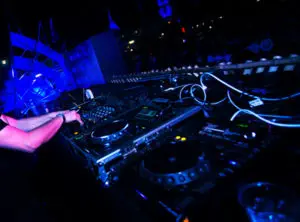 At Jump 'n' Jam, you can jump and dance with your friends to your favorite songs for hours. Also at the end of the dance party, all guests are given the opportunity to show off dance moves at the park in the weekly Rebounderz Dance Competition. Whether you can dance or simply jump and kick around, everyone is invited to participate in the dance competition. At the end of the night, one winner is awarded a grand prize for the coolest dance moves.
But let's say, perhaps, dancing isn't really your thing. Well, then no worries! You still have all the fun attractions of Rebounderz to choose from, like the Ninja Warrior Course, the foam pits, and a full-sized trampoline Basketball court. So as you see, your Friday night would never suffer just in case you aren't a spectacle on the dance trampolines. At Rebounderz, you have so many different fun activities to choose from!
Take advantage of your time off and do something exciting on your Fridays! I mean, I guess you could sit on your couch every night but that doesn't seem to inspire fun or memories. Your best bet is to go out and explore the options and events around you. Rebounderz gives you that chance to have a fun-filled night without worries or boredom.
So in recap, the Rebounderz Friday Night Upgrade includes…
Fun

Affordable Fun (even better)

Great Music

A Prize for Your Sweet Dance Moves

A Night with Your Friends
And…
  A Great Kick Off to an Amazing Weekend
If having fun on a Friday night interests you visit Reboundz!