Trampoline Park Date Night!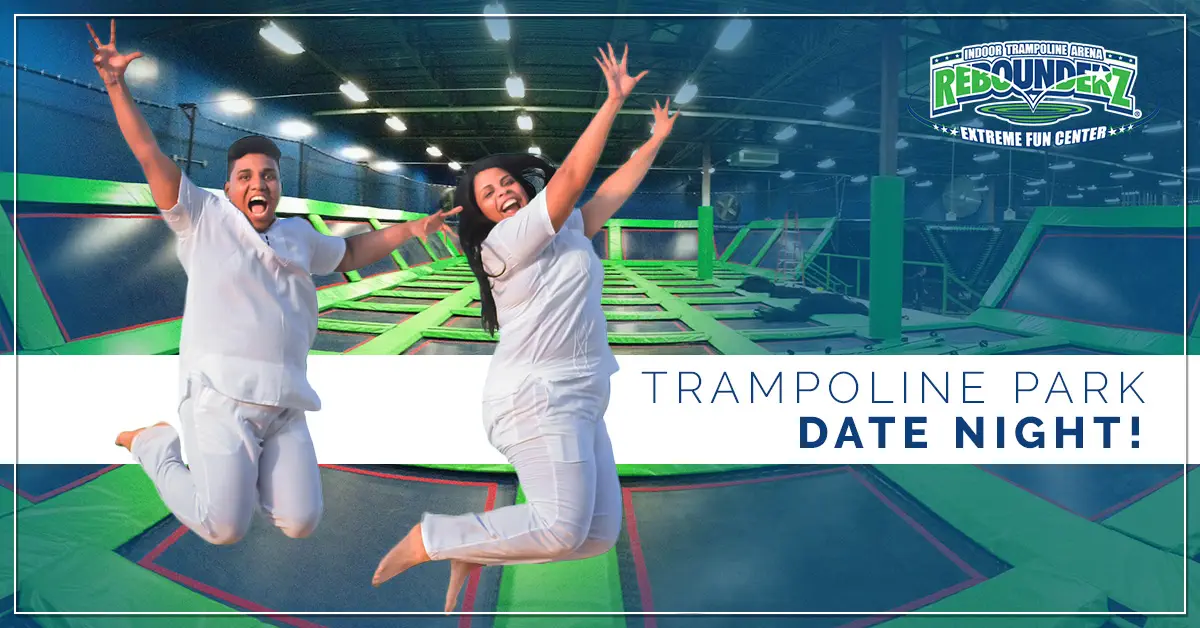 Okay hear us out. When it comes to finding creative ideas for a date night, sometimes you can run a bit low. You've done the paint and wine night. You've gone to more movies than you can count, and you've definitely burnt out on the dinner double dates. But while you've done all of these things, you still feel obligated to get out of the house together. And let's face it, having a babysitter and time away from the kids is rare. So what do you do for your next Friday night date night? Hit up Rebounderz of Jacksonville!
Rad Nights are Friday evenings at our Jacksonville trampoline park that turn down the lights, crank up the music, and let individuals of all ages just have fun. Here are four reasons why you need to try out Rad Night for your next date night, because trust us, it's going to be great.
#1 Get Goofy
The number one reason you should make Rebounderz of Jacksonville your next date night destination is that playing at a trampoline park gives you both the chance to get goofy. This means that you get to stay young at heart together and even laugh when the other one falls down. It's great to just let loose and play sometimes and that's exactly what Rebounderz of Jacksonville provides. Challenge each other to a front flip contest or just bounce around and relax without your kids. It's totally worth it!

#2 Stay Active
Do you ever feel bad when you go to a date night at the theater and after sitting at a desk all day, you just sit at the theater for even longer? For a couple that plans on being the cute old couple who sits and watches the sunset from the front porch, you need to be active. Rebounderz gives you the perfect, active date night. Not only will you get to play, but you'll get to burn some calories in the process. The couple that is active together, stays together.
#3 Clean Fun
There is nothing worse than going on a double date with that couple who just happens to laugh at all the terrible raunchy jokes. And while there is something to be said for having an intimate date night in without the kids around, having G-rated fun together can be a complete stress relief. This gives you the perfect evening to talk, laugh, play, and just relax with no expectations or demands.
#4 One-of-a-Kind
Rebounderz of Jacksonville is truly a one-of-a-kind experience, and that's great, because we've all had the same handful of dates over and over again. Coming up with new ideas can be tough, but with Rebounderz, a fun time is easy. You won't find anything quite like it and you will be able to say definitively how much fun and how memorable your date night at Rebounderz was, because we're truly one-of-a-kind.
Let Rebounderz of Jacksonville be your next date night destination. Hire a babysitter and come have some fun, because Rebounderz isn't just for kids! Contact us today with any questions or just pop on by. Come get your jump on!