Sacramento is the perfect destination for kid-friendly experiences, fun indoor activities and a great place for groups of friends and family to explore. 
There are the notable annual events like the Camellia Festival in March, the Sacramento Music Festival in May, the California State Fair in July, and Gold Rush Days in September, but there are also some great venues that are perfect for group activities in Sacramento any time of year. 
11+ Best Things to Do In Sacramento
Rebounderz
Rebounderz Sacramento is Sacramento's premier family entertainment facility and a wonderful place for group activities. Rebounderz offers a variety of activities for you, your friends, or family. So you can enjoy having fun together as a group or venture off and explore things individually, like trampoline jumping, basketball slam, and a challenging but fun Ninja Warrior Obstacle course. It's a terrific spot for groups because activities like the Ninja Warrior Obstacle can be made into a fun race between you and your friends. There's a little something for every age group as well. 
There are a wide number of activities that are appropriate and kid-friendly for all ages and they can be as physically active as they want to be. At Rebounderz Sacramento, the whole family can take part in activities, from toddlers to adults.
Aside from the variety of activities and fun you and your kids can have, Rebounderz also offers a great membership program that can help you save money all while enjoying everything they have to offer. They also have a terrific summer camp program to keep your children engaged and active. 
And let's not forget their parent's night out, so kids can continue to have fun while parents can take some much needed time to enjoy themselves with the peace of mind that their kids are taken care of!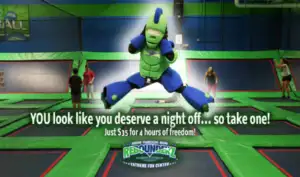 Group Activities Offered at Rebounderz Sacramento
Indoor Trampoline Arena

Toddler Trampoline Zone

Colorful Themed Climbing Walls

Air Pit

Basketball Slam

Extreme Dodgeball 

Spin Zone Bumper Cars

Junior/Floor Warrior Course

Multi Level Indoor Playground

Jump Xtreme Tower

Indoor Arcade

Summer Camps and Group Programs
Pricing 
Ultimate ticket:

For $34.99, you can enjoy all-day admission to all of the great activities offered at Rebounderz Sacramento, the all-day pass also includes 1 free 500-point arcade card, 1 free fresh popcorn, and 1 free ice cold fountain drink

Premium Ticket

: For $29.99, you can enjoy 2-hours of play time to all the activities offered 

Basic Ticket

: For $24.99, you can enjoy 1-hour of play time in all the activities offered
Or, they offer two membership options: $14.99/month for Basic, and $19.99/month for their ultimate unlimited.
Check out all of Rebounderz offerings!
Cali Glo Indoor
Entertainment

Enjoy the ultimate California road trip from the comfort of indoors! Cali Glo Indoor Entertainment offers "Glo Golf," 18 holes of glow-in-the-dark golf featuring replicas of California's most notable landmarks. 
Cali Glo Indoor also offers over 20 different game modes of Laser Tag. This adrenaline-packed, first-person shooter experience brings the Call of Duty video game to real life! Cali Glo Indoor offers pizza with gluten-free crust, but plenty more food options are available from their neighbor "The Alley." 
Pricing: 
Glo Golf: 

$20/person

Laser Tag:

$25/person

Cali Combo:

  $30/person
Apple Hill
Located between Sacramento and Lake Tahoe, The Apple Hill area features world-famous family farms, award-winning ciders, and has everything from Pumpkin Patches, Egg Hunts, Berry Festivals, and events like picking your favorite Christmas Tree in Winter. 
With a variety of seasonal events, at Apple Hill the amenities include family farms, lodging, wedding venues, restaurants, golf courses, tree farms, breweries, wineries, and plenty of outdoor recreational activities. 
Pricing: Pricing will vary depending on event and time of year.
Raging Waters
Raging Waters has been Sacramento's largest waterpark for over 30 years. Featuring 25 family-friendly attractions, including over 20 Sacramento water slides, an 800 ft. lazy river and one of California's original wave pools. 
With wave pools like Breaker Beach, thrill rides like Dragon's Den and Hurricane Bay Slide, or more relaxing experiences like Calypso's Cooler, Raging Waters Sacramento has something for everyone in your group of friends and family.
Pricing: 
Single Day Tickets:

$29.99  

Single Day Tickets when purchasing TWO or more tickets:

$19.99 

Bronze passes featuring varying perks like unlimited admissions at Raging Parks locations nationwide, passes for friends, discounts on Food, Beverage, retail purchases, and more:

Platinum ($169.99), Gold ($79.99), Silver ($64.99), and ($54.99) 
Old Sugar Mill
Old Sugar Mill is just 15 minutes from downtown Sacramento, and features wedding venues, wineries, events like food trucks, barrel tasting, car viewings like "Farm to Fork Uncorked," and much more. 
Originally built in 1934, Old Sugar Mill hosts 14 unique wineries with varietals from all over Northern California.  
Pricing: The Tasting Price Range is around $15, and then other prices for events and purchases vary.
Seaquest – Folsom
At SeaQuest Folsom, your group has the opportunity to interact with animals from five different continents while exploring over 20,000 square feet of adventure. 
For an additional cost, you can purchase a variety of interactive experiences with animals like the Asian Otter, Baby Sloths, Crested Porcupines, the Wallaby, snorkeling with Stingrays, or purchase an ultimate adventure bundle for $49.99. 
Pricing: 
Annual Passport:

$39.99 

Adults (12 and up):

$16.99 

Children (under 12):

$11.99 

Age 55+, Military, and College students:

$14.99 
Tree Top Sac
At Tree Top Sac, you'll get the chance to navigate the forest canopy with 5 different parcours of obstacle courses before zip-lining down to safety. Wobbly bridges, tricky crossings, walking the tight wire, and balancing on a slack-line 20 feet in the air might sound intimidating, but don't panic. 
Before you can do any of this, your group will be introduced to the proper gear, taught how to belay and use your gear properly, and cover proper safety precautions before attaching to the safety cable and climbing. 
Pricing: 
Kids (Ages 7-13):

$49

Teens (Ages 14-17):

$54

Adult:

$59
K1 Speed
K1 Speed offers an all-electric, indoor go-kart racing experience with a museum-quality collection of authentic racing memorabilia, including signed race apparel and full-sized race cars.
When you're not on the track K1 Speed's Paddock Lounge, offers video games in-between races, an arcade with pool tables and air hockey, and plasma screen televisions to keep up with every race. 
Pricing: 
The Boulder Field
The Boulder Field offers a wide variety of indoor activities for the fitness junkie It includes a full Fitness area with gymnastic rings, kettle bells, weight lifting and cardio equipment, a Yoga studio, and 10,000 square feet of bouldering terrain. 
There's also a dedicated youth and family climbing area, locker rooms and saunas, cafe with Temple Coffee, local beers, and Zeal kombucha, climbing retail shop with equipment, all different kinds of youth camp programs, and a variety of bouldering and yoga classes. 
Pricing: 
Adult Day Pass:

$25

Student/Youth/Senior Day Pass:

$20

Rental climbing shoes:

$5

Yoga drop-in:

$15
Alpha Fired Arts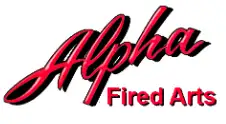 Alpha Fired Arts is Northern California's largest ceramic supply company offering hobbyists, professional clay artists and teachers a wide variety of services. From supplies, classes for children and adults, working studio memberships with firing services, and a Paint Your Own Pottery Studio, Alpha Fired Arts is your premier location for ceramics. 
Pricing:
Child: (12 and younger)

$8

Adult: (13 and older)

$10

Average prices range from $20-$35 per person

Average price for firing is $.015 per cubic inch 
Crocker Art Museum
The Crocker Art Museum features a stunning display of California art and is well known for its European master drawings and international ceramics. Accredited by the American Alliance of Museums (AAM), a recognition given to fewer than 1,100 of the nation's 33,000 museums, The Crocker Art Museum offers a variety of events and programs to supplement their collection. 
Educational material for students and the at large community include films, concerts, studio classes, lectures, children's activities, and more. 
Pricing: 
Annual membership rates are as follows:
Educator

: $50

Individual

: $65

Family:

$85
Non-member prices for one day purchases
Adult:

$15

Military and Children 5 and under

: free

Seniors:

$10

College:

$10

Youth 6-17:

$8
Fun Places in Sacramento to Go with a Group at Night
When conversations about "the night life" are brought up, the discussion might default to familiar spots like restaurants, bars, and nightclubs, but why not experience something unique, active and exciting instead? 
Don't forget Rebounderz Sacramento and their parents night out, so kids can continue to have fun while parents can take some much needed time to enjoy themselves with the peace of mind that their kids are taken care of!  
Other places you can check out are: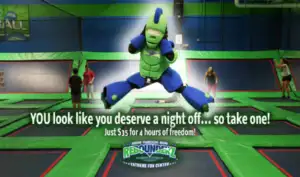 Conclusion: The Best Group Activity in Sacramento
While Sacramento has a lot to offer, Rebounderz Sacramento is Sacramento's premier entertainment facility for large groups and families.  Rebounderz has a wide variety of varying levels of physical activity for everyone in your party. 
From toddlers to adults, we have the right activities to make sure your squad has an unforgettable experience in Sacramento. For the number of activities available, Rebounderz offers the best family-friendly activities at a great price point! 
Don't wait to "jump" at this awesome opportunity! Check out Rebounderz Sacramento and have a weekend to remember with your friends and family!