When the weather is not favorable for outdoor activities with the family, it's time to find some fun indoor activities. Luckily, Sacramento is a hub for indoor activities for the whole family. You can find anything from floor-to-ceiling trampoline parks to educational museums.
Sacramento has a rich history and you see that history spill into many of the local businesses. It's also a great way to support your local community. 
With so many family fun venues to choose from it can be hard to choose the right one. So we put together a list of top indoor activities in Sacramento to help you make the right decision.
Best Indoor Activities in Sacramento, California
Choosing the best indoor activity is going to be much easier with this list. Remember to take into consideration everyone's ages and personal preferences. From there you can choose the best place for your family. 
Take on Sacramento with the whole family and you will be guaranteed to leave with a smile from ear to ear. 
Rebounderz – Sacramento
Rebounderz Sacramento is Sacramento's premier family entertainment facility. Rebounderz offers a variety of activities for those who want to develop fundamental skills to those looking for something more advanced, including trampoline jumping, basketball slam, and a challenging but fun Ninja Warrior Obstacle course. 
There are a wide number of activities that are appropriate and kid-friendly for all ages and they can be as physically active as they want to be. At Rebounderz Sacramento, the whole family can take part in activities, from toddlers to adults.
Aside from the variety of activities and fun you and your kids can have, Rebounderz also offers a great membership program that can help you save money all while enjoying everything they have to offer. They also have a terrific summer camp program to keep your children engaged and active. 
And let's not forget their parents night out, so kids can continue to have fun while parents can take some much needed time to enjoy themselves with the peace of mind that their kids are taken care of!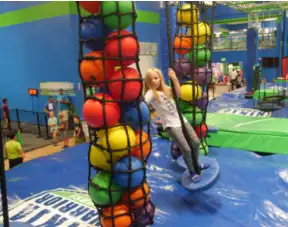 Activities Offered at Rebounderz Sacramento
Indoor Trampoline Arena

Toddler Trampoline Zone

Colorful Themed Climbing Walls

Air Pit

Basketball Slam

Extreme Dodgeball 

Spin Zone Bumper Cars

Elevated Ninja Warrior Course

Junior/Floor Warrior Course

Multi Level Indoor Playground

Jump Xtreme Tower

Indoor Arcade

Summer Camps and Group Programs
Pricing 
Ultimate ticket:

For $34.99, you can enjoy all day admission to all of the great activities offered at Rebounderz Sacramento, the all day pass also include 1 free 500-point arcade card, 1 free fresh popcorn and 1 free ice cold fountain drink

Premium Ticket

: For $29.99, you can enjoy 2-hours of play time to all the activities offered 

Basic Ticket

: For $24.99, you can enjoy 1-hour of play time to all the activities offered
Or, they offer two membership options: $14.99/month for Basic, and $19.99/month for their ultimate unlimited.
Check out all of Rebounderz offerings!
Sacminigolf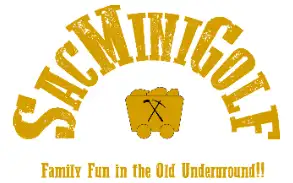 Sac Mini Golf is located in the basement of the historic Union Hotel in Old Sacramento. Enjoy a journey into the past with an Old Sacramento gold rush theme. There are hand-painted murals and scenes set up to tell the story of westward expansion in the mid-1800s.
There are 18 uniquely decorated holes to put through. They offer private events and birthday parties. Cashless payments only.
Pricing: 
Ages 13+

: $13

Ages 3-12:

$10

Children under 3:

Free (with paid adult)

Replays:

$5
K1 Speed
K1 Speed is an indoor go-kart race track. You can walk in and race at any time or reserve the track for a private event, and they're open seven days a week.
At the end of every race, each racer will receive a race results sheet that will allow you to compare your time and overall rank with the other racers. You can even see your results online and compare them to the top racers for the week or the month.
Pricing: 
1 Race

: $25.95

2 Races:

$46.95

3 Races:

$59.95

Speedpass

: $64.95
Smud Museum of Science and Curiosity
SMUD Museum of Science and Curiosity, or MOSAC, is the perfect place to bring the whole family for some thought-provoking, imagination-sparking fun. They have hands-on exhibits and programming to explore science, technology, math, engineering, and arts.
MOSAC can offer a day full of learning and really diving into science and technology. They also have a planetarium and theater to sit back and explore space. For anyone interested in science, MOSAC will keep you engaged and having fun all day long.
Pricing: 
Adults (ages 18+)

: $15

Youth (ages 2-17):

$12

Toddlers (under 2):

Free

Seniors (ages 65+):

$13
Seaquest – Folsom
With 1200 plus land and sea animals, SeaQuest is sure to be a hit with everyone in the family. SeaQuest features animals from 5 continents and there are interactive exhibits that allow guests to touch, feed, and play with animals from all around the world.
SeaQuest offers events and activities such as birthday parties, private events, and field trips, they even offer a unique sleepover experience where you can sleep next to the shark tanks and get a late-night tour of the facility. The first Sunday of every month is dedicated to those with sensory sensitivities.
Pricing: 
Children:

$11.99

Adults, 12+

: $16.99

55+, Military, and College Students:

$14.99
The Boulder Field
The Boulder Field is a health and fitness facility offering so much more than just rock climbing. There is a yoga studio, a fitness area with gym equipment, a cafe, and a retail store all in addition to the 10,000-square-foot world-class climbing area.
There is a separate dedicated youth and family climbing area that is perfect for birthday parties. There is a welcoming sense of community at The Boulder Field that will get the whole family excited about climbing and fitness in general.
Pricing: 
Adult day pass

: $25

Youth, student, senior day pass:

$20
California State Railroad Museum
The California State Railroad Museum is a great place to take the family for a unique look into the history of our country. Everyone knows about trains a little bit but the California State Railroad Museum will show you the rich history of railroads.
Beyond learning about railroad history through all of the exhibits, the California State Railroad Museum also offers indoor and outdoor facility venues for private events large and small. It is definitely worth a rainy day visit to change things up a bit.
Pricing: 
Adults:

$12

Youth (ages 6-17):

$6

Children (ages 5 and under):

Free
Crocker Art Museum
The Crocker Art Museum is a family-friendly spot to really enjoy the world of art. Take the family through the current exhibits which are always changing. After exploring the beautiful art exhibits you can bring the kids to Tot Land.
Tot Land offers opportunities for creative play, sensory exploration, art making, and literacy development. It is an engaging environment where creativity is encouraged. You can easily spend a whole day of fun and learning at the Crocker Art Museum.
Pricing: 
Adult:

$15

Youth (ages 6-17)

: $8

Senior, College

: $10

Military, Children (ages 5 and under)

: Free
Sacramento Pipeworks
Sacramento Pipeworks is a climbing and fitness gym located in Sacramento. From free weights and cardio equipment to rope walls and boulder walls there is something for everyone at Sacramento Pipeworks. 
Kids can learn to climb or continue to develop their climbing skills with classes offered on-site. You can also walk in at any time and purchase a day pass for some fitness fun.
Pricing: 
Day pass:

$30

Kids day pass (ages 12 and under):

$25

Early bird day pass

: $25
Urban Air Trampoline And Adventure Park
Urban Air Trampoline and Adventure Park offers jumping, climbing, and playing activities for kids of all ages, as well as birthday parties and private events. 
Pricing: 
Platinum:

$30.99

Ultimate

: $26.99

Deluxe:

$20.99

Children under 5

: $11.99
Art Beast
Art Beast Studio is for all the little artists and creatives out there. They offer camps, classes, and open studio play spaces for school-aged children.  
Art Beast donates directly to Waking the Village which is a non-profit organization that leads programs for youth and children experiencing homelessness. It is a great way to have some fun and help support the community of Sacramento.
Pricing: 
iFly Indoor Skydiving – Sacramento
iFly Indoor Skydiving is a fun and unique experience for children and their parents. Whether you've been skydiving before or would never dream of doing the real thing, iFly Indoor Skydiving can give you the simulated experience in a safe environment.
This is an experience your children are sure to remember for a very long time. They offer birthday parties and private events.
Pricing: 
2 flights:

$84.99+

3 flights:

$109.99+

4 flights:

$135.99+
Sacramento Children's Museum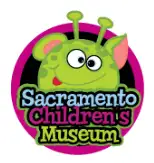 The Sacramento Children's Museum is a fun-filled change of scenery from the average "museum". Your children will have non-stop fun at every exhibit here. There are always events and programs going on here so be sure to check the calendar on the website before planning a trip. You can also book a private birthday party.
Pricing
: 
Adults and all children over 1 year

: $8.50

Over 60 and Military:

$6.00

Children under 1 year

: Free
Wacky Tacky
Wacky Tacky is designed for kids up to 17 years old. With a massive indoor playground, your kids will enjoy any rainy day spent at Wacky Tacky. This is a favorite spot for birthday parties and all-around kids' activities. Wacky Tacky provides a very clean and safe environment for kids to have fun at.
Pricing: 
Ages 1-17:

$15

1 child under 1 year and 1 adult:

Free
Imagine Play
Imagine Play is a play space for younger kids to have fun and learn with one another. Imagine Play is a lending library with age-appropriate toys to assist in learning, sensory exploration, and imagination.
Imagine Play offers open play times for anyone to come to play as well as camps and after-school programs for children to learn through play. They also offer private birthday parties for a fun and educational birthday experience.
Pricing: 
$13.50 per child + 1 adult; one adult per family, extra adults are $2.50 each

Babies under 1 are free if accompanied by a paid sibling, otherwise, ticket price is $5
JasTag

JasTag offers laser tag, bumper cars, and an arcade for some serious family fun. With a huge facility covering almost 8500 square feet over two stories, there is sure to be a day full of fun for everyone.
JasTag is the perfect place for birthday parties or private events. Try your hand at the challenging laser maze after a game of laser tag.
Pricing: 
Cali Glo Indoor Entertainment

Indoor glow-in-the-dark mini golf – who wouldn't love that? Cali Glo also offers18 holes of glow-in-the-dark mini golf all featuring California landmarks. When you're done with mini golf get ready for laser tag. Cali Glo has all of the glow-in-the-dark fun for all ages! 
Pricing: 
Glo golf: $12.50 per person

Laser tag: $20 per person
Enchambered: Sacramento Escape Room
If you haven't tried an escape room yet, now is the time. Enchambered will trap you and the family in a room with clues that you will all have to work together to figure out how to escape. It's a fun and exciting activity that will get everyone engaged. 
While it's designed for ages 9 and up, there are no age restrictions. 
Pricing
: 
Aerospace Museum of California
From military airplanes to space shuttles, if it flies you can learn about it at the Aerospace Museum of California. Tour the 4-acre airpark with 40 historic aircraft, then make your way inside for more aerospace learning. 
There are activity centers with building stations, crafts, and flight simulators. They offer camps for children from 3rd to 6th grade. There is so much to learn here it is easy to spend an entire day going through everything.
Pricing: 
Ages 18+

: $15

Ages 4-17, Senior, Veteran:

$10

Active-duty military

: Free
Just For Fun Art
Get your children's creative juices flowing at Just for Fun Art. With endless events and activities, it will be hard to get your kids to want to do anything else. Book your child's next birthday party at Just for Fun Art or just bring them in for some open studio craft time. They also offer adult paint parties for some kid-free fun.
Pricing: 
Little Angels Play Town
Little Angels Play Town is designed for children up to age 10. This is a space to inspire your children to play, imagine, and explore. They offer plenty of toys and costumes to spark creativity. 
Kids will be in playtime heaven with a pretend grocery store, clinic, kitchen castle, and ball pit. They offer classes, free play time, and private parties.
Pricing: 
$12 per child, 2 adults included, extra adults $2

Babies under 1 are free if accompanied by paid sibling, otherwise, ticket price is $6
Indoor Activities for Kids in Sacramento, CA?
There are so many indoor activities for kids in Sacramento on this list, including: 
Conclusion: Best Indoor Activity in Sacramento this year?
The best overall indoor activity in Sacramento is without question going to be found at Rebounderz. Rebounderz offers all of the family fun that anyone can ask for. From the trampoline park to the arcade there is something for everyone.
Parents can have peace of mind that they are giving their kids a great time in a clean and safe environment. Rebounderz strives to maintain a facility that kids will love and parents will love bringing their kids to.