Rock climbing has become a very popular sport among people who love to challenge themselves and enjoy the great outdoors. It's a full-body workout that will leave you feeling satisfied and uplifted. But let's say you live in sunny Orlando and the weather outside is too hot (or it rains all day long)? No worries! You can still find some great indoor rock climbing options for all ages.
Rebounderz offers a place for you to test out your rock climbing skills while also providing a safe and enjoyable environment. Rebounderz is the best place for families to check out because they offer some of the most fun activities to enjoy in the Orlando area! 
Benefits of Indoor Rock Climbing
Indoor rock climbing has many great benefits, one of the best being that it provides a great way to get fit and stay in shape. It can help you improve your muscular endurance, tone, and strength; develop your balance and flexibility; and increase coordination, mental focus, and concentration. You can use rock climbing as an alternative to the gym or simply just add it to your regular routine.
Indoor rock climbing doesn't have to be all "fitness" based either. It also helps develop problem solving and communication skills which can carry over into other areas of life. It can even boost your confidence! And it's a fun activity that you can enjoy solo, with friends and family, or even for a kids birthday party or as a unique event venue! 
And don't worry if someone in your group might not want to take part in indoor rock climbing. Rebounderz offers great indoor fun that everyone in your group will enjoy! 
Best Indoor Rock Climbing Places in Orlando, FL
Rebounderz 
New routes, a safer fall zone, and plenty of new challenges to climb are just some reasons why Rebounderz is the best place for indoor rock climbing. For those who want a fresh rock climbing experience each time they come in, there's no better option. 
Fresh routes mean different ways to get around obstacles and many new challenges to work on. This also makes it easier for you to spot other climbers and vice versa. If you're scaling a wall with many difficult moves in one section, it's nice to have other options around you that are less challenging or offer more reachable handholds for those wanting an easier climb. Plus, Rebounderz also offers themed walls–from legos to buildings–that will satisfy every specific niche, from lego walls to buildings and more. 
There will always be someone around if you need help or just want some advice about how to improve your skills as a rock climber. Don't worry about being intimidated by other climbers either because everyone there wants everyone else to succeed too! You'll feel right at home, no matter what skill level you may have. 
Check out all of Rebounderz affordable offerings today that your kids–and you–will enjoy! Plus, Rebounderz offers a "Parent's Night Out" option, where you can drop your kids off with them while you enjoy other parts of the city Orlando has to offer!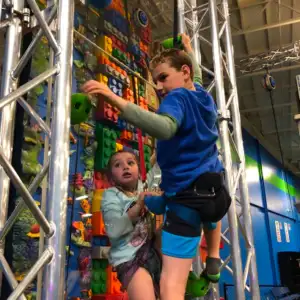 Location: 474 S Hunt Club Blvd, Apopka, FL 32703
Climbing Style: Artificial 
Other Rebounderz Activities
Pricing: For just $20, get an hour of access to Rebounderz arcade arena and indoor trampoline area, plus their ninja warrior course, indoor playground, and foam pit. Or, choose one of their other pricing options. 
Aiguille Rock Climbing Center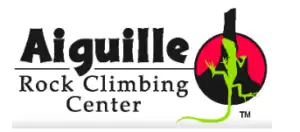 Aiguille Rock Climbing Center has been serving the Orlando area for over 15 years and is one of Orlando's oldest climbing gyms. It offers top-notch facilities, which have been designed to take indoor climbing to a new level in Central Florida.
All participants are required to read and sign our Climbing Waiver, and participants under the age of 18 will need to have it completed by their natural guardian. All guests must be at least four years old AND 25lbs to participate in climbing at Aiguille Rock Climbing.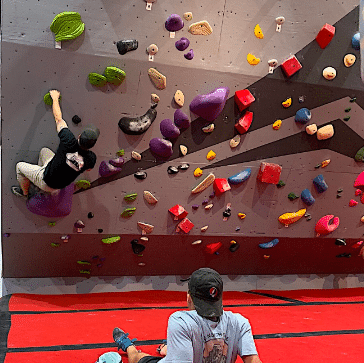 Location:  1930 Cliff Circle, Casselberry, FL 32707
Climbing Style: Bouldering and rope 
Pricing: $15 for day pass ($5 for harness rental); $20 for day pass + belay lesson; $90 for monthly membership ($10-35 extra for gear rental)
Blue Swan Boulders 

Located not far from Downtown Orlando, Blue Swan Boulders is a bouldering-only facility with plenty of friendly staff to help you get started. They offer drop-in climbing and fitness classes, as well as a kids' program for those under the age of 18. Their gym also has yoga classes to help you stretch and unwind after your climbs.
Blue Swan Boulders offers daily passes that include day passes as well as weekly and monthly passes with discounts for students and members of the military. Like other facilities, they also offer punch cards that can be used at any time without expiration.

Location: 400 Pittman St Suite 103, Orlando, FL 32801
Climbing Style: Bouldering
Pricing: Day Pass is $19 and shoe rental is $5
Daytona Climbing Company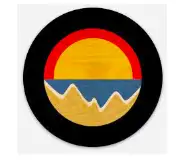 Daytona Climbing Company has a lot to offer its visitors—from beginners who want to learn about top roping or bouldering, or advanced climbers looking for a natural experience focused on technique and training. They're proud of the intense workouts and great community found at their studio. 
They also offer yoga classes, climbing clinics, and other fitness workouts. Afterward, stop by the cafe for coffee or snacks!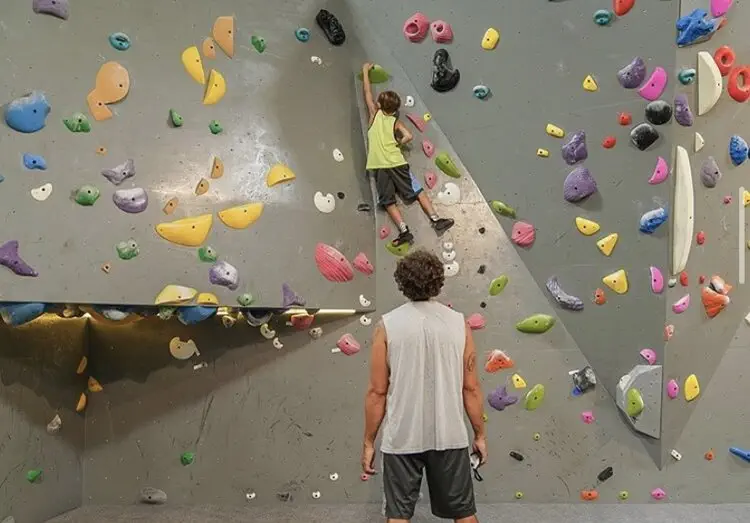 Location: 3100 S Ridgewood Ave, South Daytona, FL 32119
Climbing Style: Bouldering 
Pricing: Day passes $10-$13 (includes equipment), private climbing lessons $70 for a single person/$90 for two people
DEFY Orlando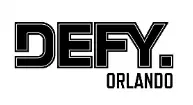 Located in the heart of The City Beautiful, DEFY Orlando is an indoor facility that combines several popular adrenaline-inducing activities into one place. You can expect to find trampolines, a zip line, a ninja warrior course and–of course–a rock climbing wall. If that weren't enough, they also have an arena for sports like dodgeball and basketball and a laser tag course.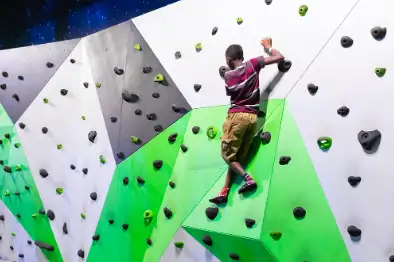 Location: 8010 W Colonial Dr, Orlando, FL 32818
Climbing Style: Artificial 
Pricing: Two hour pass starts at $24.99 
DynoClimb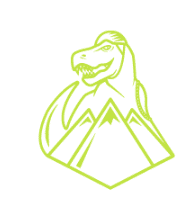 DynoClimb is an indoor rock climbing gym located in DeLand, a 30 minute drive outside of Orlando. They offer programs for children ages 3-18, as well as adult programs for those interested in learning how to rock climb or improve their skills. 
There are open gym hours and opportunities to book the facility for birthday parties. These also offer yoga classes, which is a great exercise to incorporate with rock climbing.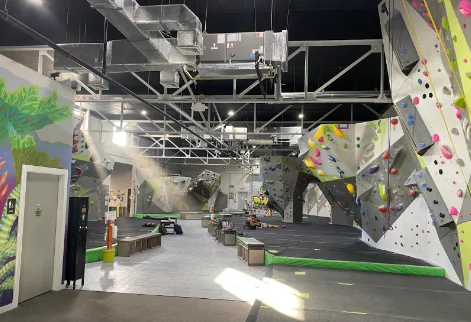 Location: 528 S Woodland Blvd, DeLand, FL 32720
Climbing Style: Bouldering 
Pricing: Day pass $20, plus gear is an added $6
The Edge Rock Gym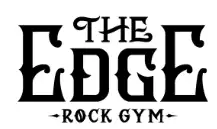 One of Central Florida's most popular climbing destinations is The Edge Rock Gym, located in Melbourne. The gym boasts over a decade of experience and approximately 47,000 square feet of climbing space. The indoor facility offers three different areas, each with its own distinct aesthetic and feel.
The Beginner Wall is great for beginners because it contains a ladder that climbs four feet off the ground in classic rock-climbing fashion. This wall is for those who are comfortable with basic handholds on up to slightly larger footholds than one might find at home or elsewhere in an outdoor setting.
The main attraction for climbers at the highest level of difficulty is the bouldering path, which allows for 35-foot vertical walls to be climbed in an indoor setting. For more advanced climbers, there are routes mixed into the bouldering field that will test even the most skilled climber's skills.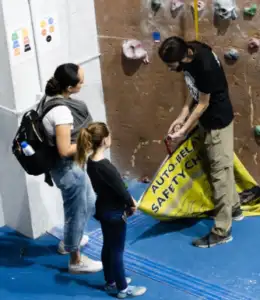 Location: 200 West Dr, Melbourne, FL 32904
Climbing Style: Bouldering and rope
Pricing: Day pass starts at $17
Kidiverse
At Kidiverse, the youngest climbers will have the opportunity to learn about rock climbing in a safe environment. Kids aged 2-9 can climb with the help of a parent or guardian. They'll also love climbing around the interactive play area, which comes equipped with a slide and other fun features.
This center is a great choice for families that want to keep their kids active while having fun together. The facility welcomes climbers of all ages and skill levels, making it an ideal environment for those looking to try rock climbing for the first time or those who are seasoned climbers.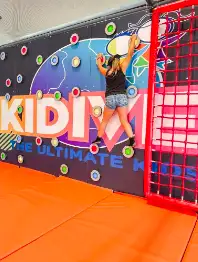 Location: 7149 N Frontage Rd, Orlando, FL 32812
Climbing Style: Artificial 
Pricing: Infants (0-12 months) are free with paid sibling and are $9.99 + tax without sibling, then charge $14.99 + tax per child
Planet Obstacle 
Planet Obstacle is a visually striking place to enjoy the thrills of indoor rock climbing. The facility advertises itself as the "world's largest obstacle gym," and that's not far from the truth: the enormous space features over 10,000 square feet of obstacles that are designed for adults and children alike. 
This facility offers an extensive list of classes for people looking to get in shape or learn something new, including ninja warrior training, aerial yoga, and a variety of other fitness-based activities.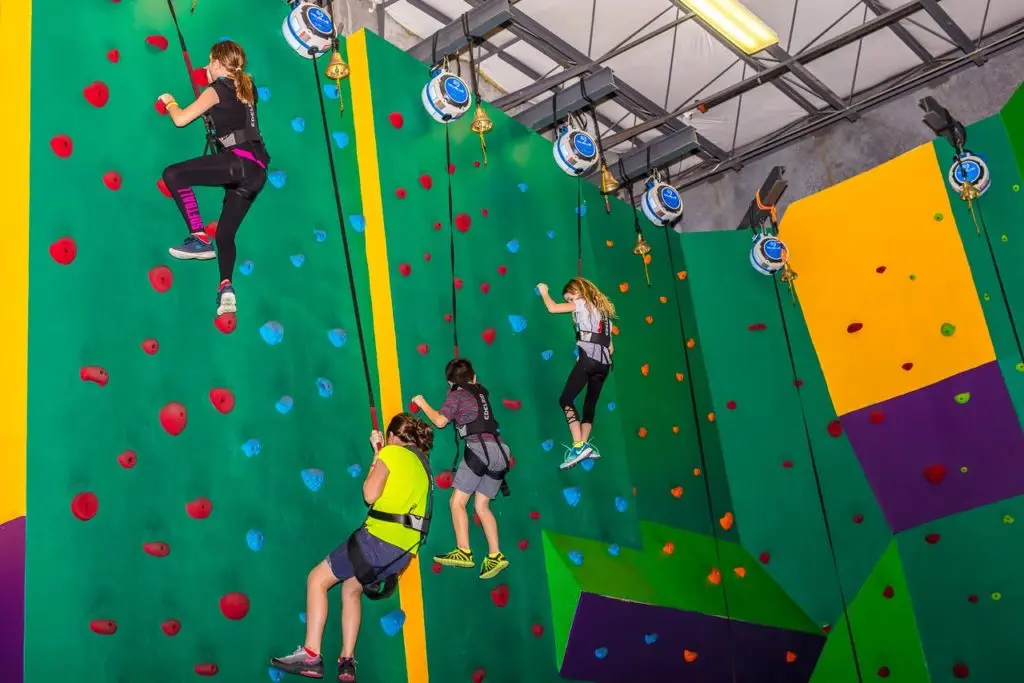 Location: 1150 Emma Oaks Trail #100, Lake Mary, FL 32746
Climbing Style: Artificial 
Pricing
Weekday pricing: 1 hr pass is $14,95, 2 hr pass is $19.95 and all day access is $24.95. Weekend pricing: 1 hr pass is $17.95, 2 hr pass is $26.95 and all day access is $39.95
ROX Climbing Gym 

Located inside the Lake Nona Performance Club, you will find ROX Climbing Gym. With a dedicated 7,500 square foot rock climbing area, this facility focuses solely on rock climbing and offers several different climbing styles. From beginners to experts, ROX Climbing Gym can accommodate any level of rock climbing expertise.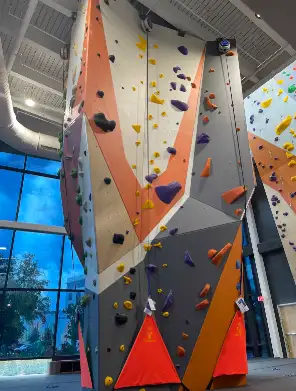 Location: 6775 Chopra Ter, Orlando, FL 32827
Climbing Style: Bouldering, top-rope, and rappelling 
Pricing: $15 drop in 
Nona Adventure Park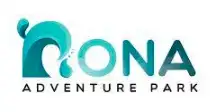 While not indoors, Nona Adventure Park offers some outdoor rock climbing fun that still helps you beat the heat (since it includes a water park)! Nona Adventure Park offers five different areas of climbing walls with their climbing tower, each accommodating different skill levels and perfect for climbers of all ages. 
Kids and teens can take advantage of their own area full of bouldering problems (more like problems), while adults can sharpen their skills by training on top rope routes as well as lead climbing.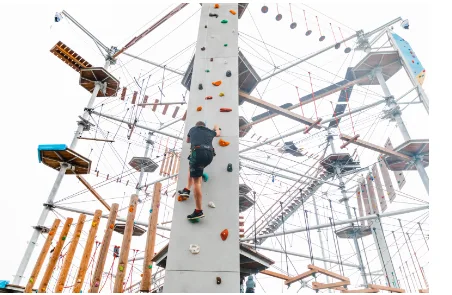 Location: 14086 Centerline Dr, Orlando, FL 32827
Climbing Style: Artificial, Free Falling, Rope
Pricing: For walls and ropes only ticket price is $15, All Park all-day access is $99
Conclusion: What is the best indoor rock climbing place in Orlando?
Indoor rock climbing is a great activity the whole family can enjoy. It's a way to get exercise, spend time together, and try something new while avoiding any potential weather issues. Indoor rock climbing gyms in Orlando also provide a way to connect with your community—it's not surprising that these places are often packed with people from all walks of life who have come together to scale some walls.
Orlando offers a wide range of indoor rock climbing options. Each place has unique features, so choose what best suits your needs. If you live in or are visiting the Orlando, Florida area and want to try indoor rock climbing, Rebounderz is the place for you. The staff are knowledgeable, helpful, and friendly—and probably more than a little psyched about rock climbing. 
They'll help you get started on your first climb and keep an eye on you as you find your way up a route. It's a great place for adults and kids alike; the gym can accommodate the smallest climbers (just 42 inches tall) all the way up to adults looking for an afternoon of fun. From their indoor playground to their classic arcade and of course their world class indoor trampoline arena, Rebounderz is the perfect place in Orlando for you and your family to try today!